Wellington Phoenix FC
2nd in Australian A-League Men
---
Noah Botic one among many young strikers in A-League Men
Just when you feared for the development of young strikers in Australian football, we see a crop of rising stars headlined by Noah Botic.
A-League kit rankings: The best and worst jerseys for 2023-24
The 2023-24 A-League season brings a new host of kits from all 14 clubs. Which tops the style chart, and which has the worst fashion faux pas?
A-League Men 2023-24 season preview: Key players, questions
Key players? Breakout star potential? Worst-case scenarios? ESPN's Joey Lynch runs the rule over all 12 teams ahead of the 2023-24 A-League Men season.
Marquees and must-haves: Players who should be on the A-Leagues' radar this offseason
As the A-League enters the offseason, fans and clubs alike are looking to the transfer market for hope. Joey Lynch takes a look at which local and international stars could make the move Down Under.
Wellington Phoenix release eight players ahead of 2023-34 rebuild
Incoming Wellington Phoenix boss Giancarlo Italiano has a huge rebuilding job on his hands after the club announced the departure of eight players.
Football Australia begins process of creating second-tier league
Football Australia has formally begun the process of creating a second-tier men's competition with a potential start date in March 2024.
A-League Transfer Window: What every ALM team needs in January
The January transfer window offers hope for all A-League teams dreaming of finals football. Here's where each side needs to strengthen.
New lows, darkest days: How much pain can the A-League self-inflict before the flame goes out?
Less than two weeks. That's how long it took for the A-League to squander any goodwill from the Socceroos' success and plunge to a new low.
A-League Women's 2022-23 season set to break new ground
Never before has the ALW been this long, with this many teams, and preceding a Women's World Cup on home soil. It's an exciting season.
A-League stocks up, stocks down: Cummings and Kuol make World Cup case
With one round of action remaining until Graham Arnold reveals his Socceroos squad, Joey Lynch looks at who did and didn't impress in the A-League.
A-League stocks up, stocks down: Risdon gets the better of Arzani, turmoil at Perth Glory
ESPN's Joey Lynch breaks down four things that impressed and three things that didn't across the third week of the 2022-23 A-League Men season.
A-League stocks up, stocks down: Arzani shines while Tilio's World Cup hopes hang by a thread
Joey Lynch breaks down four things that impressed and three things that didn't across the second week of the 2022-23 A-League Men season.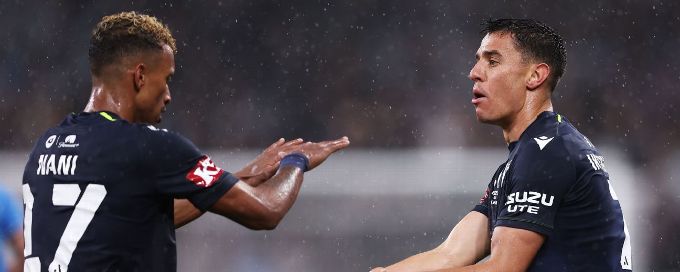 Chris Ikonomidis stakes late World Cup claim on A-League Men's opening weekend
With spots on the plane for Qatar still up for grabs, it was Melbourne Victory winger Chris Ikonomidis who impressed most on ALM opening weekend.
A-League Men 2022-23 kit ranking: Which club's home jerseys are this season's best?
Now that all the A-League teams have unveiled their kits ahead of Friday's season start, ESPN has ranked every home jersey from 12 to 1.
A-League Men preview: Can anyone stop defending champs Western United?
The 2022-23 A-League Men (ALM) season is here and here's all you need to know from the 12 teams involved.
Western United beat Wellington Phoenix, reach ALM semis
A-League
A-League transfer grades: Rating every big signing in the ALM
With the A-League Men's summer transfer window officially closed, it's time to take stock.
Do the A-Leagues really know what they are doing with players?
Is recruitment in Australian football geared to cap facilitation or balancing profiles, player attributes and ceilings, and potential earnings?
Sydney FC beat Wellington Phoenix for first A-League Men win of season
A-League
Newcastle Jets thrash Wellington Phoenix to claim first win of season
A double from Beka Mikeltadze helped the Newcastle Jets claim a resounding 4-0 A-League Men win over the Wellington Phoenix on Friday night.
Western Sydney Wanderers claim first win of the season against Wellington Phoenix
A-League
Macarthur hold Phoenix after fine Lachlan Rose volley
A-League
A-League Men Season Preview 2021-22: New signings, key players, ones to watch
After an offseason of twists and turns, the ALM is finally set to return on Friday. Here's all you need to know ahead of the 2021-22 campaign.
Wellington Phoenix become New Zealand's first professional women's team; to join W-League
Wellington Phoenix will join W-League for the upcoming season, with the New Zealand club's inclusion making for a 10-team trans-Tasman competition.
COVID restricts Wellington Phoenix preseason to six players, no coach
Wellington kick off their preseason on Monday without their senior coach and just six players in training as COVID-19 bites a 3rd A-League campaign.
Team Leaders
Top Scorers
| # | Player | Goals | M | A |
| --- | --- | --- | --- | --- |
| 9 | Oskar Zawada | 4 | 4 | 1 |
| 11 | Bozhidar Kraev | 3 | 5 | 0 |
| 6 | Tim Payne | 1 | 5 | 1 |
Top Assists
| # | Player | Assists | M | G |
| --- | --- | --- | --- | --- |
| 6 | Tim Payne | 1 | 5 | 1 |
| 7 | Kosta Barbarou.. | 1 | 5 | 0 |
| 15 | Nicholas Penni.. | 1 | 5 | 0 |