Chelsea
8th in English Premier League
---
Soccer's Black Friday 2022 gift guide: Club-branded microwaves, rubber ducks and the last trace of Ronaldo at Man United
With the Black Friday sales are upon us, here is some of the weird and wonderful branded merchandise that major clubs are hawking to their fans.
Transfer Talk: Chelsea, Newcastle, Real Madrid all pass on Cristiano Ronaldo
Chelsea are the latest club to reportedly turn down the chance to sign Cristiano Ronaldo, who is now a free agent. Transfer Talk has the latest.
Where could Cristiano Ronaldo go after leaving Man United following the World Cup?
Cristiano Ronaldo has left Manchester United, but where will he go after the World Cup? Here are some realistic options.
LIVE Transfer Talk: Liverpool, Juventus monitor Mason Mount's Chelsea status
Liverpool and Juventus are both keeping track of Mason Mount's uncertain situation at Chelsea. Transfer Talk is LIVE with the latest.
How top clubs from Arsenal to Bayern Munich are spending the World Cup break
What will Europe's top clubs be doing while their star players are at the World Cup? Everyone, from Arsenal to Barcelona, has work to do.
Christian Pulisic ready to shine in his 1st World Cup
Check out some of Christian Pulisic's best moments for the USMNT in the lead-up to the 2022 World Cup.
LIVE Transfer Talk: PSG, Chelsea consider Cristiano Ronaldo amid Manchester United fury over interview
PSG are still interested in Cristiano Ronaldo while Chelsea are "not unwilling" to make a move for him. Transfer Talk is LIVE with the latest.
Premier League without VAR: Liverpool slump to 12th; Arsenal's lead is cut
Fans always argue about which Premier League teams get the better of the VAR decisions, and this season we aim to find the definitive answer.
Chelsea, Graham Potter's woes worsen in defeat to Newcastle who eye Champions League spot
Eddie Howe's Newcastle go into the World Cup break in third place after beating Graham Potter's Chelsea, who are now eighth in the league table.
Superb Joe Willock strike lifts Newcastle to win over Chelsea
Joe Willock had the only goal of the match as Newcastle United defeated Chelsea 1-0 at St. James' Park on Saturday.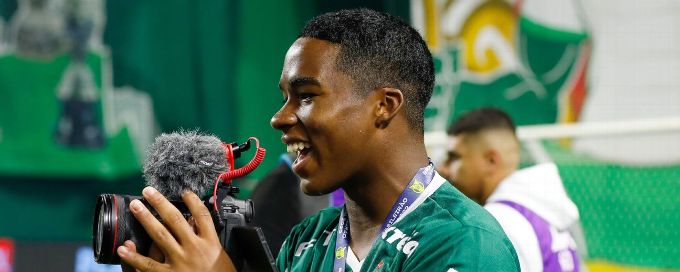 Paris Saint-Germain, Chelsea among clubs vying for Brazilian wonderkid Endrick - sources
Paris Saint-Germain had a €45 million offer for Palmeiras teenager Endrick rejected on Friday, with Chelsea also pursuing the Brazilian wonderkid.
Will Brazil's World Cup gamble on Thiago Silva pay off?
Thiago Silva, 38, is a likely starter in defence for Brazil, but it's not a competition that has been kind to him, and his Chelsea role differs.
Pressure is on Chelsea, Graham Potter after cup exit to Man City as Pulisic fails to seize opportunity
After a string of poor results, can Graham Potter and Chelsea bounce back before the World Cup break?
Man City advance past Chelsea in the Carabao Cup
Riyad Mahrez scores on a free kick and Julian Alvarez finds a goal off a rebound, leading City past Chelsea 2-0 in the Carabao Cup.
Man City claim comfortable win over Chelsea in Carabao Cup third round
Manchester City have knocked Chelsea out of the Carabao Cup third round in a comfortable 2-0 victory at the Etihad on Wednesday.
Transfer Talk: Chelsea join race with Real Madrid and PSG for 16-year-old prodigy Endrick
Brazilian teenager Endrick has top clubs jostling for his signature, and Chelsea have joined the race. Transfer Talk has the latest.
'Devastated' Reece James out of England's World Cup squad
Gareth Southgate has told Reece James he will not be included in England's 26-man squad for the World Cup finals.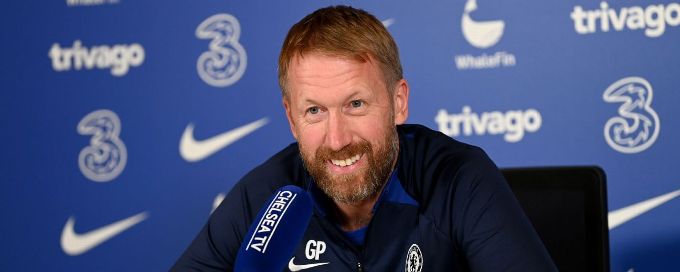 Graham Potter on Chelsea pressure: 'If I wanted an easy life, I'd have stayed at Brighton'
Graham Potter said he wouldn't have taken the Chelsea job if he couldn't handle the pressure that comes with it.
Pep Guardiola rejects Raheem Sterling's reasons for move from Manchester City to Chelsea
Pep Guardiola rejected a suggestion from Raheem Sterling that he had to join Chelsea because of a lack of game time at Manchester City.
Arsenal dominate Chelsea, Napoli maintain Serie A lead, Liverpool grab win at Spurs, more
Arsenal's easy 1-0 win at Chelsea shows how much work the Blues need, but that the best is yet to come for Arteta. Gab Marcotti recaps the weekend.
Arsenal are legit contenders, Pique bids Barcelona farewell, Almiron and Newcastle shine: Weekend Review
Arsenal claimed bragging rights over Chelsea, a club icon took a bow at Barcelona and things aren't great at Atletico. It's ESPN's Weekend Review.
Arsenal's Gabriel taunts Chelsea's Aubameyang over derby defeat
Gabriel taunted Pierre-Emerick Aubameyang after Arsenal beat Chelsea 1-0 on Sunday by mimicking a pre-game advert recorded by the striker.
Michallik: Arsenal completely dominated Chelsea
Janusz Michallik reacts to Arsenal's win over Chelsea that returns them to the top of the Premier League.
Arsenal pass another Premier League title test with statement win at Chelsea on bad day for Aubameyang
Arsenal's win at Chelsea sent them back to the top of the Premier League, but ex-Gunners captain Pierre-Emerick Aubameyang didn't enjoy the reunion.
Arsenal leapfrog Manchester City to top Premier League as Gabriel goal sees off Chelsea
Arsenal returned to the top of the Premier League courtesy of a 1-0 win over London rivals Chelsea at Stamford Bridge on Sunday.
Team Leaders
Top Scorers
| # | Player | Goals | M | A |
| --- | --- | --- | --- | --- |
| 29 | Kai Havertz | 3 | 13 | 0 |
| 17 | Raheem Sterlin.. | 3 | 12 | 1 |
| 19 | Mason Mount | 2 | 14 | 2 |
Top Assists
| # | Player | Assists | M | G |
| --- | --- | --- | --- | --- |
| 19 | Mason Mount | 2 | 14 | 2 |
| 32 | Marc Cucurella | 2 | 13 | 0 |
| 6 | Thiago Silva | 2 | 12 | 0 |