Real Madrid
2nd in Spanish LaLiga
---
Soccer's Black Friday 2022 gift guide: Club-branded microwaves, rubber ducks and the last trace of Ronaldo at Man United
With the Black Friday sales are upon us, here is some of the weird and wonderful branded merchandise that major clubs are hawking to their fans.
Transfer Talk: Chelsea, Newcastle, Real Madrid all pass on Cristiano Ronaldo
Chelsea are the latest club to reportedly turn down the chance to sign Cristiano Ronaldo, who is now a free agent. Transfer Talk has the latest.
LIVE Transfer Talk: Cristiano Ronaldo could help Real Madrid weather Karim Benzema injury
With Man United eager to be done with Ronaldo, Real Madrid see him as a Benzema replacement. Transfer Talk is LIVE with the latest.
Transfer Talk: Real Madrid want Rafael Leao as Karim Benzema replacement to challenge LaLiga
Real Madrid are two points behind Barcelona in LaLiga and need attacking reinforcements. Transfer Talk has the latest.
Laurens: Benzema could be out for the whole World Cup
Julien Laurens reports from Doha that Karim Benzema's World Cup may be over.
Transfer Talk: Liverpool lead for Bellingham as Real Madrid balk at Borussia Dortmund's €150m demand
Real Madrid currently have no plans to meet Borussia Dortmund's valuation for Jude Bellingham. Transfer Talk has the latest.
Brazil's Vinicius Jr. feared 'dirty' tackles would cost him World Cup dream
Brazil and Real Madrid forward Vinicius Junior said he feared he would get injured before the World Cup due to "dirty" tackles in LaLiga.
How top clubs from Arsenal to Bayern Munich are spending the World Cup break
What will Europe's top clubs be doing while their star players are at the World Cup? Everyone, from Arsenal to Barcelona, has work to do.
Eden Hazard: I'm 'really sorry' for flopping at Real Madrid, rate myself a zero
Eden Hazard has apologised to Real Madrid fans for failing to live up to expectations since joining the club.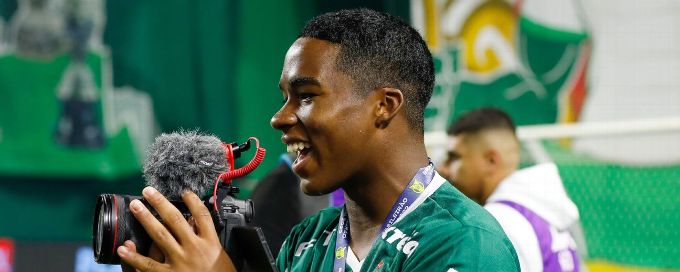 Paris Saint-Germain, Chelsea among clubs vying for Brazilian wonderkid Endrick - sources
Paris Saint-Germain had a €45 million offer for Palmeiras teenager Endrick rejected on Friday, with Chelsea also pursuing the Brazilian wonderkid.
As Real Madrid bounce back from rocky run, they should enjoy Toni Kroos while they have him
Real Madrid aren't looking as unstoppable as they did earlier this season, but luckily they have a player like Toni Kroos -- at least for now.
Real Madrid hold on to win over Cadiz
Toni Kroos and Eder Militao each score to boost Real Madrid to a 2-1 lead over Cadiz.
Real Madrid beat Cadiz to cut Barcelona LaLiga lead before World Cup break
Real Madrid beat Cadiz 2-1 to cut Barcelona's lead at the top of LaLiga to two points in their final match before the World Cup break.
Transfer Talk: Chelsea join race with Real Madrid and PSG for 16-year-old prodigy Endrick
Brazilian teenager Endrick has top clubs jostling for his signature, and Chelsea have joined the race. Transfer Talk has the latest.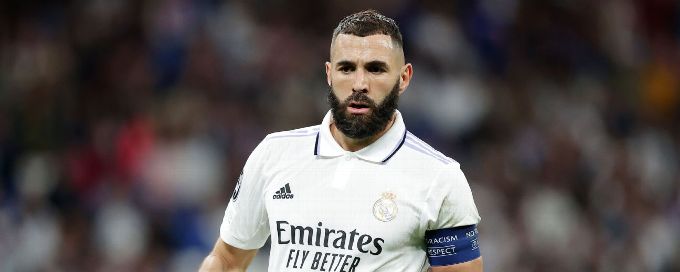 Karim Benzema's World Cup fitness battle for France: Ancelotti relaxed over Real Madrid forward
Real Madrid boss Carlo Ancelotti has denied that Karim Benzema's ongoing fitness issues could affect his ability to perform at the World Cup.
UEFA repeats opposition to Super League in meeting with ESL backer A22 Sports
UEFA met with A22 Sports, the company backing a proposed European Super League on Tuesday and once again rejected the idea of a breakaway league.
Real Madrid boss Carlo Ancelotti scolds team: Quality alone can't win
Carlo Ancelotti criticized Real Madrid's attitude after a 3-2 defeat at Rayo Vallecano saw them lose in LaLiga for the first time this season.
Real Madrid wobbling as World Cup break looms after Rayo crashes down on Ancelotti's side
Another off-kilter game for Real Madrid -- this time against a tough Rayo side -- cost the champs the top spot in the LaLiga standings.
Rayo Vallecano pull off upset over Real Madrid
After a wild 2-2 first half, Rayo Vallecano get a second-half penalty from Oscar Trejo to take down Real Madrid 3-2.
Real Madrid stunned by Rayo Vallecano leaving Barcelona atop LaLiga
Rayo Vallecano pulled off a 3-2 upset of Real Madrid in LaLiga on Monday night, handing them a first loss of the season in Spain's top flight.
Champions League draw: Real Madrid play Liverpool and Bayern meet PSG
Two of the favourites to win the 2022-23 Champions League will crash out at the round of 16 in March after a box office draw for the knockout stage.
Why you shouldn't write off Liverpool vs. Real Madrid
Gab & Juls react to a repeat of last year's Champions League final in the round of 16, as Liverpool face Real Madrid once more.
Champions League draw: Liverpool face Real Madrid, Bayern Munich vs. PSG
Real Madrid will face Liverpool in the Champions League round-of-16, while Paris Saint-Germain will play against Bayern Munich.
LaLiga hits out at Super League relaunch plans: It will destroy the leagues
LaLiga have slammed plans of another attempt by Real Madrid, Barcelona and Juventus to relaunch the Super League.
The battle for Bellingham: Liverpool close in as Real Madrid lurk
The battle for Borussia Dortmund's Jude Bellingham is hotting up, with Liverpool in pole position -- ESPN's Insider Notebook has the latest.
Team Leaders
Top Scorers
| # | Player | Goals | M | A |
| --- | --- | --- | --- | --- |
| 20 | Vinícius Júnio.. | 6 | 14 | 3 |
| 15 | Federico Valve.. | 6 | 14 | 3 |
| 9 | Karim Benzema | 5 | 7 | 1 |
Top Assists
| # | Player | Assists | M | G |
| --- | --- | --- | --- | --- |
| 21 | Rodrygo | 4 | 12 | 4 |
| 20 | Vinícius Júnio.. | 3 | 14 | 6 |
| 4 | David Alaba | 3 | 14 | 1 |