Paris Saint-Germain
1st in French Ligue 1
---
Soccer's Black Friday 2022 gift guide: Club-branded microwaves, rubber ducks and the last trace of Ronaldo at Man United
With the Black Friday sales are upon us, here is some of the weird and wonderful branded merchandise that major clubs are hawking to their fans.
Transfer Talk: PSG prioritise deal for Atletico Madrid's Joao Felix
With the futures of their forwards uncertain, PSG are said to be looking to recruit Atletico Madrid's Joao Felix. Transfer Talk has the latest.
Where could Cristiano Ronaldo go after leaving Man United following the World Cup?
Cristiano Ronaldo has left Manchester United, but where will he go after the World Cup? Here are some realistic options.
Cristiano Ronaldo, Lionel Messi break the internet with chess photo on Instagram
Lionel Messi and Cristiano Ronaldo are used to breaking records on and off the pitch, but the pair almost broke the internet on Saturday night.
Lewandowski has awkward exchange with journalist over Messi relationship
Robert Lewandowski denies having any ill feelings towards Lionel Messi over the 2021 Ballon d'Or award.
LIVE Transfer Talk: Shakhtar seek €100m fee for Mykhailo Mudryk amid Arsenal, Man City, PSG interest
Arsenal, Man City, Newcastle and PSG are eyeing Mykhailo Mudryk but Shakhtar Donetsk want a €100 million fee. Transfer Talk is LIVE with the latest.
The definitive Lionel Messi or Cristiano Ronaldo debate
Sporting stars have their say on the Lionel Messi or Cristiano Ronaldo debate in ESPN's "You Have to Answer."
Transfer Talk: Manchester United eye PSG's Kylian Mbappe as Cristiano Ronaldo replacement
Manchester United want to replace Cristiano Ronaldo with Paris Saint-Germain forward Kylian Mbappe. Transfer Talk is LIVE with the latest.
How top clubs from Arsenal to Bayern Munich are spending the World Cup break
What will Europe's top clubs be doing while their star players are at the World Cup? Everyone, from Arsenal to Barcelona, has work to do.
LIVE Transfer Talk: PSG, Chelsea consider Cristiano Ronaldo amid Manchester United fury over interview
PSG are still interested in Cristiano Ronaldo while Chelsea are "not unwilling" to make a move for him. Transfer Talk is LIVE with the latest.
Lionel Messi wants Argentina to ignore World Cup contenders hype
Lionel Messi says Argentina can't believe the hype they are among the World Cup favourites if they want to win the competition.
LIVE Transfer Talk: Joao Felix eyes PSG over Juventus, Man United
Atletico Madrid forward Joao Felix is interesting a few clubs as we approach the January transfer window. Transfer Talk is LIVE with the latest.
Marcus Thuram and Axel Disasi added to France World Cup squad as Presnel Kimpembe ruled out
Defending champions France have called up two more players ahead of the World Cup in Qatar.
Paris Saint-Germain beat Auxerre 5-0 in last match before World Cup
Leaders Paris Saint-Germain crushed Auxerre 5-0 with four second-half goals in Ligue 1 on Sunday to go into the World Cup break top of the table.
Ex-PSG boss Mauricio Pochettino hits out at club's recruitment: 'Too many' stars caused confusion
Former Paris Saint-Germain boss Mauricio Pochettino has hit out at the club's recruitment and said there were "too many" stars at the club.
Brazil's Neymar on World Cup future: 'I can't guarantee' playing at tournament after Qatar
Brazil forward Neymar Jr. has hinted that the World Cup in Qatar could be the last in his career.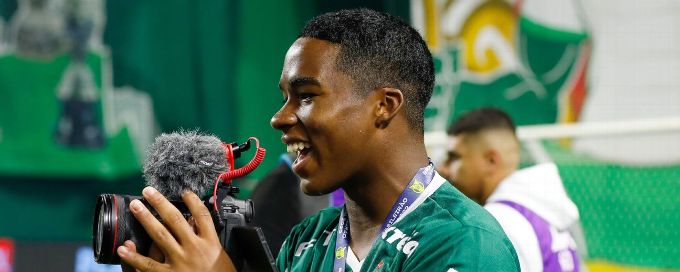 Paris Saint-Germain, Chelsea among clubs vying for Brazilian wonderkid Endrick - sources
Paris Saint-Germain had a €45 million offer for Palmeiras teenager Endrick rejected on Friday, with Chelsea also pursuing the Brazilian wonderkid.
Spain's World Cup squad: Sergio Ramos misses out on fairytale return, Ansu Fati in
Paris Saint-Germain defender Sergio Ramos has missed out on Spain's World Cup squad, while Barcelona forward Ansu Fati has been included.
Transfer Talk: Chelsea join race with Real Madrid and PSG for 16-year-old prodigy Endrick
Brazilian teenager Endrick has top clubs jostling for his signature, and Chelsea have joined the race. Transfer Talk has the latest.
Juls devastated as PSG draw Bayern Munich
Gab & Juls look ahead to a mouthwatering Champions League clash between PSG and Bayern Munich.
Champions League draw: Liverpool face Real Madrid, Bayern Munich vs. PSG
Real Madrid will face Liverpool in the Champions League round-of-16, while Paris Saint-Germain will play against Bayern Munich.
Late Danilo header earns PSG victory at Lorient
Danilo's late header helped unbeaten Ligue 1 leaders Paris St Germain beat a lively Lorient side 2-1 at the Stade du Moustoir on Sunday.
Champions League last-16 Power Rankings: Can anyone stop Man City or Bayern?
The Champions League last 16 is here! So let's break down the remaining teams by who has the most chance of winning it all.
Zlatan Ibrahimovic hits out at Kylian Mbappe's PSG extension: 'You are never bigger than a club'
Zlatan Ibrahimovic has questioned Kylian Mbappe's decision to stay at Paris Saint-Germain and warned him that "you are never bigger than a club."
Spain must include Sergio Ramos in World Cup squad - Carlo Ancelotti
Real Madrid head coach Carlo Ancelotti has urged Spain to include his former captain Sergio Ramos in their World Cup squad.
Team Leaders
Top Scorers
| # | Player | Goals | M | A |
| --- | --- | --- | --- | --- |
| 7 | Kylian Mbappé | 12 | 14 | 2 |
| 10 | Neymar | 11 | 14 | 9 |
| 30 | Lionel Messi | 7 | 13 | 10 |
Top Assists
| # | Player | Assists | M | G |
| --- | --- | --- | --- | --- |
| 30 | Lionel Messi | 10 | 13 | 7 |
| 10 | Neymar | 9 | 14 | 11 |
| 25 | Nuno Mendes | 3 | 12 | 1 |