Hellas Verona
19th in Italian Serie A
---
Cambiaso gives Juventus last-gasp win over Verona
Juventus secured a last-second 1-0 victory over Hellas Verona at home on Saturday, thanks to Andrea Cambiaso, with striker Moise Kean having two disallowed goals, as the club moved into provisional top spot in Serie A.
Kvaratskhelia double as Napoli cruise to 3-1 win at Verona
Khvicha Kvaratskhelia netted a goal in each half as Napoli claimed a resounding 3-1 victory at Hellas Verona in Serie A on Saturday.
Napoli beat Verona 3-1 to ease pressure on coach Rudi Garcia
Kvaratskhelia appears back to his stunning best as he scored two goals to help Napoli beat Hellas Verona 3-1 in Serie A on Saturday
Leao scores as Milan beat Verona after delay
AC Milan returned to winning ways when Rafael Leao scored in a 1-0 home win over Hellas Verona in Saturday's Serie A game that was delayed by 25 minutes due to a hailstorm.
Verona beat Spezia in relegation playoff to stay in Serie A
Hellas Verona secured another season in Serie A on Sunday after defeating Spezia 3-1 in their relegation playoff, with Cyril Ngonge's two goals sending Spezia into the second tier.
Milan send Verona into relegation playoff with Spezia
Hellas Verona will face Spezia in a Serie A relegation playoff after losing 3-1 at fourth-placed AC Milan on Sunday as Rafael Leao's double and an Olivier Giroud penalty secured the points.
Verona beats Bologna to leave it on brink of Serie A safety
— Hellas Verona improved its chances of escaping Serie A's bottom three after beating Bologna 2-1 on Friday thanks to two goals from Simone Verdi.
Napoli disappoint in 0-0 draw against Verona
Leaders Napoli were held to a goalless home draw by relegation-threatened Hellas Verona in Serie A on Saturday.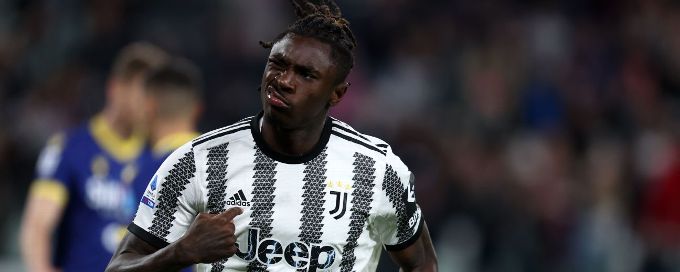 Juventus win again to close in on Serie A's top 4
Juventus needed a second-half goal by striker Moise Kean to seal a 1-0 home win over Hellas Verona on Saturday and stay in the hunt for a top-six fi
Biraghi scores from his own half in Fiorentina win
— Fiorentina full back Cristiano Biraghi scored from a quick free kick in his own half that caught Hellas Verona goalkeeper Lorenzo Montipo off guard during the final minutes of a 3-0 Serie A win on Monday.
Roma boost top-four hopes with win against Verona
AS Roma continued the push for a top-four finish with a 1-0 home win over Hellas Verona in Serie A on Sunday.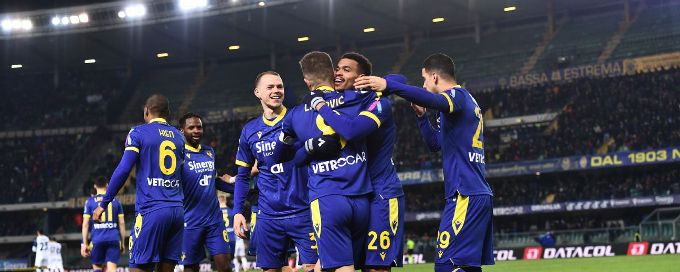 Lazio miss chance for third place after draw at Verona
Lazio missed the chance to go third in the Serie A standings after being held to a 1-1 draw at Hellas Verona on Monday.
Lazio held at Serie A struggler Verona to 1-1
— Lazio was held at relegation-threatened Hellas Verona to 1-1 on Monday to hamper its hopes of consolidating its place in the top four in Serie A in a tight race for the Champions League spots.
Early Martinez goal gives Inter 1-0 win over Verona
Inter Milan secured a 1-0 home win over strugglers Hellas Verona thanks to an early goal from striker Lautaro Martinez in Saturday's Serie A game.
Kean strike gives unconvincing Juventus win at Verona
A lacklustre Juventus needed Moise Kean's second-half goal to secure a 1-0 win at Hellas Verona in Serie A on Thursday.
Late Sandro Tonali goal secures AC Milan 2-1 win at Verona
Sandro Tonali's late goal sealed a 2-1 win for Italian champions AC Milan at Hellas Verona in Serie A on Sunday.
AC Milan restore Serie A lead with win at Hellas Verona
A Sandro Tonali double moved AC Milan one step closer to the Serie A title after they regained top spot with a 3-1 win over Hellas Verona.
Inter beat Verona to close gap at top of Serie A to one point
Inter Milan closed the gap on Serie A leaders AC Milan to one point after cruising to a 2-0 victory over Hellas Verona on Saturday.
Verona handed partial stadium ban for racist chants, bombing banner
Verona were ordered to play their next home match with part of their stands empty after racist chants and anti-territorial insults against Napoli.
Victor Osimhen nets brace to send Napoli into second with win at Verona
Napoli climbed to second in Serie A after a double from Nigerian striker Victor Osimhen fired them to a 2-1 win at Hellas Verona on Sunday.
Dusan Vlahovic, Denis Zakaria score on debut as Juventus beat Hellas Verona
Dusan Vlahovic and Denis Zakaria enjoyed dream Juventus debuts as the two January signings scored in a 2-0 win over Hellas Verona on Sunday.
Atalanta come from behind to make it six Serie A wins in a row
Atalanta made it six wins in a row in Serie A after coming from behind to earn a 2-1 victory at Hellas Verona on Sunday.
Leaders Napoli stumble to Verona draw as Simeone strikes again
Napoli dropped points for the second time this season in Serie A with a 1-1 draw at home to Hellas Verona on Sunday.
Juventus misery continues as Simeone inspires Verona
Juventus' miserable start to the Serie A season continued as they lost 2-1 at Hellas Verona on Saturday, with an early double from Giovanni Simeone.
Giroud scores as AC Milan top table in 5-goal thriller in Ibrahimovic return
AC Milan produced a superb second half fightback from two goals down to beat Hellas Verona 3-2 and go top of the Serie A table.
Team Leaders
Top Scorers
| # | Player | Goals | M | A |
| --- | --- | --- | --- | --- |
| 26 | Cyril Ngonge | 3 | 12 | 1 |
| 11 | Milan Djuric | 2 | 12 | 1 |
| 90 | Michael Foloru.. | 1 | 13 | 0 |
Top Assists
| # | Player | Assists | M | G |
| --- | --- | --- | --- | --- |
| 24 | Filippo Terrac.. | 1 | 13 | 0 |
| 33 | Ondrej Duda | 1 | 12 | 1 |
| 26 | Cyril Ngonge | 1 | 12 | 3 |