Valencia
9th in Spanish LaLiga
---
Andre Almeida goal 93rd minute Valencia 3-0 Celta Vigo
Andre Almeida goal 93rd minute Valencia 3-0 Celta Vigo
USMNT roster: Yunas Musah replaced by Johnny Cardoso for pre-World Cup friendlies
Valencia's Yunus Musah has withdrawn from the USMNT roster for a pair of upcoming friendlies, and been replaced by Internacional's Johnny Cardoso.
Yunus Musah links up with Samuel Lino for sensational goal
Samuel Lino goal 14th minute Valencia 2-0 Getafe
Antoine Griezmann comes off the bench to give Atletico a win at Valencia
Antoine Griezmann came off the bench to hand Atletico Madrid a 1-0 LaLiga win at Valencia on Monday.
Antoine Griezmann's goal opens scoring for Atletico Madrid
Antoine Griezmann left-foots a shot to the bottom-right corner to put Atletico Madrid up 1-0 vs. Valencia.
Edinson Cavani to join Valencia on free transfer
Uruguay striker Edinson Cavani has joined Valencia on a free transfer, the Spanish club announced on Monday.
Athletic Club edges past Valencia
Athletic Club defeats Valencia 1-0 in LaLiga thanks to Álex Berenguer's goal in the first half.
Americans in Europe: Where the USMNT's World Cup hopefuls are playing across the Atlantic
With the World Cup looming, the start of this European club season is vital, so where on the continent are the USMNT's hopefuls playing in 2022-23?
Carlos Soler goal 46th minute Valencia 1-0 Girona
Carlos Soler goal 46th minute Valencia 1-0 Girona
LaLiga schedule 2022-23: How Madrid, Barca, Atletico & Co. will navigate the new season's fixture list
The 2022-23 LaLiga schedule was released on Thursday, and we've circled the dates on the calendar that will help determine Spain's next champions.
New Valencia boss Gennaro Gattuso is focused on football, not finances, but money may determine his fate
"I am not an accountant, I am a football manager," Gennaro Gattuso said, but financials are the determining factor at cash-strapped Valencia.
Valencia sack president Anil Murthy over audio leak controversy
Valencia have sacked president Anil Murthy over the controversy of leaked audios which the club say damaged their reputation.
Jaume Doménech's save prevents Celta Vigo from leveling
Jaume Doménech's save prevents Celta Vigo from leveling.
Raúl de Tomás ties things up with left-footed shot
Valencia's match vs. Espanyol gets tied at 1-1 after Raúl de Tomás' goal.
Move over, xG! LaLiga's new 'Goal Probability' metric sheds new light on classic goals from Cristiano Ronaldo, Lionel Messi and more
LaLiga's new metric shows as a percentage the chances of a goal being scored by any player at any moment. Here it is applied to some classics.
Willian José left-foots a goal through the goalkeeper's legs
Willian José left-foots a goal through the goalkeeper's legs
Valencia brand Carlos Soler to Barcelona rumours as lies
Valencia have denied they have agreed to let midfielder Carlos Soler join Barcelona this summer for a fee of €20 million as lies.
Real Betis hold nerve to beat Valencia on penalties in Copa del Rey final
(add details and quotes)
American Yunus Musah misses crucial penalty as Valencia loses Copa del Rey final
Valencia's Yunus Musah misses a crucial penalty as Real Betis goes a perfect 5-for-5 to win the Copa del Rey title.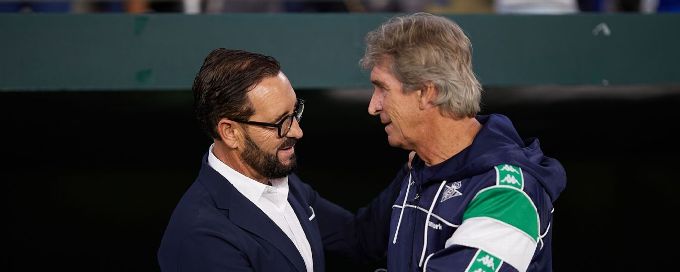 Copa del Rey: Betis's Pellegrini, Valencia's Bordalas reach first Cup final via very different paths, styles
Despite 63 years of combined experience, neither Real Betis's Manuel Pellegrini nor Valencia's Jose Bordalas has ever coached a Copa del Rey final.
Arnaut Danjuma's brace leads Villarreal past Valencia
Villarreal makes it back-to-back wins in LaLiga after Arnaut Danjuma's pair of goals against Valencia.
Sergi Guardiola's cool finish brings Rayo Vallecano level
Sergi Guardiola scores for Rayo Vallecano to tie the game a 1-1 late in the second half.
Valencia, Cadiz unable to find the net in 0-0 draw
Valencia and Cadiz struggle to create any momentum as they can't find a goal in a 0-0 draw.
Guedes goal enough to see Valencia win vs. Elche
Goncalo Guedes' scrappy goal in the second half gives Valencia a 1-0 win away at Elche.
Team Leaders
Top Scorers
| # | Player | Goals | M | A |
| --- | --- | --- | --- | --- |
| 11 | Samu Castillej.. | 2 | 7 | 0 |
| 12 | Mouctar Diakha.. | 1 | 7 | 0 |
| 16 | Samuel Lino | 1 | 7 | 0 |
Top Assists
| # | Player | Assists | M | G |
| --- | --- | --- | --- | --- |
| 6 | Hugo Guillamón.. | 3 | 7 | 0 |
| 4 | Yunus Musah | 2 | 5 | 0 |
| 18 | Andre Almeida | 1 | 4 | 1 |