Tunisia
4th in FIFA World Cup
---
Is Africa heading towards World Cup humiliation?
We present a status report for each of Africa's five Qatar-bound teams, including the key areas they need to improve.
Brazil hit five past 10-man Tunisia ahead of World Cup
Rampant Brazil destroyed 10-man Tunisia 5-1 in a friendly on Tuesday with Raphinha scoring twice and setting up another goal.
Africa's Big Five: Where do the continent's teams stand as Qatar approaches?
None of Africa's quintet are the complete package heading to the World Cup, with each of the five sides still having clear areas to work on.
Khenissi scores as Tunisia win World Cup warm-up
Tunisia striker Taha Yassine Khenissi scored the only goal as the World Cup-bound side beat Comoros Islands 1-0.
Tunisia name squad for Brazil friendly
Tunisia have named midfielder Chaim El Djebali in a squad of 29 players for World Cup warm-up matches against the Comoros Islands and Brazil.
World Cup-bound Ghana and Tunisia held to draws as Egypt win
World Cup-bound Ghana and Tunisia were both held to draws in Africa Cup of Nations qualifiers on Sunday while Egypt scored a late winner.
Naim Sliti leads Tunisia in AFCON qualifying rout of Equatorial Guinea
Winger Naim Sliti scored one goal and set up two others as World Cup-bound Tunisia secured a thumping 4-0 victory over Equatorial Guinea in their op
Africa's World Cup draw: Expectation for Senegal, cautious optimism for remainder
Ed Dove assesses the hopes for Africa's five teams to qualify for the 2022 FIFA World Cup in Qatar.
World Cup 2022 draw: Senegal drawn with hosts Qatar; Ghana face Cristiano Ronaldo's Portugal
Senegal have been drawn against hosts Qatar in Group A while Ghana will face Cristiano Ronaldo's Portugal at the 2022 World Cup.
Tunisia through to World Cup after 0-0 home draw with Mali
Tunisia qualified for a sixth World Cup finals appearance after a 0-0 draw at home to Mali ensured their place at the tournament in Qatar.
Sissako own goal, red card costs Mali in World Cup playoff with Tunisia
Mali's Moussa Sissako scored an own goal and was sent off as they lost 1-0 to Tunisia in the first leg of their World Cup qualifying playoff.
Mali's Moussa Sissako scores an own goal
Moussa Sissako attempts a kick back to his goalkeeper but he's off the mark and scores an own goal for Tunisia.
Africa will be without huge stars at the World Cup, but which ones?
The 10 African teams still standing in the race for Qatar will be cut down to five in the last round of qualifiers. Which big players will miss out?
Tunisia fire coach Kebaier after AFCON exit
Tunisia sacked coach Mondher Kebaier on Sunday after the team's elimination from AFCON and two months before they compete in World Cup playoffs.
Teenager Dango Ouattara nets winner as Burkina Faso advance to AFCON semifinal
Burkina Faso claimed a 1-0 win over Tunisia in their Africa Cup of Nations quarterfinal at the Roumde Adjia Stadium on Saturday.
AFCON quarterfinals are wide open, shocks are on the cards
After a group stage and Last 16 characterised by narrow score lines, the Africa Cup of Nations quarterfinals could see a couple of shock results.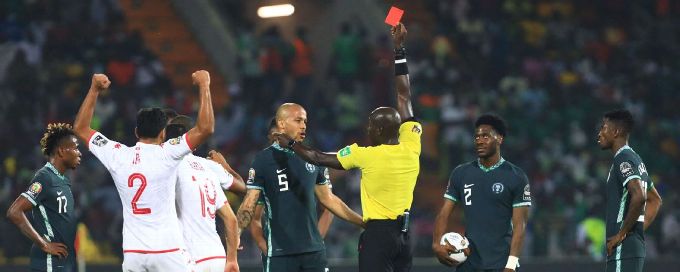 Nigeria's deficiencies exposed by Tunisia in stunning AFCON upset
The Super Eagles were brought to ground with a thud on Sunday, with Tunisia upsetting a Nigeria side that looked to be cruising to the AFCON title.
Tunisia upset Nigeria to book Africa Cup of Nations quarterfinal place
Captain Youssef Msakni scored with a long-range shot to hand COVID-hit Tunisia an improbable 1-0 win over 10-man Nigeria in Garoua on Sunday.
Gambia upset Tunisia in another Africa Cup of Nations shock
Gambia's Ablie Jallow scored a stunning goal deep in stoppage time to earn his team a shock 1-0 win over Tunisia at the Africa Cup of Nations.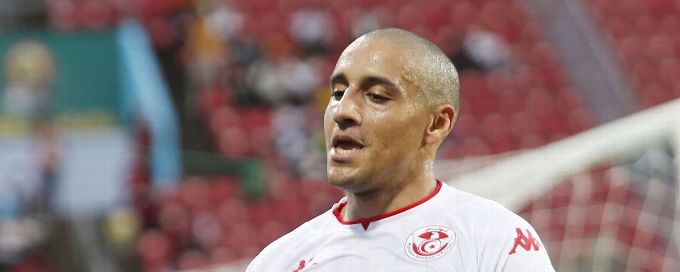 Tunisia squad hit by COVID-19 outbreak at AFCON
Tunisia have been hit by a COVID-19 outbreak in their camp at the Africa Cup of Nations (AFCON).
Tunisia rout Mauritania to get back on track at Africa Cup of Nations
Tunisia eased to a comfortable 4-0 victory over Mauritania in their Africa Cup of Nations Group F match at the Limbe Stadium on Sunday.
AFCON refereeing concerns grow as Sikazwe fallout continues
Coaches and players taking part at the AFCON in Cameroon have appealed to referees to make better decisions, as the tournament takes the hit.
Mali win over Tunisia ratified by AFCON tournament organizing committee
Mali's victory over Tunisia will stand at the African Cup of Nations despite the referee causing chaos by twice blowing the final whistle too early.
Referee mistakes ruin Tunisia vs. Mali at AFCON and threaten to overshadow a fun tournament
The actions of the referee during Wednesday's Group F game will linger on long after Mali's victory, or the joy that is the Africa Cup of Nations.
Africa Cup of Nations match between Tunisia and Mali ends in controversy
Ed Dove explains to Kay Murray why the Group F opening match between Tunisia and Mali ended in controversial circumstances.
Team Leaders
Top Scorers
| # | Player | Goals | M | A |
| --- | --- | --- | --- | --- |
| | Aymen Dahmen | 0 | 0 | 0 |
| | Mohamed Sedki .. | 0 | 0 | 0 |
| | Bechir Ben Sai.. | 0 | 0 | 0 |
Top Assists
| # | Player | Assists | M | G |
| --- | --- | --- | --- | --- |
| | Aymen Dahmen | 0 | 0 | 0 |
| | Mohamed Sedki .. | 0 | 0 | 0 |
| | Bechir Ben Sai.. | 0 | 0 | 0 |