Sporting CP
8th in Portuguese Liga
---
Marcus Edwards shows what Tottenham and the Premier League missed out on
Marcus Edwards was a thorn in his former club's side after helping Sporting secure their second straight win in the Champions League this season.
Does Conte need to drop Son from the Tottenham XI?
Janusz Michallik speaks about the form of Son Heung-Min after Tottenham's 2-0 loss to Sporting CP.
Sporting overcome Tottenham with two stoppage-time strikes
Tottenham Hotspur conceded two stoppage-time goals to suffer a 2-0 defeat at the hands of Sporting CP in the Champions League on Tuesday.
Clinical Sporting ruin Eintracht's Champions League debut
Eintracht Frankfurt's first match in the Champions League was spoiled by a 3-0 defeat at home to Sporting in their opening Group D match.
LIVE Transfer Talk: Cristiano Ronaldo open to Sporting CP return after Real Madrid rejection
Cristiano Ronaldo's time to return to his boyhood club in Portugal might have finally arrived. Transfer Talk has the latest.
Champions League group stage draw live blog: The anticipation, buzz and reaction to the 2022-23 edition of Europe's biggest club competition
The Champions League is the pinnacle of club football, and each year's group-stage draw marks the start of all 32 teams' quest for the European Cup.
LIVE Transfer Talk: Cristiano Ronaldo wants to leave Manchester United this summer
Fearing he's not in Erik ten Hag's plans at Man United, Cristiano Ronaldo is reportedly seeking a new club. Transfer Talk is LIVE with the latest.
Benfica's Darwin Nunez, Ajax's Sebastien Haller in top 10 most valuable players outside Europe's top 5 leagues - CIES study
While Kylian Mbappe's and Erling Haaland's futures will dominate the summer transfer window, there's lots of talent outside Europe's top leagues.
Manchester City complete cruise past Sporting Lisbon to reach Champions League quarterfinals
Manchester City cruised into the Champions League quarterfinals, playing out a goalless draw with Sporting Lisbon to progress 5-0 on aggregate.
Man City hit five past Sporting Lisbon in Champions League rout
Manchester City have one foot in the Champions League quarterfinals after an impressive 5-0 win at Sporting Lisbon on Tuesday.
Champions League redraw reaction: Predictions as Real Madrid get PSG, Atletico Madrid face Man United
After the fiasco of a botched draw that led to a full redo, the Champions League last 16 is finally set. Here are our game-by-game picks.
Champions League redraw sees PSG vs. Real Madrid, Atletico vs. Man United, Inter vs. Liverpool
The Champions League round-of-16 draw was redone on Monday, with PSG to face Real Madrid and Atletico Madrid paired with Manchester United.
Champions League draw repeated after UEFA's Man United error
The Champions League draw was redrawn on Monday after Manchester United were mistakenly omitted as potential opponents for Atletico Madrid.
UCL chaos: UEFA confirm re-draw as Man United, Ronaldo initially pitted against Messi's PSG
The Champions League round-of-16 draw was declared void after an error pitted Manchester United against Paris Saint-Germain on Monday.
Ajax maintain Champions League perfect record as Sebastian Haller scores again vs. Sporting
Sebastien Haller kept up his scoring streak to help Ajax Amsterdam end the Champions League group stage with a 100% record as they beat Sporting CP.
Cristiano Ronaldo scores 800th career goal: Can he reach 1,000 before he retires?
Cristiano Ronaldo reached another amazing milestone by scoring the 800th goal of his senior career. Could he make it to 1,000? Don't bet against it.
Man United's Cristiano Ronaldo scores 800th career goal in clash with Arsenal
Cristiano Ronaldo scored twice in Manchester United's match against Arsenal to surpass 800 goals of his career for club and country.
Sporting CP clinch last-16 spot with 3-1 win over Borussia Dortmund
Sporting CP beat 10-man Borussia Dortmund 3-1 on Wednesday with two goals from Pedro Goncalves to clinch their Champions League last-16 spot.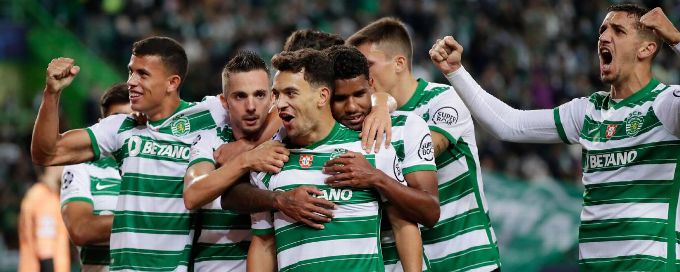 Sporting steamroller Besiktas in Champions League win
A double from Pedro Goncalves helped Sporting to a dominant 4-0 Champions League home win over Besiktas on Wednesday.
Coates double steers Sporting to 4-1 win at Besiktas
Sporting rekindled their hopes of reaching the Champions League knockout stage as Sebastian Coates helped secure a 4-1 victory at Besiktas.
Malen's maiden goal hands Dortmund 1-0 win over Sporting
Borussia Dortmund beat Sporting 1-0 thanks to Donyell Malen's first goal for the club in their Champions League Group C match.
Cristiano Ronaldo's mother wants her son to return to Sporting Lisbon
If Cristiano Ronaldo won't return to Sporting Lisbon, she said she would settle for her grandson, Cristiano Jr, to join the Portuguese champions.
Ajax's Sebastien Haller nets four in 5-1 Champions League win vs. Sporting CP in Lisbon
Sebastien Haller scored four goals as Ajax Amsterdam picked apart Portuguese hosts Sporting CP for a one-sided 5-1 victory.
PSG sign teenage Sporting star Nuno Mendes on loan
Paris Saint-Germain have signed Nuno Mendes on loan from Sporting Lisbon, the club have announced.
Champions League group-stage draw seeds set as Chelsea seal final place
Chelsea have secured the last place among the seeded teams for the 2021-22 Champions League group stage draw.
Team Leaders
Top Scorers
| # | Player | Goals | M | A |
| --- | --- | --- | --- | --- |
| 28 | Pedro Gonçalve.. | 4 | 7 | 3 |
| 10 | Marcus Edwards | 3 | 7 | 2 |
| 17 | Francisco Trin.. | 2 | 7 | 1 |
Top Assists
| # | Player | Assists | M | G |
| --- | --- | --- | --- | --- |
| 28 | Pedro Gonçalve.. | 3 | 7 | 4 |
| 10 | Marcus Edwards | 2 | 7 | 3 |
| 16 | Rochinha | 2 | 7 | 0 |