Sevilla
15th in Spanish LaLiga
---
FC Copenhagen hold Sevilla to scoreless Champions League draw
FC Copenhagen held Sevilla to a scoreless draw as both sides picked up their first point of their Champions League Group G campaign.
José Carmona goal 45th minute Espanyol 0-3 Sevilla FC
José Carmona goal 45th minute Espanyol 0-3 Sevilla FC
Moreno: Man City's win over Sevilla 'was over before it started'
Alejandro Moreno reacts to Manchester City's decisive 4-0 win, saying Sevilla was overmatched from the very beginning.
Erling Haaland, Man City's Champions League quest off to a flying start with big win over Sevilla
Erling Haaland's remarkable run of goals continued as he smashed two past Sevilla in an easy win for Man City on their latest quest for UCL glory.
Erling Haaland scores brace as Manchester City sink struggling Sevilla
Erling Haaland scored twice as Manchester City opened their Champions League campaign with a 4-0 victory away at out-of-form Sevilla on Tuesday.
Barcelona's high-octane attack proves too much for Sevilla as Xavi's side hit an impressive rhythm
Raphinha, Robert Lewandowski and Ousmane Dembele all dazzled -- as did Gavi -- in another impressive win for Barcelona, this time over Sevilla.
Robert Lewandowski scores again as Barcelona breeze past Sevilla
Robert Lewandowski scored his fifth goal in four LaLiga games for Barcelona and helped his team breeze past Sevilla in a 3-0 win on Saturday.
Lewandowski scores brilliant goal off his chest
Sadiq Umar goal 55th minute Almería 2-1 Sevilla FC
Sadiq Umar goal 55th minute Almería 2-1 Sevilla FC
Barcelona register Jules Kounde a month after signing defender from Sevilla
Barcelona have finally registered Jules Kounde with LaLiga, a month after signing the defender from Sevilla.
Champions League group stage draw live blog: The anticipation, buzz and reaction to the 2022-23 edition of Europe's biggest club competition
The Champions League is the pinnacle of club football, and each year's group-stage draw marks the start of all 32 teams' quest for the European Cup.
Real Valladolid's keeper gifts Sevilla the equalizer
Bono fumbles the ball in the box, and it falls to the feet of Karim Rekik for the equalizing goal.
Mexico's Jesus 'Tecatito' Corona to miss 2022 World Cup with fractured fibula
Sevilla's Jesus 'Tecatito' Corona will miss the World Cup after the Mexico international fractured his fibula in Thursday's training session.
LaLiga 2022-23 preview: Will Barcelona topple Real Madrid? What to watch for ahead of new season
LaLiga is back! Before the action gets underway, though, let's look at some of the biggest storylines worth following as the 2022-23 season begins.
Can Isco rescue his career at Sevilla? Julen Lopetegui is his best chance
Isco identified two managers who could make him magic again after some tough years in Madrid; now, he's playing for one of them at Sevilla.
European 2022-23 kit ranking: Which Champions League giant has this season's best jerseys?
With Europe's top teams unveiling their kits for the new season, we've compiled them all to find out which club is the continent's most stylish.
LaLiga team-by-team preview: How Spain's top sides stack up to Real Madrid, Barcelona
ESPN is your home for all LaLiga matches, replays and highlights. We preview all 20 squads in Spain's top flight and what to look for this season.
Laurens hopes Isco can bring his magic back at Sevilla
Julien Laurens feels it isn't too late for Isco to resurrect his career after he joined Sevilla from Real Madrid on a free transfer.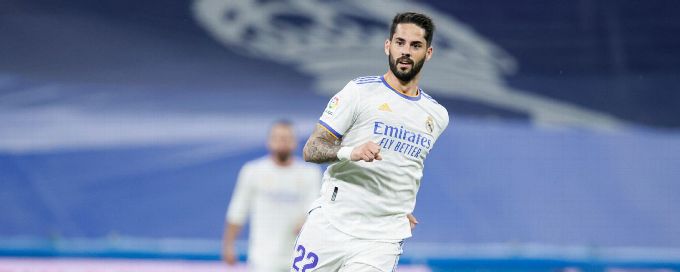 Former Real Madrid midfielder Isco joins Sevilla on a free transfer
Former Real Madrid midfielder Isco has joined Sevilla as a free agent, the LaLiga club announced on Monday.
Thomas Delaney's goal gives Sevilla the lead
Thomas Delaney finds the net as Sevilla takes a 1-0 lead vs. Cadiz.
Man United's Alex Telles joins Sevilla on season-long loan
Alex Telles has signed for Sevilla on a season-long loan from Manchester United, both clubs announced on Thursday.
Gabriel Jesus scores hat trick in Arsenal's 6-0 thumping over Sevilla
Gabriel Jesus continued his white-hot preseason form as he scored a hat trick in Arsenal's 6-0 victory over Sevilla in the Emirates Cup on Saturday.
Barcelona reach agreement to sign Jules Kounde in deal worth up to €55m
Barcelona have reached an agreement with Sevilla to sign defender Jules Kounde, the Catalan club confirmed on Thursday.
Moreno: Barcelona becoming more of a complete picture with Kounde
Ale Moreno feels Barcelona signing Jules Kounde shows the club are building their side in the right way.
Barcelona beat Chelsea to complete Jules Kounde deal -- sources
Barcelona have continued their busy summer of arrivals with the signing of defender Jules Kounde from Sevilla, sources told ESPN.
Team Leaders
Top Scorers
| # | Player | Goals | M | A |
| --- | --- | --- | --- | --- |
| 21 | Óliver Torres | 2 | 4 | 0 |
| 30 | José Carmona | 2 | 4 | 1 |
| 17 | Erik Lamela | 1 | 5 | 0 |
Top Assists
| # | Player | Assists | M | G |
| --- | --- | --- | --- | --- |
| 22 | Isco | 1 | 5 | 0 |
| 24 | Papu Gómez | 1 | 5 | 0 |
| 3 | Alex Telles | 1 | 5 | 0 |