Persib
2nd in Indonesian Liga 1
---
Indonesia crown first Liga 1 champions in over two years as Bali United claim second title
Bali United have won the 2021-22 Liga 1 title to become Indonesia's first domestic champions since 2019 when the COVID-19 pandemic began.
Where are they now: Indonesia's 2016 underdogs that restored hope to a nation
After years of being plagued by off-field issues, Indonesian football was uplifted by an improbable but inspiring run at AFF Suzuki Cup 2016.
Indonesia need more superstars like Michael Essien for 2018 season
Michael Essien and Peter Odemwingie led the way for imports in Indonesia in 2017, and more are needed this year. Five Indo wishes by John Duerden.
JDT owner TMJ hits back at former coach Mario Gomez over unpaid wages
JDT president TMJ has hit back at former coach Mario Gomez over claims of unpaid wages, daring the Argentine boss to fight the matter in court.
JDT face bitter court battle versus former manager Mario Gomez
Coach Mario Gomez may be about to begin a new job as coach of Persib Bandung in Indonesia, but he faces a fight in court against ex-Malaysia club JDT.
JDT ex-boss Mario Gomez new coach of Michael Essien's Persib Bandung
Ex-JDT boss Mario Gomez will try to rebuild the hopes of one of Indonesian football's biggest clubs after being appointed in charge of Persib Bandung.
Indonesia giants Persija Jakarta links up with Korean champs Jeonbuk
Indonesia's Persija Jakarta have announced the signing of a Memorandum of Understanding with newly-crowned K-League champions Jeonbuk Hyundai Motors.
Bhayangkara stunned by PSM to blow open Indonesia title race
Robert Alberts' PSM Makassar blew the Indonesian title race wide open on Thursday with a 2-0 win at the home of Liga One leaders Bhayangkara.
Peter Odemwingie suspended as Madura lose top spot in Indonesia
A 5-2 victory by Bali United over Madura United -- who were missing top scorer Peter Odemwingie -- saw them claim top spot in Indonesia's Liga 1.
Michael Essien helps brighten Indonesian season of Persib Bandung
Michael Essien scored his third goal of the season, helping Persib Bandung to a 3-1 win over PS TNI that moves them away from the relegation zone.
Carlton Cole sacked by Persib in Indonesia for 'failing to perform'
Former England striker Carlton Cole was sacked by his Indonesian club Persib Bandung on Wednesday after failing to score during the 2017 season.
Peter Odemwingie scores again as Essien's Persib see coach depart
There was joy for ex-Stoke City winger Peter Odemwingie and concern for former Chelsea midfielder Michael Essien after the latest round in Indonesia.
Peter Odemwingie outshines Michael Essien as Madura United beat Persib
Peter Odemwingie scored twice as his Madura United beat Michael Essien's Persib Bandung 3-1 in Indonesia's Liga 1 on Sunday night.
Michael Essien guides Persib Bandung to win over leaders PSM
Michael Essien played 90 minutes as Persib Bandung opened up the Indonesian title race on Wednesday with a 2-1 win over league leading PSM Makassar.
Robert Alberts hopes Michael Essien won't trip up his high-flying PSM
Michael Essien comes up against the coach who turned him down when his Persib Bandung host Robert Alberts' high-flying PSM in Indonesia's Liga 1.
Michael Essien's Persib Bandung slump to 12th in Indonesia after loss
Michael Essien completed his second 90 minutes of the season, but his team Persib Bandung lost again to fall to 12th on the Indonesia standings.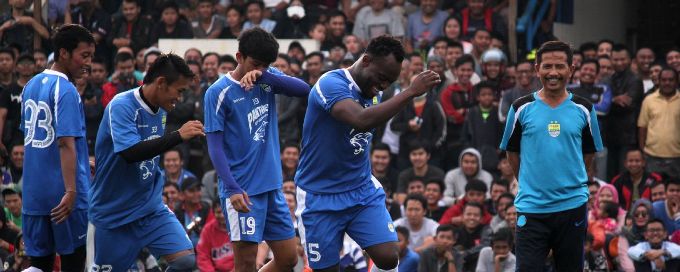 Persib Bandung lose again in Indonesia, Essien plays second half
The troubled Indonesian season of Persib Bandung worsened on Sunday as the big-spending club lost 2-0 at Bhayangkara for a second successive defeat.
Former England striker Carlton Cole released by Persib Bandung
Ex-England striker Carlton Cole has reportedly parted ways with Persib Bandung in Indonesia after failing to score, and playing only 105 minutes.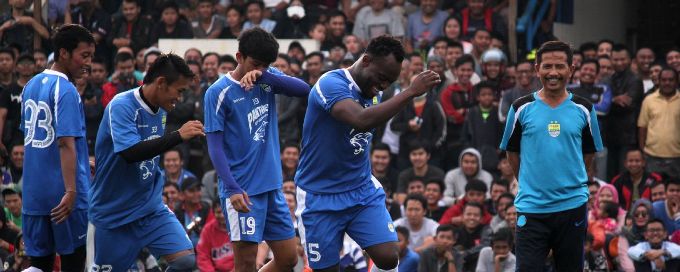 Michael Essien, Persib Bandung coach under pressure in Indonesia
Michael Essien's Persib are unbeaten in Indonesia Liga 1 this season, but there is pressure on coach Djadjang Nurdjaman due to the team's dour style.
Michael Essien misses penalty as Persib draw in Indonesia
Michael Essien missed a penalty and Persib Bandung missed a chance to go top of Indonesia Liga 1 after being held to a 2-2 draw at home to Borneo.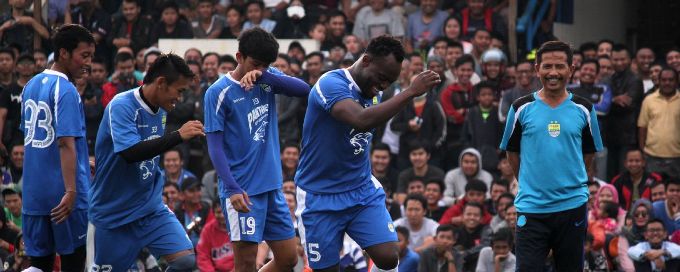 Michael Essien, Didier Zokora settle for stalemate in Indonesia
Michael Essien's Persib Bandung drew 0-0 away to Didier Zokora's Semen Padang as the two African icons shared the spoils in Indonesia's Liga 1.
African icons Didier Zokora and Michael Essien face off in Indonesia
Former African rivals Didier Zokora and Michael Essien will face off on the Indonesian stage when Semen Padang host Persib Bandung on Saturday night.
Carlton Cole on team is same as playing with 10 men - Persib official
Persib Bandung's manager says an Indonesian team with former England striker Carlton Cole is like playing with 10 men, due to his poor contributions.
Michael Essien, Carlton Cole 'can't sleep, adapt' to Indonesia
Star imports Michael Essien and Carlton Cole are struggling to sleep and adapt to life in Indonesia, says Persib Bandung coach Djadjang Nurdjaman.
Michael Essien scores first Indonesian goal but Persib Bandung draw again
Michael Essien scored his first goal, but Persib Bandung dropped more points after drawing 2-2 at PS TNI in Indonesia's Liga 1 on Saturday night.
Team Leaders
Top Scorers
Top Assists