Norwich City
13th in English League Championship
---
The world's most wild and stylish kits of the 2023-24 season
From modern twists on traditional kits to bizarre and funky designs, here's some of this season's most stylish and wild soccer jerseys.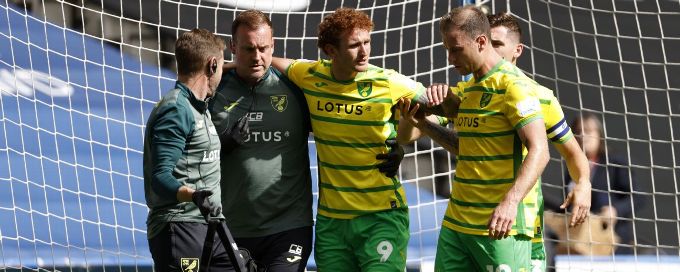 USA's Sargent suffers 'serious' injury while scoring for Norwich
U.S international Josh Sargent injured an ankle while scoring in Norwich's 4-0 victory over Huddersfield in England's second-tier Championship on Saturday.
Josh Sargent's header gives Norwich City a 2-0 lead
Josh Sargent's goal proves to be the difference-maker vs. Millwall.
Middlesbrough thrash Norwich at home 5-1
Middlesbrough score four goals in the first half as they cruise to a 5-1 home win over Norwich.
Abdoullah Ba scores from outside the box to put Sunderland ahead
Abdoullah Ba scores his first goal for Sunderland to put his side 1-0 up against Norwich.
Teemu Pukki's goal in first minute proved to be winner for Norwich
Norwich gets the 1-0 win over Swansea as Teemu Pukki scores off a corner in the first minute.
Josh Sargent riding Norwich City wave of goals and confidence to stake claim to USMNT's No. 9 shirt
Josh Sargent is in the form of his life for Norwich, and full of confidence, he's ready to lead the line for the U.S. men's national team.
USMNT hopeful Josh Sargent scores twice for Norwich to surpass last season's goal total
United States forward Josh Sargent surpassed his league scoring total of last season, getting both goals in Norwich's 2-0 win over Millwall.
Josh Sargent bags a brace for Norwich
Josh Sargent scores two goals to give Norwich City a 2-0 lead over Millwall.
Americans in Europe: Where the USMNT's World Cup hopefuls are playing across the Atlantic
With the World Cup looming, the start of this European club season is vital, so where on the continent are the USMNT's hopefuls playing in 2022-23?
Premier League's best and worst kits of the past 30 years, from instant classics to clashing catastrophes
As the Premier League celebrates its 30th anniversary, we look back at the best and worst jerseys to be worn in England's top flight since 1992.
Tottenham must give Antonio Conte what he asks -- he's earned it with Champions League berth
Tottenham's 5-0 win over Norwich to secure a top-four finish is the latest evidence that Antonio Conte should get any transfer targets he wants.
Premier League final day: Man City win dramatic title over Liverpool, Tottenham claim UCL spot, Burnley relegated
Man City were crowned Premier League champions in the most dramatic circumstances, while Spurs landed fourth and Burnley were relegated.
Spurs pip Arsenal to Champions League qualification with comfortable win vs. Norwich
Tottenham Hotspur have pipped Arsenal and qualified for the Champions League with a 5-0 victory over already-relegated Norwich City on Sunday.
Wolves' European hopes end following draw with Norwich
Wolverhampton Wanderers' hopes of playing in Europe next season ended following a 1-1 draw with relegated Norwich City
Leicester's Rodgers says 'every minute counts' for veteran Vardy after Norwich double
Leicester City manager Brendan Rodgers paid tribute to Jamie Vardy after his double set up a 3-0 win against Norwich City on Wednesday and said that
West Ham hit four past Norwich to keep pressure on Man United
West Ham thrashed relegated Norwich City 4-0 in the Premier League on Sunday to keep the pressure on Manchester United in the battle for sixth.
Premier League coaching changes, ranked best (Tottenham) to worst (Norwich)
Nine of the 20 Premier League teams have a different manager than the one at season's start. While some seem like a good fit, others might be looking over their shoulders.
Norwich relegated from EPL after losing at Aston Villa 2-0
— Norwich was relegated from the English Premier League after Dean Smith's return to Aston Villa ended in a 2-0 defeat on Saturday.
Norwich relegated after 2-0 loss at Villa
Norwich City were relegated from the Premier League on Saturday after being beaten 2-0 at Aston Villa.
Samba style propels Newcastle to 3-0 win over Norwich
Newcastle Brazilian contingent starred as Joelinton scored a brace and Bruno Guimaraes netted in an emphatic 3-0 win at Norwich.
Cristiano Ronaldo hat trick leads Man United to rollercoaster win over Norwich
Manchester United needed a Cristiano Ronaldo hat trick to see off bottom-club Norwich City in a rollercoaster 3-2 win.
What every Premier League manager would be like if they managed an actual office
Which Premier League bosses would star in the commercial sector, riding a wave of regular promotions, and which would be more like Michael Scott?
Lees-Melou, Pukki strike as Norwich sink Burnley
Norwich City midfielder Pierre Lees-Melou scored his first goal for the club and Teemu Pukki's late strike secured a 2-0 win over Burnley.
Brighton held to goalless draw by lowly Norwich
Brighton & Hove Albion and Norwich City played out a 0-0 draw at the AMEX Stadium on Saturday to end six-match losing streaks in the Premier League.
Team Leaders
Top Scorers
| # | Player | Goals | M | A |
| --- | --- | --- | --- | --- |
| 27 | Jon Rowe | 7 | 16 | 1 |
| 17 | Gabriel Sara | 5 | 17 | 6 |
| 11 | Adam Idah | 5 | 16 | 1 |
Top Assists
| # | Player | Assists | M | G |
| --- | --- | --- | --- | --- |
| 17 | Gabriel Sara | 6 | 17 | 5 |
| 3 | Jack Stacey | 2 | 17 | 1 |
| 30 | Dimitris Giann.. | 2 | 17 | 0 |