Melbourne City FC
1st in Australian A-League Men
---
Reshuffled Melbourne City beat Western United in A-League season opener
Coach Patrick Kisnorbo was delighted in Melbourne City's ability to handle a late injury-enforced reshuffle to beat Western United 2-1.
Melbourne City defeat Western United in season opener
Melbourne City defeat reigning champions Western United 2-1 in the opening game of the A-League Men's season.
A-League Men 2022-23 kit ranking: Which club's home jerseys are this season's best?
Now that all the A-League teams have unveiled their kits ahead of Friday's season start, ESPN has ranked every home jersey from 12 to 1.
A-League Men preview: Can anyone stop defending champs Western United?
The 2022-23 A-League Men (ALM) season is here and here's all you need to know from the 12 teams involved.
Man City owners expand to take majority stake in Italian club Palermo
City Football Group (CFG), the Abu Dhabi company with investments in Manchester City, have purchased a majority stake in Palermo, it was announced.
A-League Men Grand Final: Western United stun Melbourne City to win first title
Western United claimed their first A-League Men championship in just their third season, stunning Melbourne City 2-0.
A-League Grand Final between Melbourne City and Western United all about respect
On Saturday, Melbourne City and Western United will be fighting for the A-League Mens Championship, but also for respect.
Adelaide United, Melbourne City play out tense stalemate in semifinal first leg
Adelaide United and Melbourne City played out a tense goalless draw in the first leg of their semifinal at Coopers Stadium.
Is Melbourne now the centre of Australia's football world?
Does the rise of the three Melbourne-based A-League Men's clubs signal a shift in Australian men's football's powerbase?
Why are Jeonbuk, Urawa and Vissel already through to the AFC Champions League last-16 if they haven't won their groups?
Despite having not won their groups, three teams in the AFC Champions League East Zone are already through to the last-16 -- but how?
Johor Darul Ta'zim see off Guangzhou to move level with Ulsan Hyundai at the summit
Johor Darul Ta'zim sit on top of Group I of AFC Champions League 2022 heading into their final game after a 2-0 win over Guangzhou on Wednesday.
Johor Darul Ta'zim handed heavy defeat by Kawasaki Frontale; Lion City Sailors back on track
Johor Darul Ta'zim suffered their first loss in AFC Champions League 2022 on Sunday but Lion City Sailors got their campaign back on track.
Who's on course and who's in trouble at halfway stage of AFC Champions League 2022 East Zone group stage?
As the East Zone group stage of the AFC Champions League reaches its halfway mark, we analyse which teams could potentially miss out on the last-16.
AFC Champions League a test of Melbourne City, A-League credentials
Western Sydney Wanderers stunned Asia by winning the AFC Champions League in 2014, but the performance of Australian clubs since has been poor.
Referee, VAR drama as Melbourne City secure controversial win over Central Coast Mariners
Controversial refereeing decisions cost Central Coast dearly as the Mariners suffered a dramatic 3-2 loss to Melbourne City.
A-League transfer grades: Rating every big signing in the ALM
With the A-League Men's summer transfer window officially closed, it's time to take stock.
Do the A-Leagues really know what they are doing with players?
Is recruitment in Australian football geared to cap facilitation or balancing profiles, player attributes and ceilings, and potential earnings?
All but five Melbourne City players have had coronavirus - Patrick Kisnorbo
Patrick Kisnorbo has revealed the depth of Melbourne City's COVID-19 crisis, saying all but five of the A-League Men's squad have had the virus.
Melbourne Victory were second best in the Christmas Derby
Tony Popovic may say his side are "back," but a thrilling 2-2- draw in the Christmas Derby doesn't paper over the cracks at Melbourne Victory.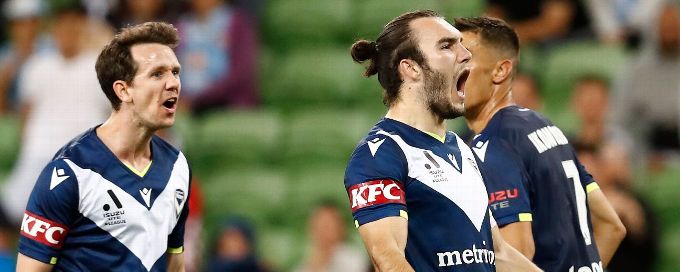 Melbourne City, Victory play out thrilling derby draw in A-League Men
The Melbourne derby returned to its brilliant best with Melbourne City and Melbourne Victory fighting out a dramatic 2-2 draw at AAMI Park.
Melbourne City bounce back in A-League Women against Adelaide United
Rhianna Pollicina and Hannah Wilkinson inspired Melbourne City to a 3-1 A-League Women win over Adelaide United.
Manchester City owners City Football Group now have reigning champions in four different countries
City Football Group can now boast four reigning league champions in four different countries in its stable of clubs, from the U.S. to Uruguay.
Melbourne City snatch late victory over Perth Glory through Nathaniel Atkinson header
Nathaniel Atkinson came off the bench to snatch a much-needed 1-0 win for Melbourne City over Perth Glory.
Western United hand Melbourne City first defeat of season
Dylan Wenzel-Halls has powered Western United to an upset 1-0 win over Melbourne City.
Adelaide United stun Melbourne City with late comeback to earn thrilling draw
Adelaide United dramatically scored two late goals to pinch a 2-2 draw with Melbourne City in their A-League Men's clash.
Team Leaders
Top Scorers
| # | Player | Goals | M | A |
| --- | --- | --- | --- | --- |
| 1 | Thomas Glover | 0 | 0 | 0 |
| 33 | Matthew Sutton | 0 | 0 | 0 |
| 40 | James Nieuwenh.. | 0 | 0 | 0 |
Top Assists
| # | Player | Assists | M | G |
| --- | --- | --- | --- | --- |
| 1 | Thomas Glover | 0 | 0 | 0 |
| 33 | Matthew Sutton | 0 | 0 | 0 |
| 40 | James Nieuwenh.. | 0 | 0 | 0 |