Manchester City
2nd in English Premier League
---
Guardiola: Postecoglou won't change tactics vs. Man City
Pep Guardiola says he has been "impressed" with Ange Postecoglou's Tottenham side.
Transfer Talk: Bayern lead Madrid, City in Wirtz race
Bayern look to be front-runners to sign Florian Wirtz from Leverkusen but face competition from other clubs. Transfer Talk has the latest.
FIFA loses legal ruling in England aimed at capping agent fees
FIFA lost a key ruling in London against its plans to regulate player agents and cap the fees and commissions they earn.
UCL talking points: PSG the biggest letdown; best young player
Gab Marcotti, Mark Ogden, Sam Marsden and Julien Laurens give their takes after another action-packed round of matches in the Champions League.
Why Man City's defending is a real concern
Craig Burley is not convinced by Manchester City's defending after they conceded seven goals in the last three games.
Manchester City's Guardiola raves about Haaland's record night
Another pair of goal records on Erling Haaland's bulging resume had Manchester City manager Pep Guardiola sounding on Tuesday -- tongue-in-cheek -- like he was growing tired of answering questions about his prolific scorer.
Controversy for Newcastle, City and Barcelona advance
Newcastle United's knockout stage dreams hang by a thread after a controversial added time penalty to PSG. Elsewhere, Manchester City and Barcelona secure wins.
Man City recover from two-goal deficit to beat Leipzig 3-2
Manchester City clawed their way back from two goals down to beat RB Leipzig 3-2 and clinch top spot in Group G on Tuesday with one game remaining.
As it happened: Champions League matchday: Milan vs. Dortmund
The latest updates and analysis from matchday five of the 2023-24 Champions League season, with Milan facing Dortmund and PSG taking on Newcastle.
Which soccer clubs have most statues of legends at their stadiums?
As Man City unveil a new statue at the Etihad, we take a look around Europe's biggest and most historic clubs to see who has the most at their ground.
Manchester City unveil statue of legends at Etihad Stadium
Manchester City have revealed a new statue of club legends Colin Bell, Francis Lee and Mike Summerbee outside the Etihad Stadium.
Gvardiol shares the story of conceding 7 to Man City with RB Leipzig
Man City's Josko Gvardiol remembers losing 7-0 to his current team with RB Leipzig in last season's Champions League.
Manchester City defender Gvardiol in awe of teammate Haaland
The last time Manchester City hosted RB Leipzig is not a night Joško Gvardiol remembers with great fondness.
The VAR Review: Man United penalty, foul on Alisson, more
The lowdown on Man United's VAR penalty against Everton, plus Manchester City's disallowed goal against Liverpool.
Premier League title race is wide open; every team has issues
The Premier League title race has seven teams within seven points of one another. But they all have issues to solve, even champions Manchester City.
European soccer news: In-form Rodrygo sends Real Madrid top
Rodrygo proved his goal-scoring credentials, Villa worsened Spurs' woes and Arsenal went top of the league. Here's what you missed in European soccer.
Liverpool's draw at Man City hints at title race on horizon
So who wants to win the Premier League title? Or, more to the point, who believes they can? Manchester City's rivals are beginning to gang up on them.
Ogden: Man City's draw vs. Liverpool a great result for the title race
Mark Ogden and Steve Nicol discuss the Premier League title race after Man City's 1-1 draw with Liverpool.
Everton fans fly banner over Etihad protesting points sanction
An Everton fan group flew a banner protesting the 10-point deduction the club have been handed for breaching financial rules over the Etihad Stadium
Liverpool 'passed a test' against Man City - Jurgen Klopp
Jurgen Klopp said Liverpool "passed a test" in their 1-1 draw with Manchester City on Saturday.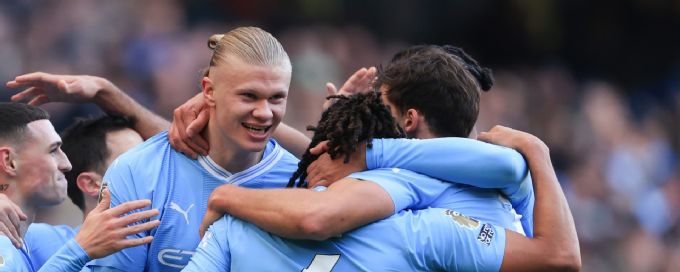 How goal 'monster' Haaland made Premier League history
Steve Nicol reacts to Erling Haaland becoming the fastest player to score 50 Premier League goals.
Liverpool grab 1-1 draw with Manchester City in top-of-the-table clash
Trent Alexander-Arnold secured Liverpool a 1-1 draw with leaders Manchester City on Saturday, keeping Klopp's team a point behind the champions.
Erling Haaland hits 50th Premier League goal, breaks record
Manchester City striker Erling Haaland has become the fastest player in Premier League history to reach 50 goals, beating Andrew Cole's previous record of 65 games by 17.
Erling Haaland vs. Mohamed Salah: Who's the best finisher?
Mark Ogden and Shaka Hislop reveal which star forward they'd back running through on goal in the 90th minute.
Will Haaland be fit to start for Man City vs. Liverpool?
Luis Miguel Echegaray stresses the importance of Erling Haaland playing for Man City vs. Liverpool.
Team Leaders
Top Scorers
| # | Player | Goals | M | A |
| --- | --- | --- | --- | --- |
| 9 | Erling Haaland | 14 | 13 | 3 |
| 19 | Julián Álvarez.. | 4 | 13 | 4 |
| 47 | Phil Foden | 3 | 13 | 3 |
Top Assists
| # | Player | Assists | M | G |
| --- | --- | --- | --- | --- |
| 11 | Jérémy Doku | 5 | 10 | 2 |
| 19 | Julián Álvarez.. | 4 | 13 | 4 |
| 9 | Erling Haaland | 3 | 13 | 14 |