Macarthur FC
4th in Australian A-League Men
---
Investigation launched into Sydney United 58 fans' conduct during cup final
Football Australia has launched an investigation into the behaviour of Sydney United 58 fans during the Australia Cup final.
Macarthur FC's quality and squad depth makes the difference in first Australia Cup win
Dwight Yorke's Macarthur FC showed their class against Sydney United to clinch their first Australia Cup title.
Dwight Yorke's Macarthur FC secure first Australia Cup win
Dwight Yorke claimed his first piece of silverware, lifting the Australia Cup after Macarthur FC ground out a 2-0 win over Sydney United 58.
Daniel Arzani eyes Socceroos berth for World Cup
Daniel Arzani is out of the football wilderness, enjoying himself and eyeing a once-unlikely bolt into the Socceroos' World Cup plans.
Macarthur FC reach Australia Cup final with big win over Oakleigh Cannons
Macarthur FC are just one step away from lifting their first piece of silverware after reaching the final of the Australia Cup.
Macarthur FC set to sign Barbados international Mario Williams - sources
Barbados international Mario Williams is set to join A-League Men side Macarthur FC, pending completion of a medical, sources have told ESPN.
Daniel Arzani returns to A-League with Macarthur FC
Daniel Arzani will seek to revive his career after signing with Macarthur FC for the 2022-23 A-League Men's season.
Australia international Tommy Oar, 30, retires from football
Once dubbed "the next Harry Kewell," former Socceroo Tommy Oar has announced his retirement from professional football at just 30.
Tomi Juric joins Melbourne Victory from Macarthur FC
Tomi Juric will reunite with former mentor Tony Popovic, with the fringe Socceroo signing a one-season deal with Melbourne Victory.
Macarthur FC captain Ulises Davila's wife dies suddenly
Australian football is in shock after the sudden death of Macarthur FC captain Ulises Davila's wife Lily.
A-League side Macarthur FC appoint Dwight Yorke as head coach
Former Manchester United forward Dwight Yorke has been confirmed as the new head coach of A-League Men's club Macarthur FC.
A-League transfer grades: Rating every big signing in the ALM
With the A-League Men's summer transfer window officially closed, it's time to take stock.
Do the A-Leagues really know what they are doing with players?
Is recruitment in Australian football geared to cap facilitation or balancing profiles, player attributes and ceilings, and potential earnings?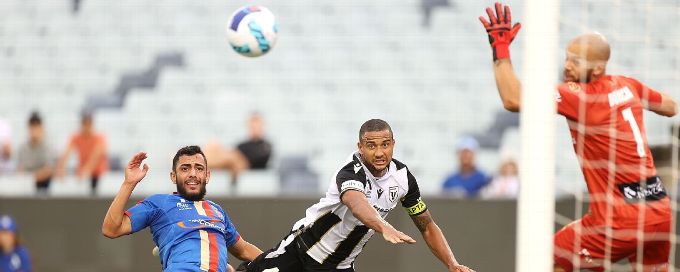 Ten-man Macarthur stun Newcastle Jets to stay top in A-League Men
Macarthur pulled off a miraculous win, fighting back from a goal down with 10 men to beat Newcastle Jets 2-1 and stay top spot of the A-League Men.
Woe for Wanderers as Bulls claim ALM win
Macarthur FC cranked up the pressure on Western Sydney Wanderers coach Carl Robinson after they claimed a 2-0 win in the A-League Men.
Macarthur get lucky for win over Central Coast Mariners
A wicked deflection off Oliver Bozanic gave Macarthur FC a 1-0 win over Central Coast Mariners at Panthers Stadium on Sunday.
Jamaica international Adrian Mariappa joins A-League Men side Macarthur FC
Macarthur FC have bolstered their A-League Men stocks by signing former Premier League defender and Jamaica international Adrian Mariappa.
Macarthur FC edge past Sydney FC to claim first league win of season
Lachlan Rose's strike helped Macarthur FC claim their first win of the A-League Men season in a 1-0 victory at Sydney FC on Saturday.
Macarthur hold Phoenix after fine Lachlan Rose volley
A stunning back-post volley by Macarthur's Lachlan Rose secured the Bulls a 1-1 draw against Wellington.
FA CEO James Johnson outlines the roadmap to promotion and relegation in Australia
Football Australia CEO James Johnson has confirmed to ESPN that the organisation has settled on two final models for a national second tier.
A-League Men Season Preview 2021-22: New signings, key players, ones to watch
After an offseason of twists and turns, the ALM is finally set to return on Friday. Here's all you need to know ahead of the 2021-22 campaign.
A-League Men introduces two-leg semifinals
Australia's A-League Men introduces two-leg semi-finals for the playoffs, to give more of an advantage to the top two teams from regular season.
Australia's Olympics midfielder Denis Genreau to join Toulouse
Olyroos midfielder Denis Genreau has eased the disappointment of Australia's Olympic exit with confirmation he'll join French club Toulouse.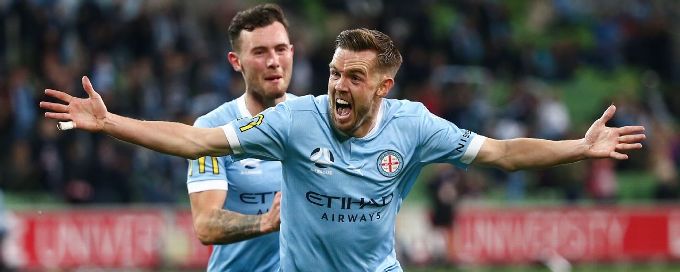 Macarthur FC land ex-Melbourne City winger Craig Noone
Macarthur FC's signing spree has kicked on with the Bulls landing former Melbourne City winger Craig Noone on a two-year deal.
Macarthur FC sign Johnny Warren Medal winner Ulises Davila
Macarthur FC have completed a massive signing coup, landing Johnny Warren Medal winner Ulises Davila for the next three A-League seasons.
Team Leaders
Top Scorers
| # | Player | Goals | M | A |
| --- | --- | --- | --- | --- |
| 12 | Filip Kurto | 0 | 0 | 0 |
| 1 | Nick Suman | 0 | 0 | 0 |
| 30 | Alex Robinson | 0 | 0 | 0 |
Top Assists
| # | Player | Assists | M | G |
| --- | --- | --- | --- | --- |
| 12 | Filip Kurto | 0 | 0 | 0 |
| 1 | Nick Suman | 0 | 0 | 0 |
| 30 | Alex Robinson | 0 | 0 | 0 |