Lazio
10th in Italian Serie A
---
Lazio, Roma share spoils in heated derby draw
Lazio and AS Roma played out a 0-0 draw in Serie A on Sunday as both sides missed opportunities in a heated derby clash.
Immobile earns Lazio 1-0 win over Feyenoord
A first-half goal by Ciro Immobile handed Lazio a 1-0 home win over Feyenoord in the Champions League on Tuesday to move Maurizio Sarri's side up to second in Group E.
Champions League matchday as it happened: Milan vs. PSG
The latest updates and analysis from matchday 4 of the 2023-24 Champions League season, with Newcastle visiting Dortmund and Milan facing PSG.
Lazio's Immobile denies Fiorentina place in top four with late penalty
A last-gasp penalty by Ciro Immobile gave Lazio a 1-0 home win over Fiorentina at Stadio Olimpico on Monday, denying Vincenzo Italiano's side a spot in the Serie A top four.
Gimenez nets two in Feyenoord Champions League win over Lazio
Feyenoord beat visitors Lazio 3-1 on Wednesday thanks to a double from Mexico's Santiago Gimenez and a strike from Ramiz Zerrouki to move top of Champions League Group E.
Lazio cruise to win over Sassuolo
First-half goals by Felipe Anderson and Luis Alberto earned Lazio a comfortable 2-0 win at Sassuolo on Saturday, securing Maurizio Sarri's side their first back-to-back Serie A wins in the campaign.
2023-24 panic index: Lyon, Man United, Ajax in crisis mode
Three months into the 2023-24 European season, which teams are approaching crisis mode and how can they turn their season around?
Lazio leave it late to sink Atalanta
Lazio beat Atalanta 3-2 with a late goal from Matias Vecino after the visitors had fought their way back from 2-0 down at the Stadio Olimpico in Serie A on Sunday.
Last-gasp Pedro effort gives Lazio 2-1 victory over Celtic
Lazio pulled off a last-gasp 2-1 away victory over Celtic thanks to an added-time Pedro Rodriguez header in a pulsating Champions League Group E match on Wednesday.
Pulisic scores as AC Milan beat Lazio to keep pace with Inter
United States standout Christian Pulisic scored the opening goal as AC Milan beat Lazio 2-0 at home Saturday to stay level on points with Inter Milan at the top of Serie A.
European club kit ranking: Who has 2023-24's best threads?
We've scrutinised every jersey unveiled by the biggest clubs in Europe's top leagues -- a European Super League of Kits, if you will. Who is No. 1?
Struggling Lazio held to 1-1 draw by Monza
Lazio's poor start to the Serie A season continued with a 1-1 home draw against Monza on Saturday, after Ciro Immobile's penalty was cancelled out by a tap-in for the visitors' Roberto Gagliardini.
Provedel joins Champions League goal-scoring goalkeepers club
After Lazio keeper Ivan Provedel scored on Tuesday, here are the other members of the UEFA Champions League's Grand Order of Goal-Scoring Goalies.
Lazio goalkeeper Provedel 2nd ever to score non-penalty in UCL
Lazio goalkeeper Ivan Provedel came forward and headed in a stoppage-time equalizer to earn the Roman club a 1-1 draw with Atletico Madrid in the Champions League on Tuesday.
Lazio keeper Provedel scores late equalizer against Atletico Madrid
Lazio goalkeeper Ivan Provedel secured a crucial point for his team against Atletico Madrid on Tuesday when he headed in the equaliser late in a 1-1 draw.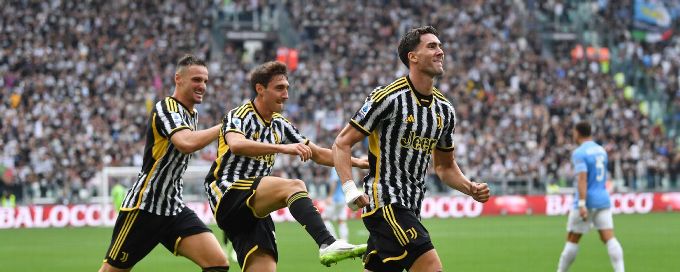 Vlahovic bags double as Juventus cruise past rivals Lazio
Juventus beat Lazio 3-1 at home on Saturday and provisionally moving top of the league after a brace from Dusan Vlahovic.
European soccer news: Rice haunts Man Utd; new-look Man City
Arsenal pile on Man United, Barcelona look unconvincing, Man City's dominance continues, Jude Bellingham scores for Real Madrid and more.
Lazio beat champions Napoli 2-1 for first win of the season
Lazio's Luis Alberto and Daichi Kamada secured a 2-1 win for last season's runners-up at champions Napoli in Serie A on Saturday to earn Maurizio Sarri's side their first points of the season, while the hosts suffered their first defeat.
NYCFC complete transfer of Castellanos to Lazio for record fee
New York City FC announced the sale of star forward Valentin "Taty" Castellanos to Italian side S.S. Lazio on Friday for a team-record transfer fee.
Saudi's Al-Hilal sign Milinkovic-Savic from Lazio
Serbia midfielder Sergej Milinkovic-Savic has joined Al Hilal from Serie A side Lazio, the Saudi Arabian club announced on Wednesday.
Soccer's coaching tree: Modern game's roots go beyond Cruyff
Johan Cruyff has his fingerprints all over modern football, but the story of the game's evolution can't be told without the likes of Ralf Rangnick.
Lazio finish 2nd in Serie A after 2-0 win at Empoli
Alessio Romagnoli and Luis Alberto emerged as the saviours for Lazio when they scored in a 2-0 win at Empoli on Saturday, giving the visitors a second-place finish in Serie A.
Milinkovic-Savic double sends Lazio back up to second
Midfielder Sergej Milinkovic-Savic scored a last-minute winner, his second goal of the game, to earn Lazio a 3-2 victory at home against Cremonese on Sunday that sent them back up to second place in Serie A.
Immobile penalty sends Lazio into third with win over Udinese
Lazio moved up to third in Serie A as a second-half penalty by Ciro Immobile secured a 1-0 victory at mid-table Udinese on Sunday and boosted their Champions League qualifying hopes.
Milinkovic-Savic heads in late equalizer for Lazio against Lecce
— Sergej Milinkovic-Savic equalized in stoppage time for Lazio to draw with relegation-threatened Lecce 2-2 in Serie A on Friday.
Team Leaders
Top Scorers
| # | Player | Goals | M | A |
| --- | --- | --- | --- | --- |
| 10 | Luis Alberto | 3 | 12 | 1 |
| 17 | Ciro Immobile | 3 | 11 | 0 |
| 5 | Matías Vecino | 2 | 9 | 0 |
Top Assists
| # | Player | Assists | M | G |
| --- | --- | --- | --- | --- |
| 7 | Felipe Anderso.. | 4 | 12 | 1 |
| 19 | Valentín Caste.. | 2 | 10 | 1 |
| 10 | Luis Alberto | 1 | 12 | 3 |