Juventus
7th in Italian Serie A
---
LIVE Transfer Talk: Man Utd's Dalot eyed by Juventus, AC Milan, Barcelona
Manchester United full-back Diogo Dalot is garnering interest from Juventus, AC Milan, and Barcelona. Transfer Talk has the latest.
Juve beat Bologna as Filip Kostic scores first Serie A goal
Juventus secured a 3-0 home victory over Bologna thanks to goals by Filip Kostic, Dusan Vlahovic and Arkadiusz Milik in Serie A on Sunday.
LIVE Transfer Talk: Juventus want January deal for Barcelona left-back Jordi Alba
Juventus want an upgrade at left-back, while Barcelona want to trim their wage bill. Could Jordi Alba move to Serie A? Transfer Talk has the latest.
LIVE Transfer Talk: Atletico Madrid's Griezmann, Real's Asensio, Chelsea's Pulisic on Juventus' wishlist
Juventus have formed a three-man shortlist amid plans to acquire a signing to bolster their attack in January. Transfer Talk has the latest.
Conte dismisses 'disrespectful' links to Juventus
Antonio Conte brushes off reports linking him with a return to Juventus.
Tottenham's Antonio Conte hits out at Juventus links: 'Disrespectful' to both clubs
Antonio Conte has branded reports linking him with the Juventus job as "disrespectful" and said there is no rush to sign a new deal at Tottenham.
LIVE Transfer Talk: Juventus make contact with Pulisic's camp
Juventus have finally made initial contact regarding a possible move for Chelsea and USMNT winger Christian Pulisic. Transfer Talk has the latest.
Can Juventus turn things around before it's too late? Recapping their bad September
It's been a bad month on and off the field for the Italian giants. Can Allegri & Co. rally, or will things get worse before they get better?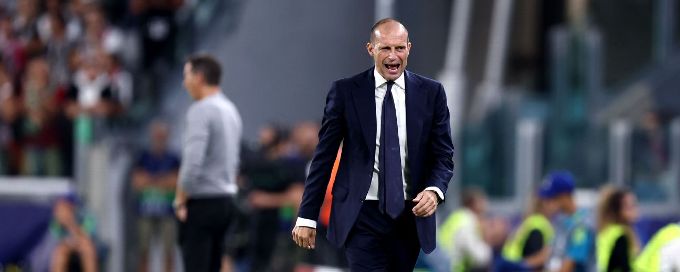 Juventus report record €254m loss after trophyless campaign
Juventus lost a record €254 million in the financial year ending June 30, as revenue fell and costs rose during the club's trophyless campaign.
LIVE Transfer Talk: USMNT's Christian Pulisic still on Juventus' radar amid Chelsea uncertainty
Christian Pulisic is among the players Juventus are looking at as they aim to strengthen on the right wing in 2023. Transfer Talk has the latest.
Paul Pogba extortion case takes bizarre twist with elder brother Mathias claims
Paul Pogba's elder brother Mathias has released a long string of videos taking aim at his entourage and wealthy lifestyle.
Bayern Munich, Juventus face crises but Son Heung-Min, Kevin De Bruyne shine before break: Weekend Review
Ahead of the FIFA break, some powerhouses are in a rut. Meanwhile, a couple of Premier League stars came up big. It's ESPN's Weekend Review.
Juventus stunned: Monza claim shock 1-0 win as Di Maria sees red
Monza took a surprising but deserved 1-0 home win over Juventus on Sunday, their first Serie A victory of the season.
Paul Pogba's brother, Mathias, charged over alleged extortion attempt - sources
Paul Pogba's brother has been charged in connection with an alleged extortion attempt against the Juventus midfielder, sources have told ESPN.
Juventus sink to 2-1 home loss to Benfica as Champions League hopes suffer further blow
Juventus are without a point from their first two Champions League matches after suffering a 2-1 home loss to Benfica.
Paul Pogba's brother Mathias in police custody over blackmail affair - sources
A brother of Paul Pogba is in police custody in connection with organised armed extortion against the Juventus midfielder, sources told ESPN.
Juventus deserve answers for VAR mess, Barcelona win big, Bayern Munich shouldn't worry, more
There was no Premier League this weekend, but Europe's other leagues provided tons of drama, from Juve's VAR drama to more dropped points by Bayern.
Premier League pause, Real Madrid and Barcelona in form, VAR trips Juventus: Weekend review
The Premier League postponed matches while Barcelona and Real Madrid earned key wins. At Juve, VAR may have cost points. It's ESPN's weekend review.
Juventus denied late winner in chaotic draw with Salernitana
Leonardo Bonucci scored a stoppage-time equaliser as Juventus fought back from two goals down to draw 2-2 at home with Salernitana.
Paul Pogba's brother denies extortion attempt against France star
The brother of Paul Pogba denied Friday that he took part in extortion attempts against the Juventus midfielder.
UEFA investigating Juventus fans' alleged Nazi, racist gestures in Champions League match with PSG
UEFA has opened an investigation into alleged discriminatory behaviour by Juventus fans in their Champions League match with Paris Saint-Germain.
PSG beat Juventus in Champions League with Kylian Mbappe brace
Kylian Mbappe scored a pair of first half goals as Paris Saint-Germain held on to beat Juventus 2-1 in their Champions League group stage opener.
Champions League preview - African players to watch, and way-too-early predictions
Last season, for the first time since 2018, no African player was part of the winning team, but the continent's stars will be going for the gold.
Paul Pogba is major doubt for 2022 World Cup amid knee surgery - Massimiliano Allegri
France's Paul Pogba is likely to miss the 2022 World Cup as he requires surgery for a knee injury, Juventus boss Massimiliano Allegri has said.
PSG star Kylian Mbappe brushes off Paul Pogba's reported 'magic spell' incident
Kylian Mbappe said he spoke with Paul Pogba and did not believe the magic spell rumours, saying "I prefer to trust the word of my teammate."
Team Leaders
Top Scorers
| # | Player | Goals | M | A |
| --- | --- | --- | --- | --- |
| 9 | Dusan Vlahovic | 5 | 7 | 1 |
| 14 | Arkadiusz Mili.. | 3 | 5 | 0 |
| 3 | Bremer | 1 | 8 | 0 |
Top Assists
| # | Player | Assists | M | G |
| --- | --- | --- | --- | --- |
| 17 | Filip Kostic | 2 | 8 | 1 |
| 11 | Juan Cuadrado | 2 | 7 | 0 |
| 20 | Fabio Miretti | 1 | 8 | 0 |