SpVgg Greuther Furth
5th in German 2. Bundesliga
---
Julian Green talks Germany, relegation, MLS and USMNT
Julian Green tells ESPN he's happy in the 2. Bundesliga, but with the USMNT still out of reach and his contract expiring, could MLS be next?
Ex-USA star Julian Green racially abused in German Cup game
Former United States men's national team player Julian Green was the victim of racist abuse in a German Cup game on Saturday.
Salah scores late as Liverpool draw 4-4 in preseason
A late Salah goal spared Liverpool's blushes in an exciting 4-4 preseason draw against German side SpVgg Greuther Fürth in Bavaria on Monday.
American Julian Green scores a truly incredible goal
Julian Green curls in a goal from distance to pad Greuther Furth's lead.
Michael Gregoritsch scores to put FC Augsburg up late
Michael Gregoritsch buries it in the net to give FC Augsburg a 2-1 lead.
Dortmund seal second spot in Bundesliga with win over relegated Greuther Fuerth
Borussia Dortmund's Julian Brandt scored twice in a 3-1 win over relegated Greuther Fuerth on Saturday to seal second place in the Bundesliga.
Julian Brandt's cool finish retakes the lead for Dortmund
Julian Brandt scores his second goal of the game to give Borussia Dortmund a 2-1 lead in the second half.
Bundesliga 2021-22 takeaways: Bayern Munich's early peak, USMNT stars, Erling Haaland era ends, Leipzig leaps forward
ESPN's Bill Connelly on the Bundesliga's talking points coming out of the 2021-22 season, including why it's OK that Bayern Munich keeps winning.
Union's European hopes dented with 1-1 against relegated Fuerth
European hopefuls Union Berlin had to come from a goal down at home to rescue a 1-1 draw against already-relegated Greuther Fuerth on Friday.
Patrik Schick's back-heel goal brings Leverkusen level
Patrik Schick's last-second back-heel finds the back of the net to tie the game at 1-1 for Bayer Leverkusen.
Frankfurt and Fürth fail to separate and end with no goals
Eintracht Frankfurt and Fürth fail to score any goals and end the game with a 0-0 draw.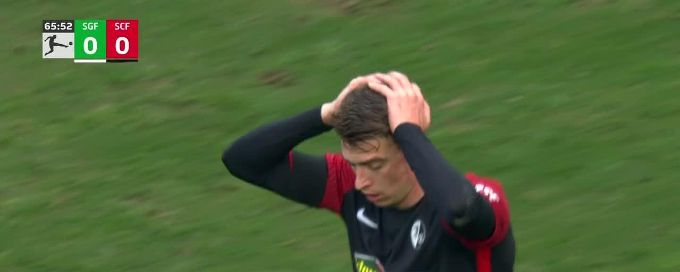 Fürth and SC Freiburg leave goalless
Fürth and SC Freiburg both fight for a win but neither side gets the chance and leave with a 0-0 draw.
Six of the best as RB Leipzig hammers Greuther Furth
RB Leipzig comes back from an early goal to beat Greuther Furth 6-1 in the Bundesliga.
Furth, Cologne each get 2nd half goals in 1-1 draw
Florian Kainz gets the tap in early in the second half for Cologne, then Furth equalizes on the Sebastian Griesbeck header off the corner.
Robert Lewandowski leads Bayern fightback over minnows Fuerth
Robert Lewandowski scored twice as Bayern Munich claimed a comeback victory over Bundesliga's bottom club Greuther Fuerth on Sunday.
Lewandowski scores a brace in Bayern's comeback win vs. Greuther
Robert Lewandowski's double helps Bayern Munich come from behind to defeat Greuther Furth 4-1 in the Bundesliga.
Hertha Berlin falls to 2-1 loss to bottom club Greuther Fürth
A goal in the first minute and a second half penalty gives rock-bottom Greuther Fürth a 2-1 win vs. Hertha Berlin.
Furth picks up its second win of the Bundesliga season
Furth doubles its Bundesliga wins for the season in a 2-1 victory over mid-table Mainz.
Late goal earns Bielefeld a draw against Gruether Furth
Gonzalo Castro scores in the 83rd minute to rescue a vital point for Arminia Bielefeld against fellow relegation candidates Greuther Furth.
Augsburg fails to breakdown Greuther Furth in goalless draw
Augsburg and Greuther Furth play out a goalless draw in the Bundesliga.
Erling Haaland at it again as Dortmund beats Furth
Erling Haaland scores two goals for Borussia Dortmund in a 3-0 win over Greuther Furth.
Erling Haaland double helps Borussia Dortmund sail past Greuther Furth
Erling Haaland scored once in either half to steer Dortmund to a 3-0 victory Greuther Fuerth on Wednesday and cut the gap to Bayern to six points.
Erling Haaland scores again with a towering header
Erling Haaland leaps highest on a free kick and heads in his second goal of the match for Borussia Dortmund.
Fuerth secure first Bundesliga home win
Greuther Fuerth scored their first ever Bundesliga home win and first victory in any competition this term with a 1-0 success over Union Berlin.
Four-goal Schick leads Leverkusen to 7-1 demolition of Fuerth
Patrik Schick scored four times in 27 minutes as Bayer Leverkusen crushed Greuther Fuerth 7-1 on Saturday.
Team Leaders
Top Scorers
| # | Player | Goals | M | A |
| --- | --- | --- | --- | --- |
| 10 | Branimir Hrgot.. | 5 | 14 | 1 |
| 19 | Tim Lemperle | 3 | 14 | 3 |
| 37 | Julian Green | 3 | 13 | 6 |
Top Assists
| # | Player | Assists | M | G |
| --- | --- | --- | --- | --- |
| 37 | Julian Green | 6 | 13 | 3 |
| 19 | Tim Lemperle | 3 | 14 | 3 |
| 22 | Robert Wagner | 3 | 13 | 1 |