Derby County
11th in English League One
---
Wayne Rooney reveals why DC United won't sign Luis Suarez
New DC United manager Wayne Rooney says he wants players who are hungry and will work hard for the club when asked if they could sign Luis Suarez.
Derby County takeover completed by Clowes Developments, one week after Wayne Rooney's exit
Derbyshire-based property group Clowes Developments has completed the takeover of Derby County, the League One club announced on Friday.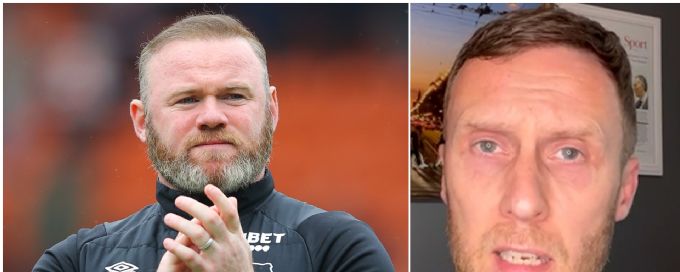 Ogden: Rooney leaving Derby with reputation enhanced
Mark Ogden feels Wayne Rooney is leaving Derby County with his reputation as a manager enhanced.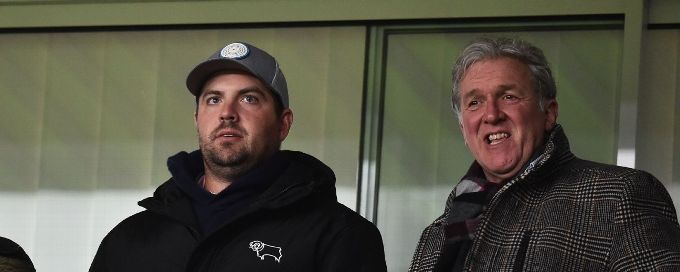 U.S. businessman Chris Kirchner withdraws bid to buy Wayne Rooney's Derby County - EFL
Chris Kirchner's proposed acquisition of Derby County is off after the American businessman withdrew his offer, the EFL said on Monday.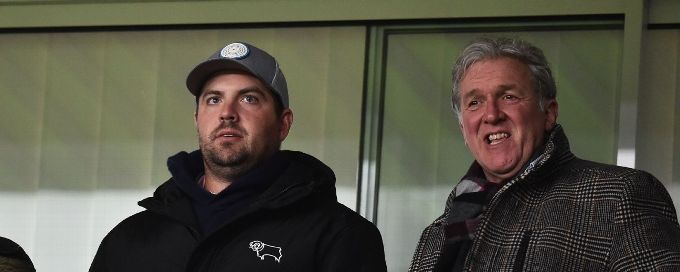 Derby County sale: U.S. tycoon Chris Kirchner set to own club managed by Wayne Rooney
American businessman Chris Kirchner is set to be the new Derby County owner after club administrators said they had exchanged contracts.
Wagatha Christie: Coleen Rooney, Rebekah Vardy court battle begins
A high-profile libel court battle between Coleen Rooney and Rebekah Vardy opened on Tuesday in London.
Wayne Rooney's Derby County relegated after conceding late vs. QPR
Luke Amos' 88th-minute goal gives QPR a 1-0 win and relegates Derby County from the EFL Championship.
Wayne Rooney's Derby County relegated from Championship after 21-point deduction
Wayne Rooney's Derby County have been relegated from the Championship, it was confirmed on Monday.
Wayne Rooney may be a Premier League manager one day. Right now, he's just trying to keep Derby County in business
Wayne Rooney's time at Derby County has been dogged by battling relegation and ownership turmoil. It will prove valuable for future managerial jobs.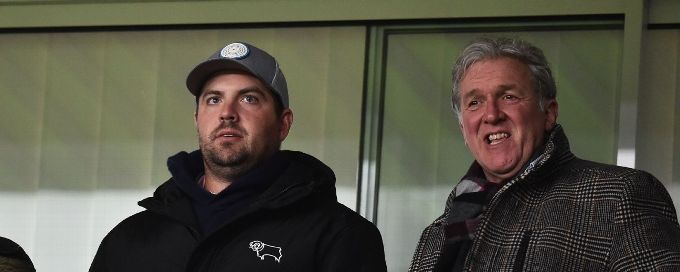 Derby County accept offer from U.S. businessman Chris Kirchner in bid to rescue club
American businessman Chris Kirchner has been named as the preferred bidder for second-tier side Derby County, the club's administrators said.
Manchester United legend Wayne Rooney: I want to manage the club one day
Wayne Rooney has said every step he takes in management is engineered to help achieve his dream of becoming Manchester United manager one day.
Man United legend Rooney on mental health, drinking: I feared it could have killed me
Wayne Rooney has said he feared his mental health and drinking problems could have killed him during his playing career.
Ex-Man United, DC United forward Wayne Rooney: I drank to cope with pressure
Wayne Rooney said he was not prepared for the pressure in his rise to elite level football as a teen and turned to drink to cope with his problems.
Rooney explains why he turned down Everton
Wayne Rooney says he is ready to be a Premier League manager but says he is committed to his job at Derby County.
Derby manager Wayne Rooney: I turned down Everton interview, not ready
Wayne Rooney has said he turned down an opportunity from Premier League side Everton to interview for their vacant manager's position.
Nicol adamant Rooney not right for Everton job
Steve Nicol feels Wayne Rooney does not have the experience required to take over from Rafael Benitez at Everton.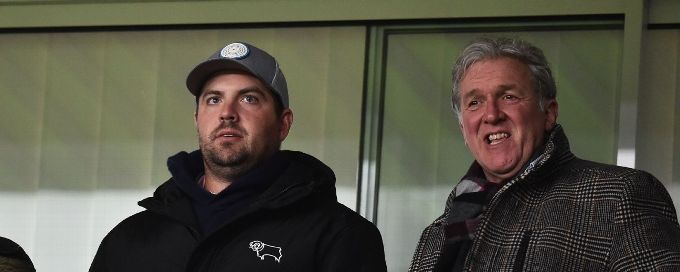 Derby County: U.S. businessman Chris Kirchner withdraws bid to buy Wayne Rooney-led club
An American businessman Chris Kirchner has withdrawn his bid to rescue Championship club Derby County.
Wayne Rooney keeping Derby County up would be his 'biggest achievement in football' amid lawsuits and debts
Wayne Rooney admits Derby's odds of staying up are grim -- 'The table doesn't lie,' he says. But he's also hopeful.
This perfect pass led to a gorgeous goal by Tom Lawrence
Derby County goes up 1-0 vs. QPR courtesy of Tom Lawrence's goal.
Soccer's Misery Index: Man United, Barcelona, Derby County and more tales of woe
There are unhappy fan bases all over soccer, but in 2021, these clubs have put themselves (and their support) through a lot.
Wayne Rooney's Derby County face relegation after further nine-point deduction for financial breaches
Derby County were handed a nine-point sanction on Tuesday for breaches of the English Football League (EFL) financial rules.
U.S. businessman eyes rescue of Wayne Rooney-led Derby from bankruptcy
An American businessman is looking to rescue English second-tier club Derby from bankruptcy protection, which is coached by Wayne Rooney.
Wayne Rooney's Derby County handed 12-point deduction after entering administration
Derby County will be deducted 12 points after the Championship side entered administration, the English Football League (EFL) said on Wednesday.
Derby set for administration amid financial uncertainty
Derby County have filed a notice to appoint administrators amid continued financial problems at the club.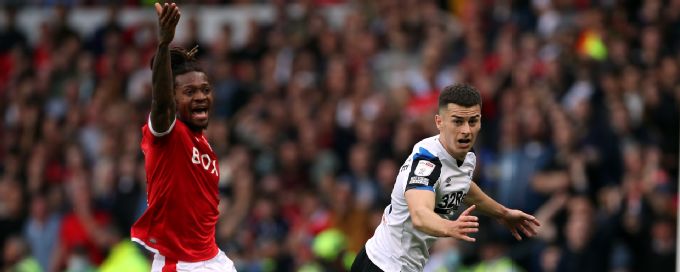 Derby and Forest play out heated draw in East Midlands derby
Brennan Johnson's late equalizer for Nottingham Forest earns his side a 1-1 draw against Derby.
Team Leaders
Top Scorers
| # | Player | Goals | M | A |
| --- | --- | --- | --- | --- |
| 4 | Conor Hourihan.. | 3 | 9 | 1 |
| 11 | Nathaniel Mend.. | 2 | 8 | 0 |
| 38 | Jason Knight | 1 | 9 | 0 |
Top Assists
| # | Player | Assists | M | G |
| --- | --- | --- | --- | --- |
| 10 | David McGoldri.. | 2 | 6 | 1 |
| 4 | Conor Hourihan.. | 1 | 9 | 3 |
| 8 | Max Bird | 1 | 9 | 0 |