Real Betis
3rd in Spanish LaLiga
---
Borja Igelsias' brace leads Real Betis to the 2-1 win over Girona
Borja Iglesias gets a penalty in the first half and a breakaway goal in the second, leading Real Betis to the 2-1 win over Girona.
Rodrigo Sánchez goal 61st minute Real Betis 1-0 Villarreal
Rodrigo Sánchez goal 61st minute Real Betis 1-0 Villarreal
Borja Iglesias talks to ESPN about Real Betis' hot start, mental health and respect for Karim Benzema
The player known as 'Panda' tells ESPN about Betis' strong start to the LaLiga season and the importance of mental health for him and his teammates.
Vinicius Jr. propels Real Madrid to stay perfect in LaLiga. How long can this go?
Goals from Vinicius Jr. and Rodrygo ensured Real Madrid remain perfect this season. How long can they keep the good vibes flowing at the Bernabeu?
Real Madrid continue winning start with victory over Real Betis
Real Madrid continued their winning streak in LaLiga with a 2-1 victory over Real Betis on Saturday.
Real Betis are soaring in LaLiga thanks to Manuel Pellegrini and his team of transformed talents
Real Betis are joint-top of LaLiga, and it's no fluke, owing a lot to the mercurial Manuel Pellegrini. Don't bet against them vs. Real Madrid.
Borja Iglesias scores a rocket for Real Betis
Borja Iglesias gives Real Betis the lead.
Borja Iglesias converts 2 penalties to lift Betis to victory
Real Betis makes it two wins in two games thanks to Borja Iglesias' precision from the penalty spot against Cadiz.
He did what?! LaLiga's opening weekend delighted with goals, debuts and surprises
LaLiga's first weekend of the 2022-23 season had plenty of reasons for gasps and cheers. Sid Lowe in Spain recounts them in all their glory.
Fekir's solo run leads to the opening goal for Betis
Nabil Fekir takes the ball himself and lays off a beautiful pass for Real Betis' opening goal.
LaLiga 2022-23 preview: Will Barcelona topple Real Madrid? What to watch for ahead of new season
LaLiga is back! Before the action gets underway, though, let's look at some of the biggest storylines worth following as the 2022-23 season begins.
LaLiga team-by-team preview: How Spain's top sides stack up to Real Madrid, Barcelona
ESPN is your home for all LaLiga matches, replays and highlights. We preview all 20 squads in Spain's top flight and what to look for this season.
LaLiga schedule 2022-23: How Madrid, Barca, Atletico & Co. will navigate the new season's fixture list
The 2022-23 LaLiga schedule was released on Thursday, and we've circled the dates on the calendar that will help determine Spain's next champions.
Real Madrid warm up for Champions League final with goalless draw against Real Betis
Real Madrid completed their triumphant LaLiga season and warmed up for next week's Champions League final with a goalless draw against Real Betis.
Juanmi double powers Real Betis past Granada
Real Betis falls short of Champions League qualification despite a win over Granada.
Willian José left-foots a goal through the goalkeeper's legs
Willian José left-foots a goal through the goalkeeper's legs
Jordi Alba's fizzing stoppage-time volley secures win for Barca
Jordi Alba's powerful strike finds the back of the net late in stoppage time to seal a 2-1 win for Barcelona over Real Betis.
Barcelona secure Champions League qualification thanks to late Jordi Alba winner
A stunning late goal from Jordi Alba gave Barcelona a 2-1 victory at Real Betis to secure qualification for the Champions League next season.
Deportivo release player over Copa del Rey trip to watch boyhood club Real Betis in final
A Deportivo La Coruna player has had his contract rescinded after skipping a game to watch the Copa del Rey final featuring his boyhood team, Betis.
Joaquin leading Real Betis to Copa del Rey glory was the perfect end to his career ... except it's not the end
Winning the Copa del Rey for Real Betis felt like a fitting end to Joaquin's career, unless the 40-year-old carries on for one more year ...
Real Betis hold nerve to beat Valencia on penalties in Copa del Rey final
(add details and quotes)
American Yunus Musah misses crucial penalty as Valencia loses Copa del Rey final
Valencia's Yunus Musah misses a crucial penalty as Real Betis goes a perfect 5-for-5 to win the Copa del Rey title.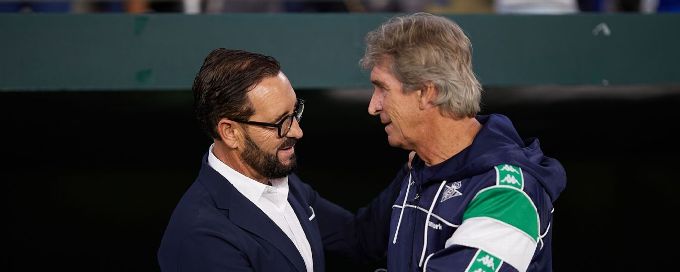 Copa del Rey: Betis's Pellegrini, Valencia's Bordalas reach first Cup final via very different paths, styles
Despite 63 years of combined experience, neither Real Betis's Manuel Pellegrini nor Valencia's Jose Bordalas has ever coached a Copa del Rey final.
Jose Antonio breaks the deadlock for Elche
Jose Antonio's volley finds the back of the net to give Elche a late 1-0 lead.
Borja Iglesias converts on the penalty to put Real Betis ahead late
Borja Iglesias converts on the penalty to put Real Betis ahead late
Team Leaders
Top Scorers
| # | Player | Goals | M | A |
| --- | --- | --- | --- | --- |
| 9 | Borja Iglesias | 6 | 6 | 1 |
| 7 | Juanmi | 2 | 4 | 0 |
| 28 | Rodrigo Sánche.. | 1 | 5 | 0 |
Top Assists
| # | Player | Assists | M | G |
| --- | --- | --- | --- | --- |
| 15 | Álex Moreno | 1 | 6 | 0 |
| 9 | Borja Iglesias | 1 | 6 | 6 |
| 11 | Luiz Henrique | 1 | 4 | 0 |