Bayern Munich
3rd in German Bundesliga
---
Borussia Dortmund vs. Bayern Munich clash in Der Klassiker could come down to Jude Bellingham vs. Jamal Musiala duel
Dortmund and Bayern's mixed starts to the season mean they are both below the Bundesliga's top two ahead of this fierce clash between major rivals.
Bayern stroll past Viktoria Plzen 5-0 for new record
Bayern Munich beat Viktoria Plzen 5-0 in the Champions League on Tuesday to set a record for the longest unbeaten run in group matches.
Man United's Casemiro quandary, Barcelona leapfrog Real Madrid, Liverpool wobble: Weekend Review
Manchester City reign over United, Barcelona leapfrog Real Madrid, and Liverpool are looking out of sorts. It's ESPN's Weekend Review.
Bayern Munich's Thomas Muller, Joshua Kimmich in isolation after positive COVID-19 test
Thomas Muller and Joshua Kimmich have tested positive for COVID-19 and have gone into isolation, Bayern Munich said on Saturday,
Musiala sparkles as Bayern crush Leverkusen 4-0 to snap winless run
Jamal Musiala starred as champions Bayern Munich cruised past Bayer Leverkusen 4-0 on Friday to snap a four-game winless run in the Bundesliga.
Jamal Musiala doubles Bayern Munich's lead
Jamal Musiala finishes the pass from Thomas Muller to give Bayern Munich a 2-0 lead.
Nagelsmann not thinking about resigning from Bayern
Julian Nagelsmann speaks about his future ahead of Bayern Munich's clash with Bayer Leverkusen.
LIVE Transfer Talk: Bayern Munich make Tottenham's Harry Kane their No. 1 target
Tottenham Hotspur striker Harry Kane is Bayern Munich's No. 1 transfer target. Transfer Talk has the latest.
Barcelona, Real Madrid, Bayern? Which club do you join if you want to win the Ballon d'Or?
Robert Lewandowski says he moved to Barcelona from Bayern so he had more of a chance to win the Ballon d'Or. But does he?
Real Madrid pass tough Atleti test with ease, Vinicius abusers must be dealt with, Bayern look bad again, more
Real Madrid passed their toughest test with flying colours, while Atletico must ban Vinicius' abusers. PLUS: Napoli lead Serie A, Arsenal impress.
Bayern Munich, Juventus face crises but Son Heung-Min, Kevin De Bruyne shine before break: Weekend Review
Ahead of the FIFA break, some powerhouses are in a rut. Meanwhile, a couple of Premier League stars came up big. It's ESPN's Weekend Review.
What's behind Bayern's poor form?
Janusz Michallik reacts to Bayern Munich's 1-0 loss to Augsburg in the Bundesliga.
Bayern Munich suffers shock defeat at Augsburg
Bayern Munich's poor form continues in a 1-0 away defeat against Augsburg.
Bayern slump to shock 1-0 loss at Augsburg to stretch winless run
Champions Bayern Munich suffered a shock 1-0 loss to hosts Augsburg in the Bundesliga on Saturday.
Robert Lewandowski off the mark in return as Bayern beat Barcelona yet again: Reaction, ratings
Robert Lewandowski's return to Allianz Arena didn't go as planned as Barcelona endured more misery against familiar foe Bayern Munich.
Bayern Munich beat Barcelona to spoil Robert Lewandowski's return
Bayern Munich beat Barcelona 2-0 in their Champions League Group C match at the Allianz Arena on Tuesday night.
Bayern Munich fans protest match delays due to Queen Elizabeth II's death
Bayern Munich fans protested against football supporters being impacted by the death of Queen Elizabeth II.
LIVE Transfer Talk: Gavi set for €1bn Barca clause to halt Liverpool, Bayern interest
Barcelona's Gavi is set to sign a long-expected deal that includes a release clause of €1 billion as soon as Thursday. Transfer Talk has the latest.
Barcelona's trip to Bayern Munich no 'house of horrors' - Xavi Hernandez
Barca coach Xavi Hernandez insists his team are not entering a "house of horror" when they face Bayern Munich on Tuesday in the Champions League.
Juventus deserve answers for VAR mess, Barcelona win big, Bayern Munich shouldn't worry, more
There was no Premier League this weekend, but Europe's other leagues provided tons of drama, from Juve's VAR drama to more dropped points by Bayern.
Should Nagelsmann be worried about Bayern's title defence?
Janusz Michallik speaks after Bayern Munich's 2-2 draw with Stuttgart in the Bundesliga.
Bayern Munich draw 2-2 with Stuttgart as Serhou Guirassy scores stoppage-time penalty
Bayern Munich conceded a stoppage-time equaliser against Stuttgart as they drew 2-2, the champions' third such result in a row in the Bundesliga.
Bayern Munich down Inter Milan as Leroy Sane dazzles in Champions League
Bayern Munich's Leroy Sane scored one goal and forced an own goal by Inter Milan as they beat the Italian side 2-0 away in the Champions League.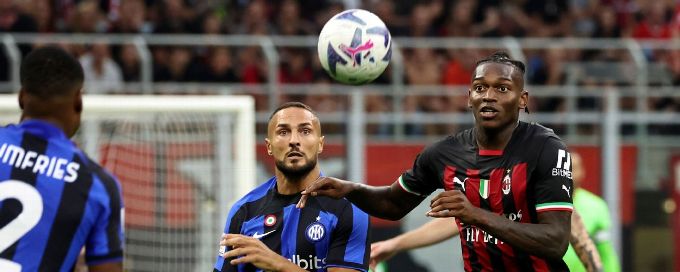 Rafael Leao, Mike Maignan's heroics lead Milan to derby win, Ten Hag's tough calls pay off, Madrid's youngsters shine and more
An electric Milan derby delivered goals, saves and drama as Rafael Leao and Mike Maignan dazzled. PLUS: talking points galore around Europe.
Team Leaders
Top Scorers
| # | Player | Goals | M | A |
| --- | --- | --- | --- | --- |
| 42 | Jamal Musiala | 5 | 7 | 3 |
| 17 | Sadio Mané | 4 | 8 | 0 |
| 10 | Leroy Sané | 3 | 8 | 1 |
Top Assists
| # | Player | Assists | M | G |
| --- | --- | --- | --- | --- |
| 25 | Thomas Müller | 4 | 8 | 2 |
| 42 | Jamal Musiala | 3 | 7 | 5 |
| 6 | Joshua Kimmich | 2 | 8 | 2 |