AFC Bournemouth
12th in English Premier League
---
The VAR Review: Jacob Ramsey's offside, Newcastle penalty, Son hat-trick goal
A look at the big VAR rulings in the Premier League, including Aston Villa's winning goal against Southampton and a penalty to Newcastle.
Alexander Isak penalty secures frustrating draw for Newcastle against Bournemouth
Striker Alexander Isak equalised from the penalty spot to earn Newcastle United a 1-1 draw against Bournemouth in the Premier League on Saturday.
Bournemouth seal 3-2 comeback win against Nottingham Forest after 87th-minute winner from Anthony
Jaidon Anthony came off the bench to give Bournemouth a 3-2 win over Nottingham Forest as they pulled off a superb comeback from two goals down.
Battling Bournemouth hold Wolves to goalless draw
Bournemouth drew 0-0 with Wolverhampton Wanderers in the Premier League on Wednesday in their first game under caretaker manager Gary O'Neil.
Did this honest press conference cost Parker his job?
Scott Parker reacts to Bournemouth's 9-0 loss to Liverpool in his last press conference as manager.
Bournemouth sack manager Scott Parker after 9-0 Liverpool defeat
Bournemouth manager Scott Parker has been sacked by the newly-promoted Premier League club, three days after they were beaten 9-0 by Liverpool.
One weird trick: PSG, Real Madrid among clubs trying cheeky set play to score direct from kick-off
It's the craze sweeping the soccer world! Real Madrid love it, Mbappe scored PSG's fastest-ever goal with it, and it can lead to a goal in seconds.
Liverpool boss Jurgen Klopp says he didn't want to 'humiliate' Bournemouth in 9-0 win
Liverpool boss Jurgen Klopp says he didn't want to "humiliate" Bournemouth after Premier League record-equalling 9-0 victory on Saturday.
Liverpool score 9 goals in win over Bournemouth: How social media reacted
How social media reacted to Liverpool equalising the Premier League record with a nine-goal victory over Bournemouth.
Liverpool storm to 9-0 win over Bournemouth to equal Premier League record, kick-start campaign
Liverpool ended their wait for a win in the Premier League this season in emphatic style, routing Bournemouth with a 9-0 win at Anfield on Saturday.
Pundits clash over whether Arsenal are top-4 material
Mark Donaldson and Steve Nicol get into an argument over whether Arsenal are destined for the top 4 in the Premier League.
Arsenal go top of Premier League as Arteta's revolution continues with win at Bournemouth
Arsenal's brilliant start to the season continued Saturday with a slick, impressive win at Bournemouth that has fans dreaming of a title challenge.
Odegaard scores brace and Gabriel Jesus shines in convincing Arsenal win against Bournemouth
Martin Odegaard scored a brace and Gabriel Jesus shone as Arsenal continued their perfect start to the season with a 3-0 win against Bournemouth.
Why Haaland's performance vs. Bournemouth shouldn't be criticised
Steve Nicol speaks about Manchester City's 4-0 win over Bournemouth in the Premier League.
Manchester City thump Bournemouth to continue winning Premier League start
Manchester City eased past newly-promoted Bournemouth to claim a 4-0 win at the Etihad Stadium on Saturday.
Bournemouth grab 2-0 win over Aston Villa on Premier League return
Bournemouth made a winning return to the Premier League by beating Aston Villa 2-0 at home on Saturday.
Premier League 2022-23 kit ranking: Which club's jerseys are this season's best?
With Premier League teams unveiling most of their kits for the new season, we've compiled every one and ranked each club by their collective output.
Premier League preview: Man City, Liverpool title race again? Team-by-team guide, big questions for 2022-23
The new season is finally here! Will it be the same old teams at the top? Who else can contend? What will Newcastle do? Get ready for the action.
Premier League fixtures schedule 2022-23
Check out the full fixture list for the 2022-23 Premier League season.
Premier League fixtures 2022-23: Ten Hag faces tough start at Man Utd, Man City kick off at West Ham
The fixture schedule for the 2022-23 Premier League season was released on Thursday, with Erik ten Hag facing a tough start to life at Man Utd.
Bournemouth's clever free-kick goal secures automatic promotion
Kieffer Moore sends Bournemouth back to the Premier League with a free-kick goal in a 1-0 win over Nottingham Forest.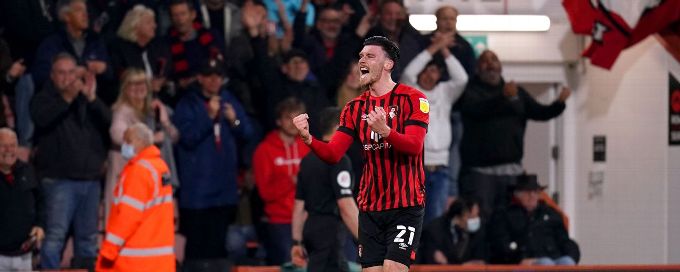 Bournemouth clinch promotion back to Premier League after beating Nottingham Forest
Bournemouth will be back in the Premier League next season after beating Nottingham Forest on Tuesday to secure promotion from the Championship.
Wales, Bournemouth star David Brooks reveals he is 'cancer free' after Hodgkin Lymphoma treatment
Wales and Bournemouth midfielder David Brooks said on Tuesday he is cancer-free, nearly seven months after being diagnosed with Hodgkin Lymphoma.
Dominic Solanke scores a penalty goal to level the game
Bournemouth's Dominic Solanke evens the game in the 98th minute with a goal to the bottom left corner, closing the game.
Fifth-tier Boreham Wood in FA Cup fifth round after shock win at Bournemouth
Fifth-tier Boreham Wood stunned Championship high-flyers Bournemouth 1-0 away on Sunday.
Team Leaders
Top Scorers
| # | Player | Goals | M | A |
| --- | --- | --- | --- | --- |
| 29 | Phillip Biling | 2 | 7 | 0 |
| 8 | Jefferson Lerm.. | 1 | 7 | 0 |
| 21 | Kieffer Moore | 1 | 7 | 0 |
Top Assists
| # | Player | Assists | M | G |
| --- | --- | --- | --- | --- |
| 5 | Lloyd Kelly | 2 | 5 | 0 |
| 4 | Lewis Cook | 1 | 7 | 0 |
| 33 | Jordan Zemura | 1 | 6 | 0 |