AEK Athens
4th in Greek Super League
---
Senegal World Cup hero Papa Bouba Diop dies at 42
Former Senegal midfielder Papa Bouba Diop, who scored the winner to defeat World Cup holders France in the 2002 tournament, has died aged 42.
AEK Athens gets €80K fine, suspended ban from European competition
AEK Athens has also been ordered to play its next two UEFA competition home games behind closed doors and fined €80,000.
AEK Athens to reimburse Bayern Munich €32k for ticket-price violation as Greek FA fined
UEFA said its disciplinary body ordered AEK to pay Bayern €10 euros for each of the 3,288 tickets sold to away fans for an October UCL match.
Europa-bound Benfica beat AEK in last Champions League group match
Both teams were out of contention for the knockout stage, and Benfica had already secured third place and a spot in the Europa League.
UEFA charges AEK Athens and Ajax over Champions League crowd trouble
Riot police clashed with Ajax fans in the Olympic Stadium before the Group E match, leaving some supporters with blood pouring down their faces.
Dusan Tadic double sends Ajax into Champions League round of 16
Ajax Amsterdam reached the Champions League knockout stages for the first time since 2006 after a 2-0 win over AEK Athens.
Ajax Champions League match with AEK Athens marred by fan trouble, petrol bombs
No arrests or injuries were immediately reported, but images showed supporters left bloodied and an explosion going off before kickoff.
Robert Lewandowski's double gives Bayern Munich win over AEK Athens
Robert Lewandowski scored once in each half to give Bayern Munich a 2-0 victory over AEK Athens in the Champions League on Wednesday.
Javi Martinez, Robert Lewandowski lead Bayern Munich to win over AEK Athens
Javi Martinez scored after 61 minutes and Robert Lewandowski tapped in two minutes later for Bayern's second win in three group matches.
Ten-man Benfica squander two-goal lead, then snatch win at AEK Athens
Benfica played the entire second half with 10 men and squandered a two-goal lead before claiming a thrilling 3-2 win away to AEK Athens.
Nicolas Tagliafico's double guides Ajax to comfortable win over AEK
Nicolas Tagliafico scored two second-half goals as Ajax marked their return to the Champions League group stages with a 3-0 victory over AEK Athens.
Champions League draw: Manchester United to face Juventus and Cristiano Ronaldo
Juventus will face Man United in the Champions League group stage this season, giving Cristiano Ronaldo a chance to play against his former team.
Ajax, Young Boys, AEK Athens reach Champions League group stage
Ajax qualified for the Champions League group stage on Tuesday for the first time in four years. AEK Athens and Young Boys also booked their spots.
Arsenal's Sokratis Papastathopoulos, AEK Athens players to donate to Greece wildfire victims
Arsenal defender Sokratis Papastathopoulos and AEK Athens players have pledged to donate blood and give money in support of those affected.
PAOK president Ivan Savvidis given 3-year ban for taking pitch with gun
Greek Superleague disciplinary committee has also docked the club three points and fined them €63,000.
PAOK president Ivan Savvidis apologises for storming pitch with gun
PAOK president Ivan Savvidis has apologised for storming the pitch during Sunday's clash with AEK Athens while appearing to carry a gun.
Greek Super League suspended after armed PAOK owner's pitch invasion
Greece's sports minister says Greek Super League matches have been suspended indefinitely after the gun-toting owner of PAOK marched onto the pitch.
'Armed' PAOK owner invades pitch, confronts referee after late confusion
A disputed goal in a Greek league match on Sunday between AEK and PAOK led to a pitch invasion by one of the team owners, who appeared to have a gun.
Patricio Rodriguez joins Newcastle Jets from AEK Athens
Newcastle Jets have lured Argentinian winger Patricio Rodriguez to the A-League, joining former AEK Athens teammate Ronald Vargas at the club.
AC Milan made to wait after AEK stalemate in Europa League
AC Milan were made to wait for confirmed qualification from the Europa League group stage after being held to a 0-0 draw at AEK Athens.
AEK Athens and AC Milan fans fight ahead of Europa League game
About 100 AEK Athens and AC Milan fans clashed before the teams' Europa League game in the Greek capital, police say.
PAOK docked six points, AEK Athens fined after Greek Cup violence
PAOK will also play seven home games behind closed doors and pay a fine of €282,500.
40 injured as fans clash before PAOK win Greek Cup final
PAOK won the Greek Cup by defeating AEK Athens 2-1 in a final marred by violent clashes between fans that injured more than 40 people, two seriously.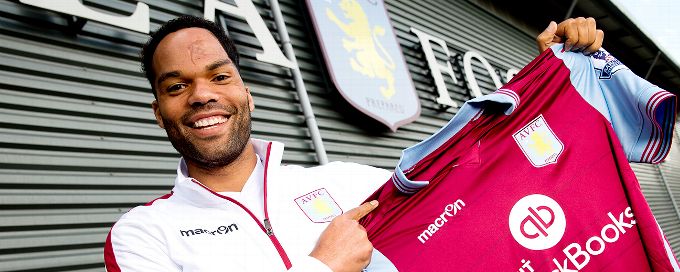 Joleon Lescott leaves AEK Athens after less than three months
Former England international Joleon Lescott has left AEK Athens after less than three months.
Joleon Lescott joins AEK Athens from Aston Villa on two-year contract
Joleon Lescott has left Aston Villa and joined AEK Athens on a two-year deal, the Greek Superleague club have announced.
Team Leaders
Top Scorers
| # | Player | Goals | M | A |
| --- | --- | --- | --- | --- |
| 30 | Georgios Athan.. | 0 | 0 | 0 |
| 1 | Cican Stankovi.. | 0 | 0 | 0 |
| 99 | Georgios Theoc.. | 0 | 0 | 0 |
Top Assists
| # | Player | Assists | M | G |
| --- | --- | --- | --- | --- |
| 30 | Georgios Athan.. | 0 | 0 | 0 |
| 1 | Cican Stankovi.. | 0 | 0 | 0 |
| 99 | Georgios Theoc.. | 0 | 0 | 0 |