Olympiacos
2nd in Greek Super League
---
West Ham secure late win over Olympiakos
West Ham United's Lucas Paqueta scored a late goal to earn his side a 1-0 home win over Olympiakos Piraeus as they retained top spot in Europa League Group A, while Olympique de Marseille won 2-0 at AEK Athens to remain first in Group B on Thursday.
Olympiacos-Panathinaikos abandoned after player hit by firework
The Greek super League match between rivals Panathinaikos and Olympiacos was abandoned on Sunday after a player was hit by a firework.
James Rodriguez's contract with Olympiakos terminated after just 23 games
Colombian attacking midfielder James Rodríguez was released by Olympiakos on Thursday, a day after the club was knocked out of the Greek Cup.
Real Madrid legend Marcelo signs for ex-club Fluminense
Former Real Madrid defender Marcelo has signed a two-year contract with his first-ever club Fluminense after leaving Greek champions Olympiakos.
Ex-Real Madrid star James Rodríguez joins Greek champions Olympiakos
Former Real Madrid and Bayern Munich attacking midfielder James Rodríguez has joined Olympiakos, the Greek club said Thursday.
Marcelo given wild reception by Olympiakos fans
Former Real Madrid defender Marcelo is given a rapturous reception by Olympiakos fans after recently signing for the club.
Former Real Madrid defender Marcelo joins Olympiakos
Brazilian full back Marcelo has signed for Olympiakos after leaving European champions Real Madrid in the close season.
Americans in Europe: Where the USMNT's World Cup hopefuls are playing across the Atlantic
With the World Cup looming, the start of this European club season is vital, so where on the continent are the USMNT's hopefuls playing in 2022-23?
USMNT's Konrad de la Fuente completes Olympiacos loan move from Marseille
United States forward Konrad de la Fuente has completed a loan move to Olympiacos, his parent club Marseille announced on Saturday.
Ukraine's Shakhtar Donetsk starts peace-themed tour with loss to Olympiakos
Ukraine club Shakhtar Donetsk opened a series of games on a government-backed "Global Tour for Peace" with a 1-0 loss at Olympiakos on Saturday.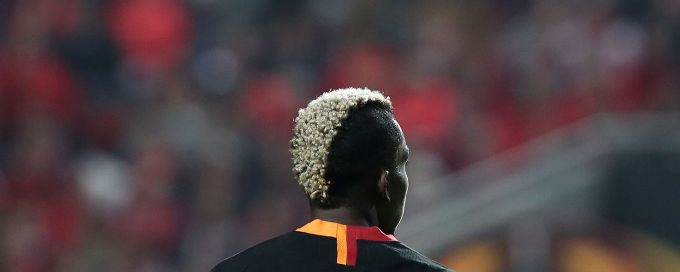 Will Henry Onyekuru's Olympiakos move be the reset button for his Nigeria career?
Super Eagles striker Henry Onyekuru's decision to join Olympiakos could be the best move of his career, and could reignite his Nigeria chances.
Arsenal advance to Europa quarters despite loss to Olympiakos
Arsenal held on to reach the quarterfinals of the Europa League, 3-2 on aggregate, after a 1-0 second-leg loss to Olympiakos.
Arsenal net pair of late goals to see off Olympiakos in Europa League
Arsenal needed a pair of late goals to secure victory over a resilient Olympiakos side in their Europa League round of 16, first-leg tie.
Olympiakos eliminated from Champions League after Marseille loss
Olympiakos were eliminated from the Champions League when they slumped to a 2-1 defeat at Olympique de Marseille in Group C on Tuesday.
Man City advances in Champions League after Foden's winner
— Phil Foden sent Pep Guardiola another reminder of his scoring ability by earning Manchester City a 1-0 win at Olympiakos on Wednesday, clinching the English team a place in the knockout stage of the Champions League for an eighth straight season.
Foden goal helps Manchester City reach Champions League knockout stage
Manchester City qualified for the round of 16 of the Champions League with a victory at Olympiakos on Wednesday.
Man City beat Olympiakos to maintain 100% record in Champions League
Manchester City continued their perfect start to the Champions League campaign as they toiled to a 3-0 home win against Olympiakos.
Vieira bags goal in Porto's Champions League win over Olympiakos
Fabio Vieira scored an early goal for FC Porto as they beat Olympiakos 2-0 in their Champions League Group C clash.
Champions League's ultimate sleepers: RB Leipzig to win, Inter Milan to reach final, Sevilla to semis
Looking for a Champions League sleeper? Bill Connelly identifies seven clubs who could make varying degrees of noise in this year's tournament.
Late Hassan goal gives Olympiakos 1-0 win over Marseille
A stoppage time goal by late substitute Ahmed Hassan gave Olympiakos a 1-0 win over 1993 European Cup winners Marseille in Group C.
Liverpool sign Greece defender Kostas Tsimikas from Olympiakos
Liverpool have made their first signing of the transfer window by bringing in Greece defender Kostas Tsimikas from Olympiakos on a long-term deal.
El equipo de Lopetegui le pasó por encima a la Roma y calificó a cuartos de final.
El equipo español pinta como amplio favorito para volver a ganar el título de la Europa League, y pone la vara alta para los equipos que están a punto de reiniciar la Champions.
El mexicano marcó el único gol del encuentro en la victoria contra Olympiacos.
En cronómetro, David Faitelson y Eduardo Varela repasan lo mejor de la Europa League, la previa de la Champions League, la NFL y la jornada 3 de la Liga MX.
Wolves reach Europa League quarterfinals with Jimenez penalty against Olympiakos
A ninth minute penalty from Raul Jimenez gave Wolves a 1-0 win over Olympiakos which took them through 2-1 on aggregate in the tie.
Raúl Jiménez y el Wolverhampton se miden al Olympiacos, en el partido de vuelta de los octavos de final de la UEFA Europa League y con miras a conquistar Europa.
En esta edición de Cronómetro David Faitelson y José Ramón Fernández analizan lo que será el partido del mexicano Raúl Jiménez, la actualidad del caso Cruz Azul y lo que sigue en las grandes ligas de Europa.
Team Leaders
Top Scorers
| # | Player | Goals | M | A |
| --- | --- | --- | --- | --- |
| 9 | Ayoub El Kaabi | 5 | 11 | 0 |
| 56 | Daniel Podence | 5 | 8 | 0 |
| 19 | Georgios Masou.. | 4 | 10 | 0 |
Top Assists
| # | Player | Assists | M | G |
| --- | --- | --- | --- | --- |
| 1 | Alexandros Pas.. | 0 | 11 | 0 |
| 9 | Ayoub El Kaabi | 0 | 11 | 5 |
| 45 | Panagiotis Ret.. | 0 | 10 | 0 |