Manchester City
3rd in English Premier League
---
Why Guardiola is confident Man City will defend the Premier League title
Nedum Onuoha explains why Manchester City are confident they will retain the Premier League title despite sitting behind Arsenal and Liverpool in the table.
Why Doku beats Haaland to be Man City's possession MVP
Ryan O'Hanlon explains why he picked Jeremy Doku over Erling Haaland for Man City's possession MVP.
Premier League's possession MVPs for all 20 teams, 2023-24
Right now, NFL fans are starting to argue about the Most Valuable Player. Soccer can't have a direct MVP of its own, but there is a stat that can show a team's most productive player. So let's apply this to the Premier League.
Guardiola: Man City will win the Premier League this season
Pep Guardiola speaks about Man City's title hopes and the punishment from the FA after their draw vs. Spurs.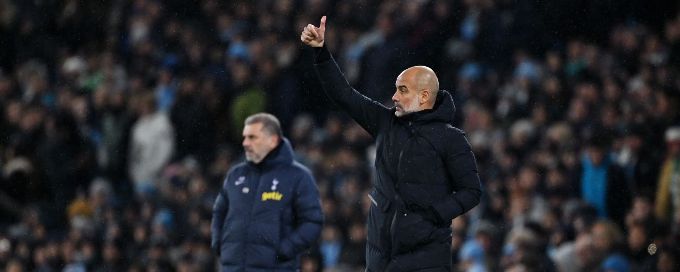 Spurs, Liverpool showings prove City will win league - Guardiola
Pep Guardiola said Manchester City's performances in the draws against Liverpool and Tottenham have convinced him that his team will win the league title this season.
Man City-Spurs drama, Barca brush past Atletico Madrid, more
Man City's draw with Tottenham will be remembered mostly for the late drama, but there's a lot to unpack, writes Gab Marcotti. PLUS: How Barcelona powered to a big win over Atletico thanks to a pair of unlikely heroes.
FA charges Man City, not Haaland for ref reaction vs. Spurs
Erling Haaland has escaped punishment by the English FA for his reaction to the referee's decision to halt play during Manchester City's 3-3 draw against Tottenham on Sunday.
The VAR Review: Man City's lost advantage that angered Haaland
How Man City were robbed of the chance to win the game against Tottenham, plus penalty decisions between Chelsea and Brighton, and possible spot kicks for Arsenal and Nottingham Forest.
Is Erling Haaland struggling for confidence?
Gab Marcotti & Don Hutchison react to Erling Haaland's performance in Man City's 3-3 draw vs. Tottenham.
Hutchison worried by Manchester City's defensive record
Don Hutchison thinks it's a worrying sign that Manchester City have been conceding so many goals lately.
Postecoglou's Spurs salvage point in thriller at City
Tottenham have secured a thrilling 3-3 draw against Manchester City despite a controversial last minute call that stopped Jack Grealish through on goal.
Man City's defensive woes on display after thriller vs. Spurs
After exposing Man City's defensive frailties, have Spurs shown other clubs a blueprint of how to beat the defending champions?
Are Arsenal worthy leaders of the Premier League?
Janusz Michallik suggests we should be paying less attention to Man City and more to Arsenal at the top of the table.
FA could charge Haaland for bashing ref after Spurs-City draw
Erling Haaland could be charged by the English Football Association for criticising match officials after Manchester City's 3-3 draw with Tottenham, writing, "Wtf" in a post on X.
How Ange's 'powerful message' led Spurs to draw 3-3 vs. Man City
Janusz Michallik talks about Ange Postecoglou's impact on Tottenham's late 3-3 draw against Manchester City.
Did Erling Haaland have an off day against Spurs?
Janusz Michallik discuss Erling Haaland's performance in Manchester City's thrilling 3-3 draw vs. Tottenham.
Man City, Spurs share points after thrilling 3-3 draw
Tottenham's Dejan Kulusevski headed a late equaliser to earn his side a 3-3 draw at champions Manchester City in a rip-roaring Premier League contest on Sunday.
Guardiola: Postecoglou won't change tactics vs. Man City
Pep Guardiola says he has been "impressed" with Ange Postecoglou's Tottenham side.
Transfer Talk: Bayern lead Madrid, City in Wirtz race
Bayern look to be front-runners to sign Florian Wirtz from Leverkusen but face competition from other clubs. Transfer Talk has the latest.
FIFA loses legal ruling in England aimed at capping agent fees
FIFA lost a key ruling in London against its plans to regulate player agents and cap the fees and commissions they earn.
UCL talking points: PSG the biggest letdown; best young player
Gab Marcotti, Mark Ogden, Sam Marsden and Julien Laurens give their takes after another action-packed round of matches in the Champions League.
Why Man City's defending is a real concern
Craig Burley is not convinced by Manchester City's defending after they conceded seven goals in the last three games.
Manchester City's Guardiola raves about Haaland's record night
Another pair of goal records on Erling Haaland's bulging resume had Manchester City manager Pep Guardiola sounding on Tuesday -- tongue-in-cheek -- like he was growing tired of answering questions about his prolific scorer.
Controversy for Newcastle, City and Barcelona advance
Newcastle United's knockout stage dreams hang by a thread after a controversial added time penalty to PSG. Elsewhere, Manchester City and Barcelona secure wins.
Man City recover from two-goal deficit to beat Leipzig 3-2
Manchester City clawed their way back from two goals down to beat RB Leipzig 3-2 and clinch top spot in Group G on Tuesday with one game remaining.
Team Leaders
Top Scorers
| # | Player | Goals | M | A |
| --- | --- | --- | --- | --- |
| 9 | Erling Haaland | 14 | 14 | 4 |
| 19 | Julián Álvarez.. | 4 | 14 | 5 |
| 47 | Phil Foden | 4 | 14 | 3 |
Top Assists
| # | Player | Assists | M | G |
| --- | --- | --- | --- | --- |
| 19 | Julián Álvarez.. | 5 | 14 | 4 |
| 11 | Jérémy Doku | 5 | 11 | 2 |
| 9 | Erling Haaland | 4 | 14 | 14 |