Cameroon
1st in FIFA World Cup Qualifying - CAF
---
2024 Schedule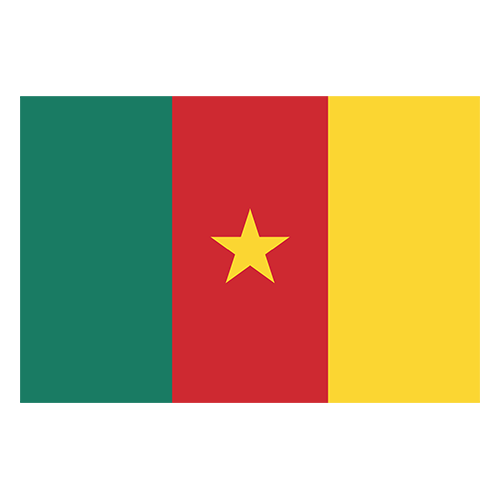 CMR
International Friendly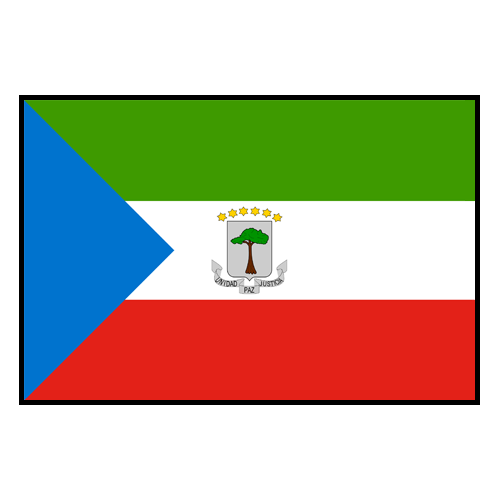 EQG
Man Utd's Onana hopeful of being fit to face Everton - source
André Onana is hopeful of being fit for Manchester United's Premier League fixture with Everton on Sunday, a source has told ESPN, despite suffering an injury playing for Cameroon.
Ivory Coast begin World Cup qualifying with 9-0 rout
Ivory Coast enjoyed a goal rout at the start of their World Cup qualifying campaign but fellow African heavyweights Cameroon, Ghana and Tunisia made heavy work of home games against lowly opposition on Friday.
Man United plan for Onana's January absence for AFCON - sources
Manchester United are resigned to losing André Onana to AFCON in January although the goalkeeper is yet to make a decision about whether he will play if he's called up by Cameroon, sources told ESPN.
Should Díaz's goal have stood in Tottenham vs. Liverpool?
Mark Ogden reacts after a Tottenham vs. Liverpool match that wasn't short of controversial refereeing decisions.
Ten Hag on Onana's mistake: Don't make it bigger than it is
Manchester United's Erik Ten Hag talks about the team and Andre Onana's performances after the 4-3 loss vs. Bayern Munich.
Man United's Onana the hero as Cameroon qualify for AFCON finals
A nervy Cameroon scored twice in the second half to beat Burundi 3-0 in Garoua on Tuesday and qualify for January's Africa Cup of Nations finals, overcoming their plucky opponents as André Onana marked his return to the team with a series of key saves.
Man United's Onana plans one-game Cameroon return - sources
Andre Onana has only committed to returning to the Cameroon set-up for one game, sources have told ESPN, and there will be further talks if they qualify for the Africa Cup of Nations.
Man Utd could lose Onana to AFCON duty in January
Manchester United risk losing André Onana for a month in the new year after the goalkeeper confirmed his return to international duty with Cameroon.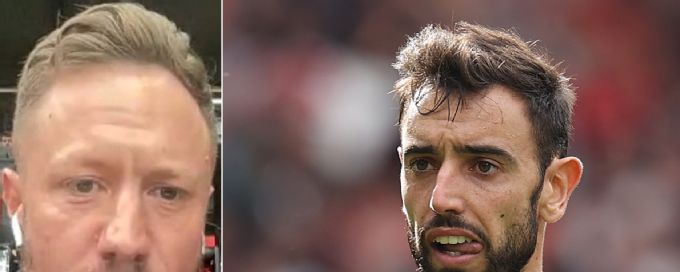 Man United's Onana recalled by Cameroon after coach dispute
Manchester United's new goalkeeper Andre Onana has been recalled to Cameroon's squad some nine months after he walked out on the team during the World Cup in Qatar.
Mexico to face Cameroon before Nations League match with U.S.
Mexico will play Cameroon on June 10 at San Diego's SnapDragon Stadium -- El Tri's ​first match in the venue that opened in August of 2022.
AFCON qualifying: Senegal and Algeria through with perfect records but Cameroon in crisis
The recent round of AFCON qualifiers saw teams like SA, Senegal, and Nigeria, qualify for the tournament proper... But will Cameroon miss out?
Can Victor Osimhen transfer his form from Napoli to Nigeria for AFCON qualifying?
Will Osimhen's form shift from club to country? How will Haller's Ivory Coast return go? Will a Chelsea youngster make his Cameroon debut?
Goalkeeper Andre Onana quits Cameroon national team after World Cup dispute
Cameroon goalkeeper Andre Onana announced his retirement from his national team after a disagreement with coach Rigobert Song at the World Cup.
Africa's World Cup: Can we really talk of progress?
Morocco reached the World Cup semifinals but does an overall evaluation of African performances in Qatar indicate genuine progress?
Samuel Eto'o apologises for 'violent altercation' after World Cup game
Cameroon football president and former player Samuel Eto'o was filmed allegedly kicking a man to the ground outside a World Cup stadium on Tuesday.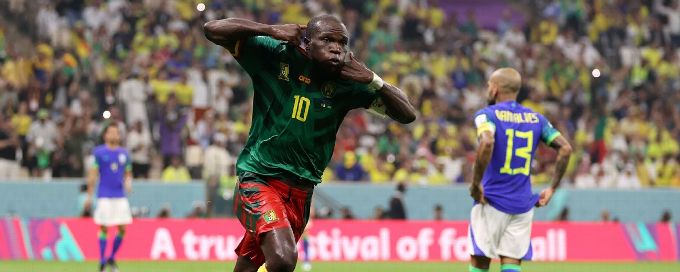 Senegal, Morocco, Tunisia, Cameroon, Ghana break African records during FIFA World Cup group stage
Is it too soon for us to be talking about 'progress' for African teams at the World Cup?
Cameroon provide another shock in this unpredictable World Cup by beating Brazil
It has been the most entertaining group stage in recent memory, and this World Cup delivered another shock when Cameroon upset Brazil 1-0 on Friday.
Cameroon beat group-winners Brazil but still exit World Cup
Cameroon defeated a second-string Brazil team 1-0 in their final Group G match but it was not enough to advance to the World Cup knockout stages.
Dani Alves responds to critics questioning his WC presence
Legendary Brazilian defender Dani Alves addresses critics who doubt his selection at the World Cup.
Who is Africa's greatest World Cup team, and can a squad in Qatar go one better?
ESPN assesses the golden generations that could stake a claim to being Africa's top World Cup team -- until a side reaches the semifinals, anyway.
Cameroon goalkeeper Andre Onana left out of team for 'disciplinary reasons' - Rigobert Song
Cameroon goalkeeper Andre Onana was left out of the team for their 3-3 draw with Serbia on Monday due to "disciplinary reasons," Rigobert Song said.
World Cup fan costumes: Mexico, Japan, Netherlands and US supporters go all-out
We've seen an astounding array of costumes and fancy dress worn by fans of every team at the World Cup, with some truly sensational outfits spotted.
2022 World Cup's best game so far? Cameroon comeback stuns Serbia after Andre Onana exit
Cameroon were ahead against Serbia, then went behind 3-1 before pegging them back to a draw in a topsy-turvy and incredibly fun game in Group G.
Vincent Aboubakar rescues Cameroon in comeback draw with Serbia
Cameroon's Vincent Aboubakar came off the bench to rescue a 3-3 draw with Serbia, a result that kept both sides' slim World Cup chances alive.
Cameroon don't feel 'burden' of Eto'o final prediction - Song
Cameroon coach Rigobert Song played down suggestions that his team are under unfair pressure from former star Samuel Eto'o.
Team Leaders
Top Scorers
| # | Player | Goals | M | A |
| --- | --- | --- | --- | --- |
| | Bryan Mbeumo | 1 | 2 | 0 |
| | Georges-Kévin .. | 1 | 2 | 0 |
| | Frank Magri | 1 | 2 | 0 |
Top Assists
| # | Player | Assists | M | G |
| --- | --- | --- | --- | --- |
| | Darline Yongwa | 1 | 2 | 0 |
| | Jean-Charles C.. | 0 | 2 | 0 |
| | Christopher Wo.. | 0 | 2 | 0 |