Algeria
1st in FIFA World Cup Qualifying - CAF
---
FC 100 best men's soccer wingers, 2022-23
Who were the best wingers in men's football in 2022-23? Our analysts from around the world make their case in this year's edition of the ESPN FC 100.
Algeria frontrunners to host 2027 AFCON, Morocco omitted from contention
Algeria head a list of four bids to host the 2027 Africa Cup of Nations, which CAF announced on Thursday, but Morocco are a surprise omission.
Nantes defender Jaouen Hadjam dropped for Ligue 1 match over refusal to break Ramadan fast
Jaouen Hadjam was dropped from Nantes' squad before their defeat to Stade de Reims on Sunday after insisting on not breaking his Ramadan fast.
Algeria books spot at 2024 Africa Cup of Nations
Algeria secured a place at the next Africa Cup of Nations finals with a 1-0 win over Niger that ensured a top-two finish in their qualifying group.
Lyon condemn abuse of Houssem Aouar after France-Algeria swap
French soccer club Lyon have condemned the online abuse suffered by midfielder Houssem Aouar after he chose to represent Algeria over France.
CAF suspend media officer for alleged 'indecent conduct'
The Confederation of African Football has banned one of its media officers from any football activity for five years.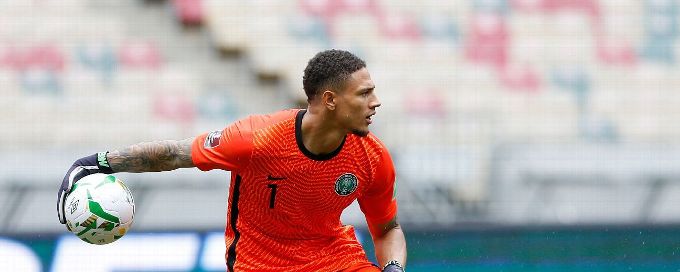 Alex Iwobi shines, but goalkeeping woes continue for Nigeria
Winless against Algeria's A and B sides during the international break, Nigeria's Super Eagles are still seeking a goalkeeper worth the number 1.
Algeria storm ahead with 2023 Africa Cup of Nations qualification bid; DR Congo lose again
Algeria won at Tanzania in their Africa Cup of Nations qualifier on Wednesday as they rebound after a tough start to the year.
Nigeria's World Cup miss, Aubameyang's Arsenal exit, Salah's late struggles: African football's biggest letdowns of the season
Nigeria faltered when it mattered and Mohamed Salah's dream season seemed to fizzle out. Here are African football's biggest letdowns of the season.
Toko Ekambi scores sensational winner to send Cameroon to World Cup
Karl Toko Ekambi scored a 124th-minute winner as Cameroon booked their place at the World Cup in Qatar with a 2-1 victory over hosts Algeria.
Advantage North Africa in World Cup qualifying; Nigeria in trouble?
Four teams from Africa's North are firmly in the ascent after Friday's first-leg World Cup qualifiers, with tension and tactical intrigue aplenty.
Algeria beats Cameroon with Slimani winner in CAF WC playoff first leg
Algeria's Islam Slimani headed home for a 1-0 away victory over Cameroon in their CAF World Cup playoff first leg in Douala on Friday.
Africa will be without huge stars at the World Cup, but which ones?
The 10 African teams still standing in the race for Qatar will be cut down to five in the last round of qualifiers. Which big players will miss out?
Which five teams will represent Africa at the World Cup in Qatar?
ESPN's Ed Dove predicts the winners of the World Cup qualifying playoffs, and rues the draw that will see either Salah or Mane miss out on Qatar.
'Total Failure' - Algeria's AFCON title defence ends in ignominy
Algeria coach Djamel Belmadi has thoughts on what to improve for the World Cup playoffs, "but now it's too soon to say."
Holders Algeria knocked out of Africa Cup of Nations after thumping Ivory Coast defeat
Ivory Coast thumped Algeria 3-1 to send the defending champions crashing out of the Africa Cup of Nations on Thursday.
Captain Riyad Mahrez wants Algeria to do their talking on the pitch
Algeria are well aware only a victory will ensure their progress at the Africa Cup of Nations.
Equatorial Guinea upset holders Algeria in Africa Cup of Nations shock
Esteban Obiang scored 20 minutes from time as Equatorial Guinea pulled off one of the great Africa Cup of Nations finals upsets.
AFCON holders Algeria held to surprise draw against Sierra Leone in opener
Holders Algeria were held to a surprise goalless draw by Sierra Leone as they made a surprise start to the defence of their Africa Cup of Nations.
Africa Cup of Nations hit by surge of pre-tournament COVID-19 cases
Cameroon, Nigeria, Ivory Coast, Algeria, and Morocco have all seen their AFCON squads hit by positive COVID-19 cases, with just over a week to go.
Africa Cup of Nations Power Rankings: Algeria poised for successful title defence
Which teams are expected to dominate the Africa Cup of Nations? We reveal our pre-tournament Power Rankings.
Riyad Mahrez to captain Algeria at Africa Cup of Nations finals
Riyad Mahrez will captain Algeria as they defend their Africa Cup of Nations crown next month,
Nigeria scrape through, while Morocco look set for World Cup success
We pick through the big talking points from the final gameweek of Africa's World Cup qualification group stage.
Egypt into African World Cup playoffs; Gabon, Algeria win
Egypt became the fourth side to win their group in the African World Cup qualifiers and progress to March's playoffs after a draw with Angola.
World Cup qualifying: Nigeria can't afford further slips, South Africa and Ghana poised for blockbuster
What's at stake in the final two gameweeks of African World Cup qualifying round two, as the continent's top sides battle to go to Qatar 2022.
Team Leaders
Top Scorers
| # | Player | Goals | M | A |
| --- | --- | --- | --- | --- |
| | Anthony Mandre.. | 0 | 0 | 0 |
| | Moustafa Zeghb.. | 0 | 0 | 0 |
| | Oussama Benbot | 0 | 0 | 0 |
Top Assists
| # | Player | Assists | M | G |
| --- | --- | --- | --- | --- |
| | Anthony Mandre.. | 0 | 0 | 0 |
| | Moustafa Zeghb.. | 0 | 0 | 0 |
| | Oussama Benbot | 0 | 0 | 0 |