German Bundesliga Schedule
---
German Bundesliga News
Chelsea set to appoint RB Leipzig's Christopher Vivell as technical director - sources
Chelsea are set to appoint Christopher Vivell as the club's new technical director after his departure from RB Leipzig, sources told ESPN.
Borussia Dortmund vs. Bayern Munich clash in Der Klassiker could come down to Jude Bellingham vs. Jamal Musiala duel
Dortmund and Bayern's mixed starts to the season mean they are both below the Bundesliga's top two ahead of this fierce clash between major rivals.
From Premier League to the Dutch Eredivisie: Must-see games before the World Cup
What are the biggest and most important matches coming up across the world's top soccer leagues? We have you covered.
How and why clubs sack their head coach: Awkward conversations, big payoffs and firings by WhatsApp
Football is a tough business, but how do clubs go about sacking their head coach? Here's everything you always wanted to know about it.
Ex-Liverpool, Real Madrid star Xabi Alonso appointed Bayer Leverkusen manager
Bayer Leverkusen have fired coach Gerardo Seoane and replaced with him with Xabi Alonso.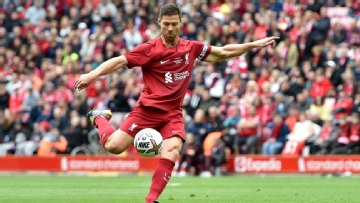 Bayer Leverkusen consider Xabi Alonso as manager to replace Gerardo Seoane - sources
Bayer Leverkusen are considering sacking manager Gerardo Seoane and are looking at appointing Xabi Alonso to replace him, sources have told ESPN.
For Eintracht Frankfurt, the time is now to reclaim their status as one of Europe's prominent clubs
After winning the Europa League last season, can Eintracht Frankfurt ride their momentum in the Champions League and Bundesliga this season?
Soccer love and hate: World Cup, floodlights and needless kit changes
From the big-game atmosphere to the congested fixture list, our writers share what captivates and irritates them about soccer.
Man United's Casemiro quandary, Barcelona leapfrog Real Madrid, Liverpool wobble: Weekend Review
Manchester City reign over United, Barcelona leapfrog Real Madrid, and Liverpool are looking out of sorts. It's ESPN's Weekend Review.
Andre Hahn's 77th minute header wins thriller for FC Augsburg
FC Augsburg and Schalke go back-and-forth in the second half with Andre Hahn getting a header in the 77th minute for the 3-2 win.
Hertha earn draw against Hoffenheim amid turmoil
Hertha Berlin came from a goal down to secure a 1-1 draw with visiting Hoffenheim in the Bundesliga on Sunday.
Werder Bremen thrash Gladbach to move into top half
Two Niclas Fullkrug goals helps Werder Bremen thump Borussia Monchengladbach 5-1.
---