Udinese
17th in Italian Serie A
---
Juventus use dominant first half for 3-0 win over Udinese
Federico Chiesa, Dusan Vlahovic and Adrien Rabiot scored for Juventus on Sunday for a comfortable 3-0 win at Udinese in their Serie A opener.
Juventus fail to qualify for Europa league despite win at Udinese
Juventus beat Udinese 1-0 thanks to Federico Chiesa's second-half goal in their last match of the Serie A season on Sunday but failed to secure a Europa League spot for next term.
Immobile penalty sends Lazio into third with win over Udinese
Lazio moved up to third in Serie A as a second-half penalty by Ciro Immobile secured a 1-0 victory at mid-table Udinese on Sunday and boosted their Champions League qualifying hopes.
Napoli seal first Serie A title in 33 years with draw against Udinese
Napoli won their third Serie A title, and their first in 33 years, on Thursday after a 1-1 draw at Udinese clinched it for the Naples side.
FC Cincinnati's Brenner to join Serie A's Udinese in $10m deal
FC Cincinnati forward Brenner has finalized a transfer to Italian Serie A side Udinese, FCC announced on Wednesday.
Roma cruise to victory over Udinese to stay third in Serie A
Third-placed AS Roma secured a comfortable 3-0 home win against Udinese thanks to goals from Edoardo Bove, Lorenzo Pellegrini and Tammy Abraham.
Ibrahimovic becomes oldest Serie A scorer in AC Milan loss to Udinese
AC Milan's Zlatan Ibrahimovic became the oldest goalscorer in Serie A history but it was not enough to stop them suffering a 3-1 loss at Udinese.
Atalanta held to goalless draw by Udinese
Atalanta were held to a goalless draw at home by Udinese in Serie A on Saturday, further threatening their top-six presence.
Lukaku, Lautaro on target as Inter beat Udinese 3-1
Inter Milan clinched a 3-1 home win over Udinese on Saturday, extending their unbeaten run in Serie A to four games.
Late Danilo goal earns Juventus eighth straight win
Juventus extended their Serie A winning streak to eight on Saturday as Danilo's late goal secured a 1-0 victory for the hosts against Udinese.
Napoli beats Udinese 3-2 to go 11 points clear in Serie A
— Napoli could end the year with a double-digit points lead at the top of Serie A.
Napoli hold off Udinese fightback to seal 11th successive win
Napoli held off a fightback from Udinese to set a club record of 11 consecutive Serie A victories within a season.
Udinese held to 1-1 home draw by strugglers Lecce
Udinese only managed a 1-1 draw at home to lowly Lecce on Friday as they missed a chance to move into the top four in Serie A.
Udinese draws with Lecce as winless run continues
— Udinese had to come from behind to draw at home with relegation-threatened Lecce 1-1 on Friday as its winless run stretched to six matches in Serie A.
Sarri demands new home turf as Immobile limps off in Udinese draw
Lazio coach Maurizio Sarri said the bad condition of the pitch at the Stadio Olimpico played a significant role in the 0-0 draw against visiting Udi
Udinese earn 2-2 comeback draw against Atalanta
A late goal by defender Nehuen Perez helped Udinese to come back from two goals down to earn a 2-2 home draw against Atalanta on Sunday.
Udinese beat Inter 3-1 to go top of Serie A
Udinese top the Serie A table after goals from Jaka Bijol and Tolgay Arslan sealed a 3-1 home win over Inter Milan on Sunday.
Roma suffer humiliating away loss to Udinese
AS Roma were thrashed 4-0 by a Udinese side who showed no mercy helped by a brilliant early goal from Destiny Udogie on Sunday in their fifth Serie
Tottenham sign Destiny Udogie for around £21 million, loan him back to Udinese
Tottenham have signed defender Destiny Udogie from Udinese, loaning him back to the Serie A club for the 2022-23 season.
Champions Milan smash four past Udinese in Serie A opener
Italian champions AC Milan turned an early one-goal deficit into a 4-2 win over Udinese in their Serie A opener at San Siro on Saturday.
Tottenham close to £21m deal for Destiny Udogie - sources
Tottenham Hotspur are closing in on a deal worth around £21 milion for Udinese defender Destiny Udogie, sources have told ESPN.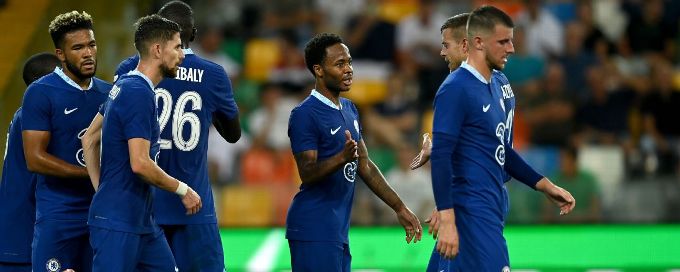 Raheem Sterling scores as Chelsea beat Udinese 3-1 in preseason friendly
Raheem Sterling scored his first goal in a Chelsea shirt as his new club got their preseason back on track with a 3-1 in over Udinese.
Salernitana thrashed by Udinese but stay up as Cagliari are relegated
Salernitana completed a dramatic great escape as they avoided relegation from Serie A despite losing after Cagliari failed win at Venezia.
Inter keep pace with leaders Milan after nervy win at Udinese
Goals from Ivan Perisic and Lautaro Martinez earned Inter Milan a nervy 2-1 win at Udinese on Sunday.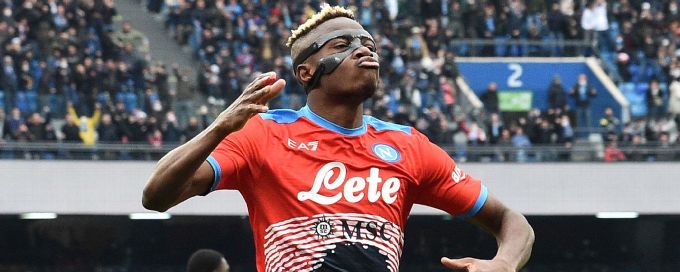 Another Osimhen double fires Napoli to win over Udinese
Two Victor Osimhen goals earned Napoli a 2-1 comeback victory over Udinese on Saturday, moving them level on points with Serie A leaders AC Milan.
Team Leaders
Top Scorers
| # | Player | Goals | M | A |
| --- | --- | --- | --- | --- |
| 24 | Lazar Samardzi.. | 1 | 5 | 0 |
| 1 | Marco Silvestr.. | 0 | 5 | 0 |
| 18 | Nehuén Pérez | 0 | 5 | 0 |
Top Assists
| # | Player | Assists | M | G |
| --- | --- | --- | --- | --- |
| 17 | Lorenzo Lucca | 1 | 5 | 0 |
| 1 | Marco Silvestr.. | 0 | 5 | 0 |
| 18 | Nehuén Pérez | 0 | 5 | 0 |