Soccer News
Messi: Relief, not celebration, after 1,000th game
A tired Lionel Messi says he will not celebrate reaching 1,000 professional matches after helping Argentina to a 2-1 victory over Australia.
Hospital: Pele responding well to treatment
Brazil great Pele is responding well to treatment for a respiratory infection and his health condition has not worsened over the latest 24 hours.
US: Missed chances, experience gap costly in loss
The United States acknowledged missed chances and a lack of experience cost it at key moments in the World Cup round-of-16 loss to the Netherlands.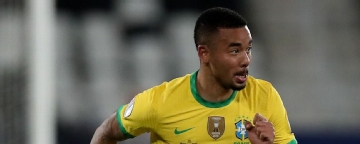 Gabriel Jesus, Telles add to Brazil injury crisis
Brazil have suffered two injury setbacks with both Gabriel Jesus and Alex Telles ruled out of the rest of the tournament.
Uruguay coach blames Portugal pen for WC exit
Uruguay coach Diego Alonso blamed his team's World Cup elimination on an officiating error in the previous game against Portugal.
Ronaldo 'insulted' by South Korea player - Santos
Cristiano Ronaldo was "insulted" by South Korea player Cho Gue-sung as he left the pitch, according to Portugal coach Fernando Santos.
Alves: Loss a 'warning signal' for injury-hit Brazil
Brazil captain Dani Alves says the defeat to Cameroon should be a "warning signal" as attention turns to their round of 16 match with South Korea.
FIFA World Cup Qatar 2022: Schedule, previews
The 2022 FIFA World Cup runs from Nov. 20 to Dec. 18. Check back here daily for results, news coverage and stories on the biggest names in Qatar.