Swansea City
22nd in English League Championship
---
Michu on being Erling Haaland's idol, winning Swansea's only major trophy and his teammate's monkey
Meet Michu, the former Premier League player turned sporting director in Spain's second division, who also happens to be Haaland's childhood idol.
Teemu Pukki's goal in first minute proved to be winner for Norwich
Norwich gets the 1-0 win over Swansea as Teemu Pukki scores off a corner in the first minute.
Keeper and defender gift TWO calamitous goals to Swansea
Nathan Baxter and Tobias Figueiredo have a day to forget for Hull, gifting two disastrous goals to Swansea.
Christie doubles Swansea's lead to 2-0
Cyrus Christie grabs the Swansea goal as they double their lead to 2-0 vs. West Brom.
Swansea goalkeeper concedes penalty in disastrous fashion
Swansea City goalkeeper Steven Benda tries to dribble out of pressure but ends up losing possession and conceding the penalty.
Brentford earns Premier League promotion in 2-0 win vs. Swansea
Ivan Toney powers Brentford to an empathic 2-0 win over Swansea to earn promotion to England's top flight for the first time since 1946-47.
Brentford ease past Swansea City in playoff final to reach Premier League for first time
Brentford reached the Premier League for the first time with a 2-0 win over Swansea City in the Championship playoff final on Saturday.
Swansea book Championship playoff final spot with 2-1 aggregate win over Barnsley
Swansea City moved a step closer to a return to the Premier League after beating Barnsley 2-1 on aggregate in their Championship playoff semifinal.
Grimes nets a beauty to send Swansea to playoff final
Matt Grimes' stunning goal leads Swansea to the playoff final after a 2-1 aggregate vs. Barnsley.
Swansea, Rangers to boycott social media platforms for one week in fight against racism
Swansea City and Rangers have announced that they will boycott all social media for a week in the fight against racism and online abuse.
Watford stay on course for promotion as Swansea lose
Watford boosted their hopes of automatic promotion to the Premier League with a 4-1 win at struggling Rotherham United in the English Championship.
USMNT star Paul Arriola apologises for 'offensive' and 'discriminatory' social media posts
USMNT star Paul Arriola has apologised for a number of "offensive" and "discriminatory" comments that he posted on social media nearly a decade ago.
USMNT's Morris to miss Gold Cup, Olympics with season-ending ACL injury
USMNT forward Jordan Morris will the Gold Cup and Olympics after suffering a season-ending ACL injury while on loan at Swansea City.
USMNT's Morris stretchered off in Swansea match vs. Huddersfield
United States international forward Jordan Morris was stretchered off with a leg injury in Swansea City's 4-1 loss to Huddersfield Town on Saturday.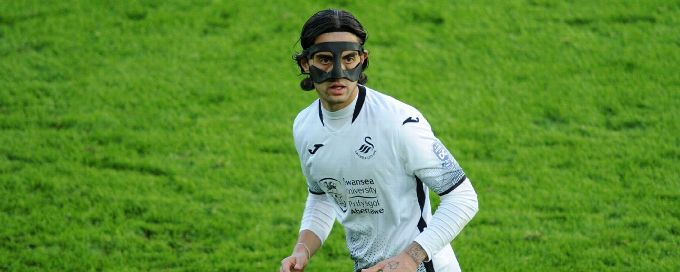 Instagram won't ban user for racial abuse of Swansea's Dhanda
The Instagram user who racially abused Swansea player Yan Dhanda will not be banned from the social media network.
Manchester City extend winning streak to 15 games in FA Cup win over Swansea
Manchester City beat Swansea City 3-1 to reach the FA Cup quarterfinals, extending City's winning streak across all competitions to 15.
Morris, Arriola's delayed moves to Europe show there's more than one path to USMNT stardom
USMNT stars Jordan Morris and Paul Arriola's career arcs prove that heading to Europe at 18 isn't the only way for America's top players to develop.
USMNT's Jordan Morris makes Swansea debut vs. Rotherham
United States forward Jordan Morris made his debut for Swansea, entering in the 83rd minute of a 3-1 win at Rotherham on Saturday.
Seattle Sounders' Jordan Morris joins Swansea City on loan
Swansea City announced on Friday that the club had secured a loan deal for Seattle Sounders' forward Jordan Morris.
Swansea in talks to sign USMNT's Jordan Morris on loan - source
Swansea City are in "ongoing" discussions to acquire United States winger Jordan Morris from the Seattle Sounders on a six-month loan.
Tottenham sign Swansea defender Joe Rodon before deadline
Tottenham have signed Swansea City for defender Joe Rodon in a last-gasp move before the English domestic window closed on Friday.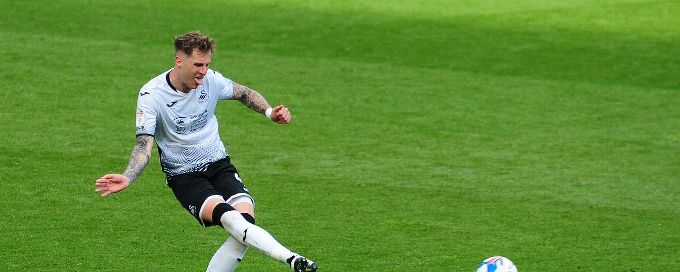 LIVE Transfer Talk: Tottenham confident in move for Swansea's Joe Rodon
Despite a productive transfer window for Jose Mourinho, Spurs are still in the market for defensive help. Transfer Talk is LIVE with the latest.
Brentford gets past Swansea City, into Championship playoff final
Early goals from Ollie Watkins and Emiliano Marcondes settled Brentford nerves and laid the platform for a 3-1 victory over Swansea City.
Ayew gives Swansea edge over Brentford in playoff semifinal
Andre Ayew's superbly-worked goal earned Swansea City a 1-0 victory over Brentford in their Championship playoff semifinal first leg.
LIVE Transfer Talk: Ryan Giggs tells Manchester United to sign Swansea's Joe Rodon
Ryan Giggs has reportedly alerted Man United to another Welsh prodigy, in the shape of Swansea defender Joe Rodon. Transfer Talk has the latest.
Team Leaders
Top Scorers
| # | Player | Goals | M | A |
| --- | --- | --- | --- | --- |
| 9 | Jerry Yates | 2 | 7 | 0 |
| 23 | Nathan Wood | 1 | 7 | 0 |
| 20 | Liam Cullen | 1 | 7 | 1 |
Top Assists
| # | Player | Assists | M | G |
| --- | --- | --- | --- | --- |
| 18 | Charlie Patino | 3 | 5 | 0 |
| 20 | Liam Cullen | 1 | 7 | 1 |
| 6 | Harry Darling | 1 | 6 | 1 |