Saint-Etienne
9th in French Ligue 2
---
Auxerre beat Saint-Etienne as supporters storm pitch after relegation to Ligue 2
Angry fans invaded the field as Saint-Etienne, one of the most storied teams in France, was relegated from Ligue 1 after a loss to Auxerre.
Fans invade field as 10-time champ Saint-Etienne relegated
— Angry fans invaded the field and set off flares as Saint-Etienne, one of the most storied soccer teams in France, was relegated from the top tier on Sunday after losing 5-4 on penalty kicks to Auxerre in their promotion-relegation playoff.
Rennes keep Champions League hopes alive with St Etienne win
Stade Rennais kept their hopes of securing a direct qualifying spot for next season's Champions League alive when they beat St Etienne 2-0.
Lionel Messi scores as Paris Saint-Germain win Ligue 1 to equal Marseille, Saint-Etienne title record
Paris Saint-Germain won the Ligue 1 title and equalled Marseille and Saint-Etienne's record of 10 championship victories.
Lorient hits 6 goals against Saint-Etienne in French league
— Lorient conceded two early goals before thrashing Saint-Etienne 6-2 in the French league to move four points clear of the relegation zone on Friday.
Marseille move back into second with 4-2 comeback win at St Etienne
Olympique de Marseille moved back into second place in Ligue 1 after coming from behind to win 4-2 at St Etienne.
Kylian Mbappe scores twice as PSG rally past Saint-Etienne
Kylian Mbappe's double led Paris Saint-Germain's rally as they came from a goal down to beat struggling Saint-Etienne 3-1 on Saturday.
Terrier shines as Rennes demolish St Etienne
Martin Terrier bagged a hat-trick as Stade Rennais moved into second place in Ligue 1 in style with a 5-0 away demolition of St Etienne.
Messi assists help PSG top Saint-Etienne in French league
— Lionel Messi had three assists in a 3-1 win over 10-man Saint-Etienne on Sunday to help Paris Saint-Germain extend its lead atop the French league standings to 14 points but the victory was marred by a Neymar injury.
Lionel Messi bags three assists as PSG claim comeback win on Sergio Ramos debut
Lionel Messi inspired PSG to a 3-1 victory at Saint-Etienne with a hat-trick of assists as Sergio Ramos made his long-awaited debut for the club.
Last-gasp Icardi goal boosts PSG title bid in St Etienne thriller
Paris St Germain stayed in the hunt for a fourth successive Ligue 1 title after Mauro Icardi scored in the dying seconds of stoppage time.
Monaco close in on top three by thrashing St Etienne 4-0
AS Monaco closed the gap with second-placed PSG and Lyon to one point after thrashing Saint-Etienne 4-0 in Ligue 1 on Friday.
Lyon keep up pace with PSG and Lille after rout of St Etienne
Olympique Lyonnais stayed hot on the heels of Ligue 1 leaders Paris St Germain and second-placed Lille when they claimed a resounding 5-0 win.
Pochettino gets off to underwhelming start at PSG with Saint-Etienne draw
PSG were held to a 1-1 Ligue 1 draw at Saint-Etienne in new coach Mauricio Pochettino's first game in charge on Wednesday.
Saint-Etienne accept Leicester bid for centre-back Wesley Fofana
Premier League club Leicester City have agreed to sign central defender Wesley Fofana from Saint-Etienne, the Ligue 1 outfit said on Tuesday.
Rennes go top of Ligue 1 with 3-0 win over Saint-Etienne
Sehrou Guirassy scored a brilliant volley and Adrien Hunou added a superb lob to help Stade Rennes defeat Saint-Etienne.
Saint Etienne go top after win at Marseille
Saint Etienne went top of Ligue 1 with an impressive 2-0 win at Olympique de Marseille on Thursday making it three wins out of three.
Ligue 1 restart in doubt as number of coronavirus cases at clubs rises - sources
The new season is due to start on Aug. 21 but a flurry of cases has put this date in doubt.
PSG's Coupe de France win over Saint-Etienne tarnished by Mbappe injury
Paris Saint-Germain forward Neymar struck early to secure a 1-0 win over 10-man St Etienne as they claimed the Coupe de France on Friday.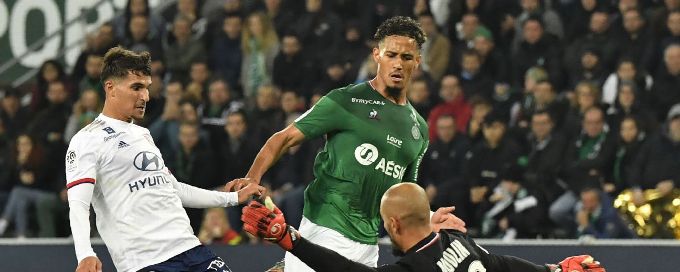 Arsenal, Saint-Etienne row over William Saliba loan deal
A row has developed between Arsenal and Saint Etienne over William Saliba's loan deal.
Saint-Etienne slams Arsenal's loan demands for William Saliba as 'unacceptable'
Saint-Etienne have been left frustrated by Arsenal's demands over a loan extension of defender William Saliba.
Boudebouz belter sends St Etienne into French Cup final
St Etienne reached the Coupe de France final with a dramatic 2-1 win over Stade Rennes on Thursday thanks to a stoppage-time strike.
Dembele double gives Lyon 2-0 win over St Etienne
Lyon soared into the Ligue 1 top five after a Moussa Dembele brace and a string of fine saves by Anthony Lopes gave them a 2-0 home win.
Marseille cement second place with Saint-Etienne win
Goals by Dimitri Payet and Nemanja Radonjic helped Olympique de Marseille beat St Etienne 2-0 to move six points clear in second place in Ligue 1.
Monaco plunge into crisis with French Cup defeat
Monaco descended into crisis on Tuesday as they were knocked out of the French Cup last 16 in a 1-0 home defeat by St Etienne.
Team Leaders
Top Scorers
| # | Player | Goals | M | A |
| --- | --- | --- | --- | --- |
| 9 | Ibrahima Sisso.. | 4 | 6 | 0 |
| 14 | Dylan Chambost | 1 | 4 | 0 |
| 5 | Florien Tardie.. | 1 | 3 | 0 |
Top Assists
| # | Player | Assists | M | G |
| --- | --- | --- | --- | --- |
| 30 | Gautier Larson.. | 0 | 6 | 0 |
| 19 | Leo Petrot | 0 | 6 | 0 |
| 21 | Dylan Batubins.. | 0 | 6 | 0 |