Stade de Reims
3rd in French Ligue 1
---
Gomez: This is what Folarin Balogun does, he scores goals!
Sebastian Salazar joins Herculez Gomez to explain why they think Folarin Balogun is such a real threat.
Folarin Balogun scores first goal as USMNT beats Canada
Gab Marcotti and Julien Laurens speak on Folarin Balogun scoring his first goal for USMNT against Canada.
LIVE: Transfer Talk: Napoli, AC Milan remain top destinations for USMNT's Folarin Balogun
Folarin Balogun is a man in demand, with two Serie A giants battling for the Arsenal youngster's signature. Transfer Talk is LIVE with the latest.
Balogun, Pulisic headline USMNT Concacaf Nations League roster
Christian Pulisic, Weston McKennie and Folarin Balogun headline the 24-player U.S. roster that will prepare for the final four of the Concacaf Nations League.
Why new USMNT striker Balogun's stats compare with Mbappe, Haaland, Messi
Across the Big Five leagues, only seven players have generated more combined xG and xA than Balogun, and they are all world-class superstars.
What will Arsenal striker Folarin Balogun bring to USMNT?
On Tuesday, FIFA approved striker Folarin Balogun's switch from England to the U.S. Julien Laurens and Jeff Carlisle break down what he brings to the national team.
10-man Lens dreaming of Champions League after beating Reims
— Lens captain Seko Fofana fired his team another step closer to Champions League qualification after coming from behind to top Reims 2-1 in the French league on Friday.
Ten-man Lens closer to Champions League with Reims win
Lens made another step towards qualification for next season's Champions League with a 2-1 comeback home victory in Ligue 1 against Stade de Reims.
LIVE Transfer Talk: RB Leipzig eye Folarin Balogun as replacement if Christopher Nkunku joins Chelsea
Folarin Balogun is now on RB Leipzig's shortlist as they look to sign a replacement for Christopher Nkunku. Transfer Talk has the latest.
USMNT held talks with Arsenal's Folarin Balogun over potential switch from England - Hudson
Folarin Balogun is in Florida amid a serious push from U.S. Soccer for him to switch his international allegiance from England, sources told ESPN.
Arsenal teammate Folarin Balogun would be 'great addition' for U.S. - Matt Turner
Arsenal goalkeeper Matt Turner said Gunners teammate Folarin Balogun, currently on loan at Reims, would be "a great addition" to the USMNT.
Why on-fire Balogun must choose to play for USMNT
Sebastian Salazar thinks in-form Reims striker and Arsenal loanee Folarin Balogun absolutely must choose to play for the USMNT over England and Nigeria.
France, World Cup legend Just Fontaine dies aged 89
Former France forward Just Fontaine has died at the age of 89, his former club Stade de Reims said on Wednesday.
Schmeichel saves penalty as Nice draws with Reims 0-0
— Goalkeeper Kasper Schmeichel saved a penalty as Nice earned a goalless home draw against Reims in the French league on Saturday.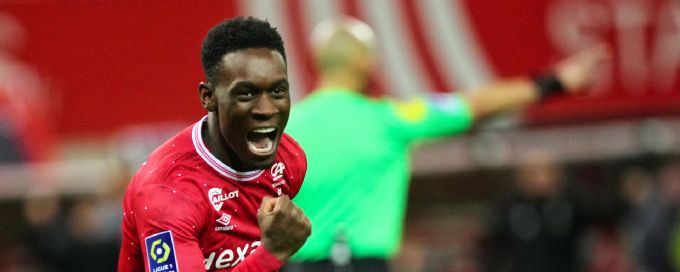 Could USMNT tempt young sensation Balogun to play for them?
Sebastian Salazar and Herculez Gomez discuss 21-year-old Ligue 1 top scorer Folarin Balogun's international future.
January's U23 hotlist: Arsenal loanee Balogun, Monaco teen Ben Seghir
We highlight the most in-form talent aged 23 or under across Europe's top leagues each month and January has an Arsenal loanee scoring goals.
Could Folarin Balogun be tempted to play for the USMNT?
Herculez Gomez debates whether the Ligue 1 top scorer and Arsenal loanee Folarin Balogun would play for the USMNT.
Paris Saint-Germain's poor run continues with Reims draw
Paris Saint-Germain's mediocre run in Ligue 1 continued as they fell to a last-gasp 1-1 draw at home against Stade de Reims.
Lorient miss out on top spot after goalless draw with nine-man Reims
Lorient missed out on the chance to go provisionally top of the Ligue 1 as they were held to a goalless draw by nine-man Stade de Reims on Saturday.
Ramos sees red as PSG held to draw at Reims in Ligue 1
Ligue 1 leaders PSG played more than one half with 10 men after Sergio Ramos' red card but salvaged a goalless draw at Reims on Saturday.
Openda salvages draw for 10-man Lens at Reims in Ligue 1
Lois Openda netted his fourth goal this season to help 10-man RC Lens salvage a 1-1 draw at Stade de Reims and stay unbeaten in Ligue 1 on Sunday.
Marseille make winning start to Ligue 1 campaign with 4-1 win over Reims
Marseille made a winning start to their Ligue 1 campaign on Sunday, beating visitors Stade Reims 4-1 to quell reports of discontent in their ranks.
PSG sign France U20 striker Hugo Ekitike on loan with option for permanent move
Paris Saint-Germain have signed Stade de Reims striker Hugo Ekitike on loan with an option for a permanent move, the club announced on Saturday.
U.S. youth international Kobi Henry signs for Ligue 1 club Reims
Orange County SC and U.S. youth international defender Kobi Henry has signed with Ligue 1 side Stade de Reims, sources told ESPN.
Gerson on target as Marseille cement second place in Ligue 1
Olympique de Marseille took another step towards securing direct qualification for the Champions League when a late Gerson goal earned them a 1-0 wi
Team Leaders
Top Scorers
| # | Player | Goals | M | A |
| --- | --- | --- | --- | --- |
| 10 | Teddy Teuma | 3 | 7 | 2 |
| 5 | Yunis Abdelham.. | 2 | 7 | 0 |
| 15 | Marshall Munet.. | 2 | 7 | 3 |
Top Assists
| # | Player | Assists | M | G |
| --- | --- | --- | --- | --- |
| 15 | Marshall Munet.. | 3 | 7 | 2 |
| 7 | Junya Ito | 2 | 7 | 1 |
| 10 | Teddy Teuma | 2 | 7 | 3 |