PSM Makassar
14th in Indonesian Liga 1
---
As Indonesia become first through to Southeast Asian Games semifinals, Ramadhan Sananta shapes as real star of the future
With his performances at the 32nd Southeast Asian Games, Ramadhan Sananta is emerging as a future star for Indonesia.
Dominant Kuala Lumpur City see off PSM Makassar to win ASEAN Zone and march on in AFC Cup 2022
Kuala Lumpur City are marching on in AFC Cup 2022 as the ASEAN Zone champions after beating PSM Makassar 5-2 in Wednesday's zonal final.
Malaysia-Indonesia rivalry renewed as Kuala Lumpur City, PSM Makassar set up tantalising AFC Cup ASEAN Zone final
Kuala Lumpur City and PSM Makassar will contest the AFC Cup 2022 ASEAN Zone final, adding another chapter to the fierce Malaysia-Indonesia rivalry.
Are Viettel or Kuala Lumpur City looking the likelier to meet PSM Makassar in AFC Cup ASEAN Zone final?
PSM Makassar are through to the AFC Cup 2022 ASEAN Zone final, but will they be meeting Kuala Lumpur City or Viettel?
Two down, one to go: Where do things stand heading into final round of AFC Cup 2022 ASEAN Zone?
With one round left in the AFC Cup 2022 ASEAN Zone group stage, we take a closer look at where things stand and who's in pole position to advance.
Bali United shine brightest in Indonesia-Malaysia double header but Viettel lead the way in AFC Cup ASEAN Zone
As the AFC Cup returned to the ASEAN Zone after a two-year hiatus, we look back at all the talking points from the opening round.
As AFC Cup returns to ASEAN for first time since the pandemic, here's why it matters to Southeast Asian aspirants
The AFC Cup returns to Southeast Asia this week for the first time since the pandemic. Here's why it matters so much to football in the region.
Where are they now: Indonesia's 2016 underdogs that restored hope to a nation
After years of being plagued by off-field issues, Indonesian football was uplifted by an improbable but inspiring run at AFF Suzuki Cup 2016.
Socceroo Bruce Djite enters into unknown with PSM in Indonesia
Ex-Australia striker Bruce Djite, A-League winner in 2016, has ventured into the unknown by signing a two-year deal with remote Indonesian club, PSM.
Former Socceroo Bruce Djite signs with PSM Makassar in Indonesia
Former Socceroo striker Bruce Djite, 30, has joined Indonesia side PSM Makassar for the 2018 season, having last played for Suwon FC in South Korea.
Indonesia need more superstars like Michael Essien for 2018 season
Michael Essien and Peter Odemwingie led the way for imports in Indonesia in 2017, and more are needed this year. Five Indo wishes by John Duerden.
Ex-Home United boss Robert Alberts signs four-year PSM contract
Former Home United coach Robert Alberts is looking to build something special at Indonesia's PSM after signing a four-year contract extension.
British coach Simon McMenemy guides Bhayangkara to Indonesia title
Indonesia
Felda United track Bali United's Dutch striker Sylvano Comvalius
Malaysia's Felda United are interested in Dutch striker Sylvano Comvalius, who has scored 35 goals in 30 games for Bali United in Indonesia this year.
Stefano Lilipaly takes Bali United top in Indonesia
Indonesia
Indonesia giants Persija Jakarta links up with Korean champs Jeonbuk
Indonesia's Persija Jakarta have announced the signing of a Memorandum of Understanding with newly-crowned K-League champions Jeonbuk Hyundai Motors.
Bhayangkara stunned by PSM to blow open Indonesia title race
Robert Alberts' PSM Makassar blew the Indonesian title race wide open on Thursday with a 2-0 win at the home of Liga One leaders Bhayangkara.
Peter Odemwingie suspended as Madura lose top spot in Indonesia
A 5-2 victory by Bali United over Madura United -- who were missing top scorer Peter Odemwingie -- saw them claim top spot in Indonesia's Liga 1.
Michael Essien helps brighten Indonesian season of Persib Bandung
Michael Essien scored his third goal of the season, helping Persib Bandung to a 3-1 win over PS TNI that moves them away from the relegation zone.
Carlton Cole sacked by Persib in Indonesia for 'failing to perform'
Former England striker Carlton Cole was sacked by his Indonesian club Persib Bandung on Wednesday after failing to score during the 2017 season.
Peter Odemwingie scores again as Essien's Persib see coach depart
There was joy for ex-Stoke City winger Peter Odemwingie and concern for former Chelsea midfielder Michael Essien after the latest round in Indonesia.
Michael Essien guides Persib Bandung to win over leaders PSM
Michael Essien played 90 minutes as Persib Bandung opened up the Indonesian title race on Wednesday with a 2-1 win over league leading PSM Makassar.
Robert Alberts hopes Michael Essien won't trip up his high-flying PSM
Michael Essien comes up against the coach who turned him down when his Persib Bandung host Robert Alberts' high-flying PSM in Indonesia's Liga 1.
Michael Essien's Persib Bandung slump to 12th in Indonesia after loss
Michael Essien completed his second 90 minutes of the season, but his team Persib Bandung lost again to fall to 12th on the Indonesia standings.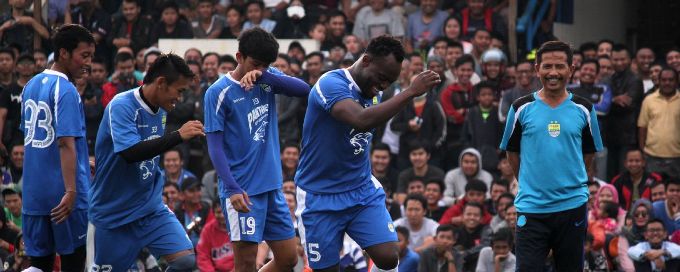 Michael Essien, Persib Bandung coach under pressure in Indonesia
Michael Essien's Persib are unbeaten in Indonesia Liga 1 this season, but there is pressure on coach Djadjang Nurdjaman due to the team's dour style.
Team Leaders
Top Scorers
Top Assists