Olympiakos
3rd in Greek Super League
---
Real Madrid legend Marcelo signs for ex-club Fluminense
Former Real Madrid defender Marcelo has signed a two-year contract with his first-ever club Fluminense after leaving Greek champions Olympiakos.
Ex-Real Madrid star James Rodríguez joins Greek champions Olympiakos
Former Real Madrid and Bayern Munich attacking midfielder James Rodríguez has joined Olympiakos, the Greek club said Thursday.
Marcelo given wild reception by Olympiakos fans
Former Real Madrid defender Marcelo is given a rapturous reception by Olympiakos fans after recently signing for the club.
Former Real Madrid defender Marcelo joins Olympiakos
Brazilian full back Marcelo has signed for Olympiakos after leaving European champions Real Madrid in the close season.
Americans in Europe: Where the USMNT's World Cup hopefuls are playing across the Atlantic
With the World Cup looming, the start of this European club season is vital, so where on the continent are the USMNT's hopefuls playing in 2022-23?
USMNT's Konrad de la Fuente completes Olympiacos loan move from Marseille
United States forward Konrad de la Fuente has completed a loan move to Olympiacos, his parent club Marseille announced on Saturday.
Ukraine's Shakhtar Donetsk starts peace-themed tour with loss to Olympiakos
Ukraine club Shakhtar Donetsk opened a series of games on a government-backed "Global Tour for Peace" with a 1-0 loss at Olympiakos on Saturday.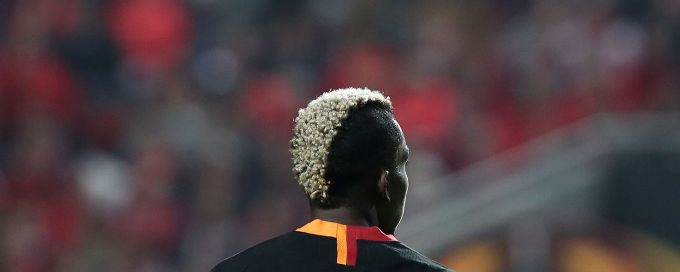 Will Henry Onyekuru's Olympiakos move be the reset button for his Nigeria career?
Super Eagles striker Henry Onyekuru's decision to join Olympiakos could be the best move of his career, and could reignite his Nigeria chances.
Arsenal advance to Europa quarters despite loss to Olympiakos
Arsenal held on to reach the quarterfinals of the Europa League, 3-2 on aggregate, after a 1-0 second-leg loss to Olympiakos.
Arsenal net pair of late goals to see off Olympiakos in Europa League
Arsenal needed a pair of late goals to secure victory over a resilient Olympiakos side in their Europa League round of 16, first-leg tie.
Olympiakos eliminated from Champions League after Marseille loss
Olympiakos were eliminated from the Champions League when they slumped to a 2-1 defeat at Olympique de Marseille in Group C on Tuesday.
Foden goal helps Manchester City reach Champions League knockout stage
Manchester City qualified for the round of 16 of the Champions League with a victory at Olympiakos on Wednesday.
Should Man City prioritise signing Haaland over Messi?
Julien Laurens debates whether Erling Haaland would be a better signing than Lionel Messi.
Man City beat Olympiakos to maintain 100% record in Champions League
Manchester City continued their perfect start to the Champions League campaign as they toiled to a 3-0 home win against Olympiakos.
Vieira bags goal in Porto's Champions League win over Olympiakos
Fabio Vieira scored an early goal for FC Porto as they beat Olympiakos 2-0 in their Champions League Group C clash.
Champions League's ultimate sleepers: RB Leipzig to win, Inter Milan to reach final, Sevilla to semis
Looking for a Champions League sleeper? Bill Connelly identifies seven clubs who could make varying degrees of noise in this year's tournament.
Late Hassan goal gives Olympiakos 1-0 win over Marseille
A stoppage time goal by late substitute Ahmed Hassan gave Olympiakos a 1-0 win over 1993 European Cup winners Marseille in Group C.
Liverpool sign Greece defender Kostas Tsimikas from Olympiakos
Liverpool have made their first signing of the transfer window by bringing in Greece defender Kostas Tsimikas from Olympiakos on a long-term deal.
Laurens: Kostas Tsimikas fits the way Liverpool play
Julien Laurens and Gab Marcotti discuss Olympiacos' Kostas Tsimikas who is rumoured to be joining Liverpool.
Wolves reach Europa League quarterfinals with Jimenez penalty against Olympiakos
A ninth minute penalty from Raul Jimenez gave Wolves a 1-0 win over Olympiakos which took them through 2-1 on aggregate in the tie.
UEL draw: Man United on course for Lukaku reunion with Inter in Europa League final
The Europa League draw made on Friday means Manchester United face a potential final with Inter Milan.
Arsenal vs. Manchester City postponed after players exposed to Olympiakos owner
Arsenal's match against Man City on Wednesday has been postponed after some players made "close contact" with Olympiakos owner Evangelos Marinakis.
Olympiakos oust Arsenal from Europa League on El Arabi's late goal
Youssef El Arabi's last-gasp goal in added extra time helped Olympiakos pull off a major upset and oust Arsenal from the Europa League.
Alexandre Lacazette's late goal seals Arsenal win at Olympiakos
Alexandre Lacazette scored a crucial away goal to give Arsenal a 1-0 win over Olympiakos in Europa League round-of-32 action on Thursday.
Real Sociedad send wishes to ex-player Darko Kovacevic after shooting
Real Sociedad have wished their former player, Darko Kovacevic, "a swift recovery" following reports that he was shot at outside his home in Athens.
Team Leaders
Top Scorers
| # | Player | Goals | M | A |
| --- | --- | --- | --- | --- |
| 94 | Cédric Bakambu.. | 12 | 21 | 0 |
| 21 | Pep Biel | 8 | 20 | 0 |
| 10 | James Rodrígue.. | 5 | 17 | 0 |
Top Assists
| # | Player | Assists | M | G |
| --- | --- | --- | --- | --- |
| 11 | Youssef El Ara.. | 0 | 24 | 4 |
| 33 | Hwang In-Beom | 0 | 23 | 2 |
| 19 | Georgios Masou.. | 0 | 23 | 3 |