Nottingham Forest
8th in English Premier League
---
VAR drama as Hudson-Odoi earns Forest draw against Burnley
Burnley earned their first point since returning to the Premier League but were left frustrated by a 1-1 draw at Nottingham Forest on Monday.
Premier League kit ranking: Every new jersey for 2023-24
The 2023-24 Premier League season brings a new host of kits from all 20 teams. Which tops the style chart, and which has the worst fashion faux pas?
Chelsea slump to shock defeat at home to Forest
Nottingham Forest substitute Anthony Elanga struck early in the second half to earn a 1-0 win at toothless Chelsea in the Premier League on Saturday.
Tottenham sign forward Brennan Johnson from Nottingham Forest
Tottenham have completed the signing of Nottingham Forest winger Brennan Johnson, the clubs announced shortly before the close of the transfer deadline on Friday.
Olley: Brennan Johnson ticks all the boxes for Ange Postecoglou
James Olley analyses Tottenham's potential signing of Brennan Johnson from Nottingham Forest.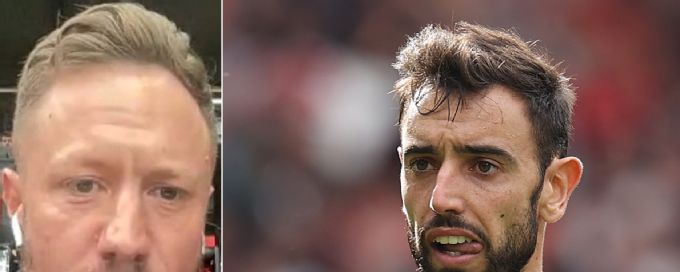 Dawson: Man United look vulnerable despite 3-2 win vs. Forest
Rob Dawson analyses Man United's 3-2 win over Nottingham Forest in the Premier League.
Man United recover from two down to beat Forest in thriller
Bruno Fernandes completed a 3-2 comeback victory for Manchester United against Nottingham Forest in a rip-roaring clash at Old Trafford on Saturday.
Forest substitute Wood snatches late 2-1 win over Sheffield Utd
Nottingham Forest substitute Chris Wood headed an 89th minute winner to secure a 2-1 victory over promoted Sheffield United for his side's first three points of the season on Friday.
Arsenal move validated by securing U.S. No. 1 spot - Turner
Matt Turner admitted he "didn't do enough" to play regularly for Arsenal, but insisted the move still helped him become the United States' No. 1 goalkeeper.
Arsenal beat Forest in 'frantic finale' at Emirates
James Olley reports from the Emirates as Arsenal beat Nottingham Forest 2-1 with goals from Edward Nketiah and Bukayo Saka.
Arsenal beat Forest 2-1 in Premier League opener
Arsenal began their new Premier League campaign with a 2-1 home win over Nottingham Forest on Saturday thanks to first-half goals from Eddie Nketiah and Bukayo Saka.
Ian Darke's Premier League preview: Will Man City four-peat? Will Chelsea rebound?
Ian Darke is here to preview the Premier League season like only he can. The big questions: besides Man City's quest for a fourth straight title, how much impact can Pochettino have at Chelsea? And who goes down?
USMNT's Matt Turner leaves Arsenal to join Nottingham Forest
U.S. men's national team goalkeeper Matt Turner has completed a transfer from Arsenal to fellow Premier League club Nottingham Forest.
United States keeper Matt Turner to join Nottingham Forest - sources
United States and Arsenal goalkeeper Matt Turner is set to join Premier League side Nottingham Forest pending a medical, sources confirmed to ESPN.
Arsenal reject Balogun bid as Turner nears Forest - sources
Arsenal have rejected a bid from Monaco for Folarin Balogun but have agreed on a deal for Matt Turner to join Nottingham Forest, sources told ESPN.
Anthony Elanga leaves Man United to join Nottingham Forest
Nottingham Forest have signed forward Anthony Elanga on a five-year deal from Manchester United, the two Premier League clubs announced on Tuesday.
Trevor Francis, Britain's first £1m footballer, dies at 69
Trevor Francis, Britain's first £1 million ($1.28m) footballer, has died at the age of 69 after suffering a heart attack, his family said on Monday.
Forest's Toffolo charged with 375 alleged betting breaches
Harry Toffolo has been charged by the FA with misconduct in relation to its betting rules with 375 alleged breaches, it was announced on Wednesday.
Premier League fixtures schedule 2023-24 in full
Check out the full fixture list for the 2023-24 Premier League season.
Nottingham Forest keen on Man City prospect Borges - sources
Nottingham Forest are interested in signing Manchester City academy winger Carlos Borges, sources have told ESPN.
Man United ready to let Henderson leave when De Gea signs new deal - sources
Manchester United are prepared to let Dean Henderson move to Nottingham Forest once David De Gea has signed a new contract, sources have told ESPN.
Premier League without VAR: Tottenham replace Liverpool in Europa League, Villa slump to 10th, Forest relegated
The 2022-23 Premier League season is over, with plenty of VAR controversies across the campaign. Which clubs have been the winners and losers from the influence of the video referee?
One stat to explain every Premier League team's season, and what might come next
We know who took home the title and who was relegated, but why don't we go a little deeper? Here's one stat that sums up the 2022-23 season for 20 teams and how that might inform their prep for the next campaign.
Palace held as Forest claim rare away point in draw
Crystal Palace came back from a goal down to earn a 1-1 home draw with Nottingham Forest in both sides' final games of the Premier League season on Sunday.
Arsenal defeat hands Man City title, keeps Forest safe
Arsenal's last-flickering hopes of winning the Premier League were extinguished on Saturday by Nottingham Forest, whose 1-0 win courtesy of Taiwo Awoniyi secured their top-flight status.
Team Leaders
Top Scorers
| # | Player | Goals | M | A |
| --- | --- | --- | --- | --- |
| 9 | Taiwo Awoniyi | 3 | 5 | 2 |
| 21 | Anthony Elanga | 1 | 5 | 1 |
| 11 | Chris Wood | 1 | 5 | 0 |
Top Assists
| # | Player | Assists | M | G |
| --- | --- | --- | --- | --- |
| 9 | Taiwo Awoniyi | 2 | 5 | 3 |
| 24 | Sèrge Aurier | 2 | 4 | 0 |
| 10 | Morgan Gibbs-W.. | 1 | 5 | 0 |