Newcastle United
5th in English Premier League
---
Big questions in Premier League's final stretch, from title race to top four and Haaland/Rashford/Saka MVP battle
With around 10 games to go for Premier League teams, the battles for Europe and to avoid relegation are heating up. Plus, who will win the title?
Premier League chief questioned by parliament over Newcastle owners
The ownership of Saudi-backed Newcastle was under new scrutiny when Premier League chief Richard Masters was questioned by a member of parliament.
VAR Review: Fulham's 3 red cards at Man United, Newcastle's offside goal vs. Forest, Wolves rage
In this week's VAR Review: Unpacking Fulham's meltdown at Manchester United and Newcastle's goal disallowed for offside at Nottingham Forest.
Newcastle beat Nottingham Forest with late Isak penalty
Alexander Isak's stoppage-time penalty kept Newcastle's Champions League bid on track in a 2-1 win against Nottingham Forest on Friday.
Mourners gather in Ghana for Christian Atsu's state funeral
Ghanaians gathered outside the country's parliament building in Accra on Friday for the state funeral of winger Christian Atsu.
Almiron secures victory as Newcastle rise to fifth with win over Wolves
Miguel Almiron came off the bench to secure a 2-1 win for Newcastle United over Wolves to move them into fifth in the Premier League.
Phil Foden's return to form for Man City vs. Newcastle helps mask Kevin De Bruyne's troubles
Phil Foden was in imperious form as Manchester City won 2-0 at home to Newcastle United, but it was another poor performance from Kevin De Bruyne.
Man City overcome Newcastle to maintain pressure on Premier League leaders Arsenal
Phil Foden and Bernardo Silva scored as Manchester City claimed a 2-0 victory over Newcastle United in the Premier League on Saturday.
LIVE Transfer Talk: Newcastle star Bruno Guimaraes on Real Madrid's radar
Newcastle United midfielder Bruno Guimaraes is attracting the attention of Real Madrid. Transfer Talk has the latest.
Premier League must 're-examine' Newcastle Saudi takeover, says Amnesty International
The Premier League should re-examine assurances received from Newcastle's Saudi owners in light of a new court filing, Amnesty International said
Tottenham lead Newcastle, Liverpool in Champions League race, but the verdict is far from clear
Consistency is key and will ultimately dictate who finishes in the Premier League's fourth spot. Tottenham lead the race, but it's far from over.
From dropping Ronaldo to bringing in Casemiro, how Erik ten Hag transformed Man United to win Carabao Cup
Man United's Carabao Cup trophy is the result of manager Erik ten Hag transforming the culture, starting with Cristiano Ronaldo's removal.
Will the Carabao Cup win be a springboard for Manchester United?
Nedum Onuoha thinks Manchester United winning the Carabao Cup could be the start of a resurgence at Old Trafford.
Manchester United's Carabao Cup trophy is the start of their return to the top under shrewd Erik ten Hag
Man United's win over Newcastle was more than Erik ten Hag's first trophy since taking the helm: it's proof that they can return to the top.
Man United win Carabao Cup after beating Newcastle 2-0
First-half goals from Casemiro and Marcus Rashford earn Manchester United a 2-0 win over Newcastle United in the 2022-23 Carabao Cup final.
Man United beat Newcastle to win Carabao Cup, end six-year trophy drought
Manchester United ended their six-year wait for silverware as they beat Newcastle United 2-0 to win the Carabao Cup at Wembley Stadium on Sunday.
Man United's Erik ten Hag: Carabao Cup final opponents Newcastle are 'annoying'
Erik ten Hag has said Manchester United's Carabao Cup final opponents Newcastle United are an "annoying team to play against."
Carabao Cup final offers 'fearless' Loris Karius the chance of redemption at Newcastle
One week ago, Loris Karius was a forgotten man. On Sunday, he will play in goal for Newcastle in the Carabao Cup final against Manchester United.
Like it or not, Newcastle United cannot be ignored any longer
As the outside world continues to be critical of Newcastle's Saudi-backed takeover, the team's rapid ascent toward football's elite is unswerving.
Onuoha: Karius has the credentials to play in Carabao Cup final
Nedum Onuoha thinks Loris Karius has the experience to play in the Carabao Cup final for Newcastle despite his past mistakes in crucial games.
LIVE Transfer Talk: Newcastle join Man City, Milan, Inter in race for US star Antonee Robinson
Fulham and US star Antonee Robinson will be in demand this summer with Newcastle joining the list of suitors. Transfer Talk is LIVE with the latest.
Newcastle goalkeeper crisis: Loris Karius set to start Carabao Cup final after Nick Pope red card
Nick Pope will miss the Carabao Cup final after a bizarre red card against Liverpool which will means Loris Karius will face Manchester United.
Liverpool now look like top-four faves as Newcastle misery will be forced to carry into Carabao Cup
It looks like it'll only get better for Liverpool from here, but for Newcastle United it has to get worse because of the mess Nick Pope made.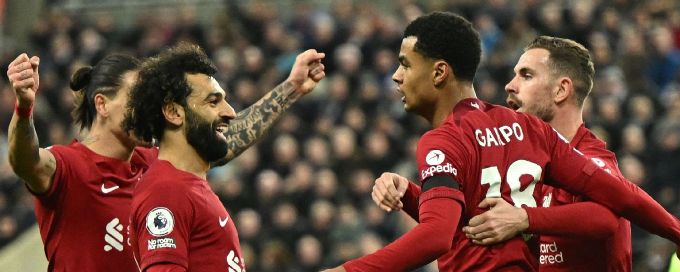 Darwin Nunez, Cody Gakpo score as Liverpool storm to win over Newcastle
Early goals from Darwin Nunez and Cody Gakpo helped Liverpool to a comfortable 2-0 away victory over Newcastle in the Premier League on Saturday.
LIVE Transfer Talk: Leverkusen set £50m fee for Tottenham, Everton, Newcastle target Piero Hincapie
Piero Hincapie has attracted interest from Spurs, Everton and Newcastle but Leverkusen have set a high fee. Transfer Talk is LIVE with the latest.
Team Leaders
Top Scorers
| # | Player | Goals | M | A |
| --- | --- | --- | --- | --- |
| 24 | Miguel Almirón.. | 11 | 25 | 2 |
| 9 | Callum Wilson | 7 | 19 | 3 |
| 14 | Alexander Isak | 6 | 10 | 1 |
Top Assists
| # | Player | Assists | M | G |
| --- | --- | --- | --- | --- |
| 2 | Kieran Trippie.. | 5 | 26 | 1 |
| 28 | Joe Willock | 4 | 25 | 2 |
| 36 | Sean Longstaff | 3 | 26 | 1 |