Newcastle United
3rd in English Premier League
---
Soccer's Black Friday 2022 gift guide: Club-branded microwaves, rubber ducks and the last trace of Ronaldo at Man United
With the Black Friday sales are upon us, here is some of the weird and wonderful branded merchandise that major clubs are hawking to their fans.
Transfer Talk: Chelsea, Newcastle, Real Madrid all pass on Cristiano Ronaldo
Chelsea are the latest club to reportedly turn down the chance to sign Cristiano Ronaldo, who is now a free agent. Transfer Talk has the latest.
How top clubs from Arsenal to Bayern Munich are spending the World Cup break
What will Europe's top clubs be doing while their star players are at the World Cup? Everyone, from Arsenal to Barcelona, has work to do.
Chelsea, Graham Potter's woes worsen in defeat to Newcastle who eye Champions League spot
Eddie Howe's Newcastle go into the World Cup break in third place after beating Graham Potter's Chelsea, who are now eighth in the league table.
Superb Joe Willock strike lifts Newcastle to win over Chelsea
Joe Willock had the only goal of the match as Newcastle United defeated Chelsea 1-0 at St. James' Park on Saturday.
Are Wilson and Maddison the surprise inclusions in the England squad?
Rob Dawson believes Gareth Southgate's call-up of Callum Wilson is a similar surprise to James Maddison's inclusion.
Arsenal are legit contenders, Pique bids Barcelona farewell, Almiron and Newcastle shine: Weekend Review
Arsenal claimed bragging rights over Chelsea, a club icon took a bow at Barcelona and things aren't great at Atletico. It's ESPN's Weekend Review.
Miguel Almiron keeps up scoring streak as Newcastle thrash Southampton
Newcastle United produced another ruthless display in a 4-1 win over struggling Southampton, with Miguel Almiron scoring again.
Callum Wilson strikes twice as Newcastle hammer Aston Villa 4-0
Striker Callum Wilson netted twice and Miguel Almiron scored a sensational second-half strike as fourth-placed Newcastle thrashed Aston Villa 4-0.
Are Newcastle for real in top-four race? PLUS: Arsenal drop points, Real Madrid and Barcelona keep rolling
Newcastle's impressive win at Tottenham suggests they might have a shot at a top-four finish. Gab Marcotti recaps the weekend's talking points.
The VAR Review: Haaland penalty claim, Wilson foul on Lloris, Chelsea penalty
A look at the big VAR rulings in the Premier League, including penalty decisions involving Man City and Callum Wilson's challenge on Hugo Lloris.
Man City star Jack Grealish's jibe at Newcastle's Miguel Almiron has not aged well
Jack Grealish used Miguel Almiron's name as a punchline during Man City's title celebrations, but the Newcastle forward is having the last laugh.
Michallik: Allowing Newcastle's first goal absolutely the correct decision
Janusz Michallik sees no problem at all with Callum Wilson's controversial opener for Newcastle vs. Spurs.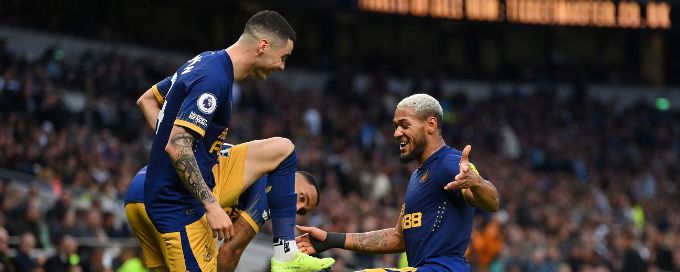 Newcastle beat Tottenham to go fourth in Premier League
Newcastle United claimed a narrow 2-1 victory over Tottenham Hotspur in the Premier League on Sunday.
Miguel Almiron strike ensures Newcastle win over toothless Everton
Newcastle United's Miguel Almiron scored a superb first-half goal to secure a 1-0 win over toothless Everton in the Premier League on Wednesday.
Erik Ten Hag upset after Man United charged by FA over disallowed goal incident
Manchester United have been charged by the FA for failing to control their players after a protest during their draw against Newcastle on Sunday.
LIVE Transfer Talk: Newcastle to battle AC Milan for Real Madrid's Marco Asensio
Real Madrid's soon-to-be free agent Marco Asensio has multiple clubs interested, including Newcastle and AC Milan. Transfer Talk has the latest.
Hislop baffled by late Man United misses vs. Newcastle
Shaka Hislop finds it hard to understand how Fred and Marcus Rashford both missed chances to win the game late on for Manchester United vs. Newcastle.
Man United's Cristiano Ronaldo makes feelings clear after being subbed in disappointing draw vs. Newcastle
The day started so well for Cristiano Ronaldo, but he was substituted with his team in search of a goal. He was clearly not happy with the decision.
Man United, Cristiano Ronaldo frustrated by disallowed goals in draw against Newcastle
Manchester United were held to a frustrating goalless draw against Newcastle United at Old Trafford on Sunday.
Newcastle's Premier League progress to be tested by Man United and other Big Six rivals
Newcastle face Manchester United with a chance to prove they are revitalised since being taken over in October 2021 by their Saudi owners.
Guimaraes double helps resurgent Newcastle win 5-1 over Brentford
Two goals from Newcastle midfielder Bruno Guimaraes helped his side to a 5-1 win over Brentford at St. James' Park on Saturday.
Nathaniel Chalobah sees red as Newcastle thrash 10-man Fulham
Newcastle United thumped Fulham 4-0 in their Premier League clash at Craven Cottage on Saturday to secure their first away win of the season.
Newcastle sign teenager Garang Kuol from Central Coast Mariners
Newcastle United have signed 18-year-old Australian forward Garang Kuol to join the squad in January, the Premier League club announced on Friday.
The VAR Review: Jacob Ramsey's offside, Newcastle penalty, Son hat-trick goal
A look at the big VAR rulings in the Premier League, including Aston Villa's winning goal against Southampton and a penalty to Newcastle.
Team Leaders
Top Scorers
| # | Player | Goals | M | A |
| --- | --- | --- | --- | --- |
| 24 | Miguel Almirón.. | 8 | 15 | 1 |
| 9 | Callum Wilson | 6 | 11 | 2 |
| 39 | Bruno Guimarãe.. | 3 | 12 | 2 |
Top Assists
| # | Player | Assists | M | G |
| --- | --- | --- | --- | --- |
| 2 | Kieran Trippie.. | 3 | 15 | 1 |
| 10 | Allan Saint-Ma.. | 3 | 7 | 1 |
| 28 | Joe Willock | 2 | 15 | 2 |