Newcastle Jets
8th in Australian A-League Men
---
A-League transfer grades: Which ALM teams improved their chances to reach the Grand Final
The A-League Men's transfer window ended this week. Which squads made the most of it in their push for silverware as the season continues on?
Football Australia begins process of creating second-tier league
Football Australia has formally begun the process of creating a second-tier men's competition with a potential start date in March 2024.
A-League Transfer Window: What every ALM team needs in January
The January transfer window offers hope for all A-League teams dreaming of finals football. Here's where each side needs to strengthen.
A-League fans moderate stance but continue to protest APL grand final decision
Peace on Earth and goodwill to all this festive period? Not in the A-Leagues. Certainly not this year. Bah humbug!
New lows, darkest days: How much pain can the A-League self-inflict before the flame goes out?
Less than two weeks. That's how long it took for the A-League to squander any goodwill from the Socceroos' success and plunge to a new low.
A-League stocks up, stocks down: Cummings and Kuol make World Cup case
With one round of action remaining until Graham Arnold reveals his Socceroos squad, Joey Lynch looks at who did and didn't impress in the A-League.
A-League stocks up, stocks down: Risdon gets the better of Arzani, turmoil at Perth Glory
ESPN's Joey Lynch breaks down four things that impressed and three things that didn't across the third week of the 2022-23 A-League Men season.
A-League stocks up, stocks down: Arzani shines while Tilio's World Cup hopes hang by a thread
Joey Lynch breaks down four things that impressed and three things that didn't across the second week of the 2022-23 A-League Men season.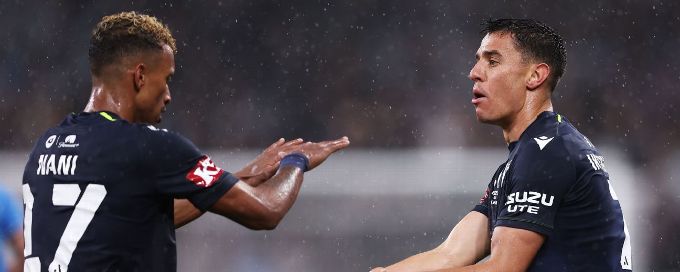 Chris Ikonomidis stakes late World Cup claim on A-League Men's opening weekend
With spots on the plane for Qatar still up for grabs, it was Melbourne Victory winger Chris Ikonomidis who impressed most on ALM opening weekend.
A-League returns once more with hope for better season
The A-League Men's season kicks off on Friday with a tempered belief that, maybe, this is the campaign in which the competition gets going again.
A-League Men 2022-23 kit ranking: Which club's home jerseys are this season's best?
Now that all the A-League teams have unveiled their kits ahead of Friday's season start, ESPN has ranked every home jersey from 12 to 1.
A-League Men preview: Can anyone stop defending champs Western United?
The 2022-23 A-League Men (ALM) season is here and here's all you need to know from the 12 teams involved.
Newcastle Jets sign former Arsenal defender Carl Jenkinson from Melbourne City
Former Arsenal defender Carl Jenkinson has joined Newcastle Jets for the next two A-League Men seasons.
Australia's coaching bottleneck: Why Papas vs. Rudan was a breath of fresh air
The disconnect in Australia's pyramid was evident on Wednesday as a rare event took place: Two ex-NPL coaches went head-to-head in the A-League.
A-League transfer grades: Rating every big signing in the ALM
With the A-League Men's summer transfer window officially closed, it's time to take stock.
Do the A-Leagues really know what they are doing with players?
Is recruitment in Australian football geared to cap facilitation or balancing profiles, player attributes and ceilings, and potential earnings?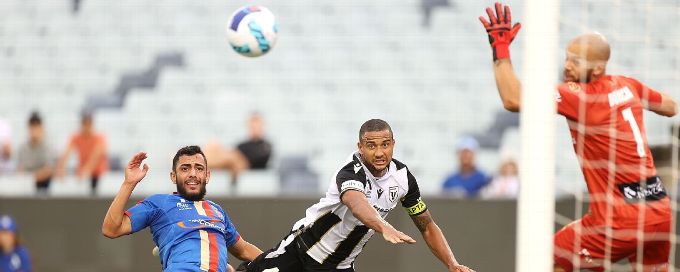 Ten-man Macarthur stun Newcastle Jets to stay top in A-League Men
Macarthur pulled off a miraculous win, fighting back from a goal down with 10 men to beat Newcastle Jets 2-1 and stay top spot of the A-League Men.
Newcastle Jets thrash Wellington Phoenix to claim first win of season
A double from Beka Mikeltadze helped the Newcastle Jets claim a resounding 4-0 A-League Men win over the Wellington Phoenix on Friday night.
Valentino Yuel brace earns Newcastle Jets a point at Sydney FC
A second-half double from Valentino Yuel helped the Newcastle Jets overcome a two-goal deficit to snatch a point in a 2-2 draw against Sydney FC.
Western Sydney Wanderers held to draw by Newcastle Jets
Western Sydney coach Carl Robinson had to thank two defensive blunders from his old side Newcastle as the Wanderers laboured to a 2-2 draw.
Jacob Farrell lifts Central Coast Mariners to win over Newcastle Jets
A goal-scoring debut for teenager Jacob Farrell has the Central Coast Mariners off to a perfect start under Nick Montgomery.
FA CEO James Johnson outlines the roadmap to promotion and relegation in Australia
Football Australia CEO James Johnson has confirmed to ESPN that the organisation has settled on two final models for a national second tier.
A-League Men Season Preview 2021-22: New signings, key players, ones to watch
After an offseason of twists and turns, the ALM is finally set to return on Friday. Here's all you need to know ahead of the 2021-22 campaign.
A-League Men introduces two-leg semifinals
Australia's A-League Men introduces two-leg semi-finals for the playoffs, to give more of an advantage to the top two teams from regular season.
Newcastle Jets sign Cameroon international Olivier Boumal
Cameroon international Olivier Boumal will bolster the Newcastle Jets attack for the upcoming A-League season.
Team Leaders
Top Scorers
| # | Player | Goals | M | A |
| --- | --- | --- | --- | --- |
| 9 | Beka Mikeltadz.. | 5 | 18 | 2 |
| 7 | Trent Buhagiar | 4 | 19 | 4 |
| 32 | Angus Thurgate | 2 | 20 | 0 |
Top Assists
| # | Player | Assists | M | G |
| --- | --- | --- | --- | --- |
| 7 | Trent Buhagiar | 4 | 19 | 4 |
| 11 | Jaushua Sotiri.. | 3 | 19 | 2 |
| 8 | Beka Dartsmeli.. | 3 | 18 | 1 |