Mirandés
13th in Spanish LaLiga 2
---
Andres Martin's header sends Rayo to round of 16
Andres Martin heads home a goal in the 67th minute to send Rayo Vallecano to the round of 16 in the Copa del Rey.
Real Sociedad ends Mirandes dream run to reach Copa del Rey final
A first-half penalty earned Real Sociedad a 1-0 win at Mirandes on Wednesday and a 3-1 aggregate win to reach the Copa del Rey final.
Real Sociedad seize advantage over Mirandes in Copa del Rey semi
Real Sociedad are on track to reach the Copa del Rey final for the first time in 32 years after beating second division Mirandes.
Valencia and Sevilla win to reach Copa del Rey semifinals
Brazilian striker Rodrigo scored a first-half goal to lead Valencia to a 1-0 win over Las Palmas and send Gary Neville's team into the semifinals.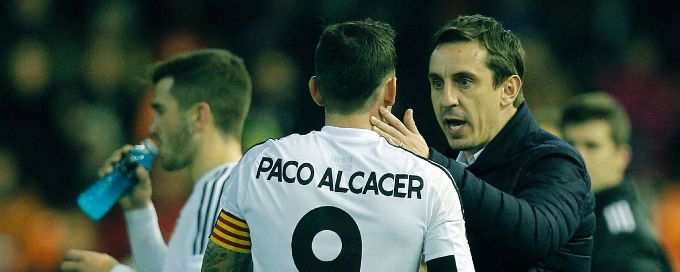 Valencia held while Sevilla prevail in Copa del Rey quarterfinals
Gary Neville's Valencia laboured to a 1-1 draw against Primera Division strugglers Las Palmas in the first leg of their Copa del Rey quarterfinal.
Barcelona face Athletic Bilbao again in Copa del Rey quarterfinals
The first leg of this season's encounter will be in Bilbao, with the return match at the Camp Nou.
Deportivo La Coruna crash out of Copa del Rey as Sevilla cruise
Deportivo La Coruna are out of the Copa del Rey after losing 3-0 at home to second-tier side Mirandes.
Valencia earn Gary Neville first win, Eibar and Athletic Bilbao cruise
Valencia beat third-tier club Barakaldo 2-0 for Gary Neville's first win as a head coach on Wednesday, advancing to the Copa del Rey round of 16.
Team Leaders
Top Scorers
| # | Player | Goals | M | A |
| --- | --- | --- | --- | --- |
| 9 | Raul García | 13 | 29 | 6 |
| 21 | Roberto López | 6 | 30 | 3 |
| 14 | Pinchi | 6 | 28 | 1 |
Top Assists
| # | Player | Assists | M | G |
| --- | --- | --- | --- | --- |
| 9 | Raul García | 6 | 29 | 13 |
| 10 | César Gelabert.. | 4 | 19 | 2 |
| 12 | José Salinas | 3 | 31 | 2 |