Melbourne Victory
7th in Australian A-League Men
---
A-League stocks up, stocks down: Cummings and Kuol make World Cup case
With one round of action remaining until Graham Arnold reveals his Socceroos squad, Joey Lynch looks at who did and didn't impress in the A-League.
A-League stocks up, stocks down: Risdon gets the better of Arzani, turmoil at Perth Glory
ESPN's Joey Lynch breaks down four things that impressed and three things that didn't across the third week of the 2022-23 A-League Men season.
Melbourne City top dogs after Victory's 15 minutes of madness
Josh Brillante capped off a truly awful 15 minutes by getting a second red card early on in Saturday night's Melbourne Derby.
A-League stocks up, stocks down: Arzani shines while Tilio's World Cup hopes hang by a thread
Joey Lynch breaks down four things that impressed and three things that didn't across the second week of the 2022-23 A-League Men season.
Western Sydney Wanderers end Melbourne Victory's unbeaten A-League Men run thanks to Mrcela magic
Western Sydney defender Tomislav Mrcela burst forward like the second coming of Franz Beckenbauer to score the match-winning goal at AAMI Park.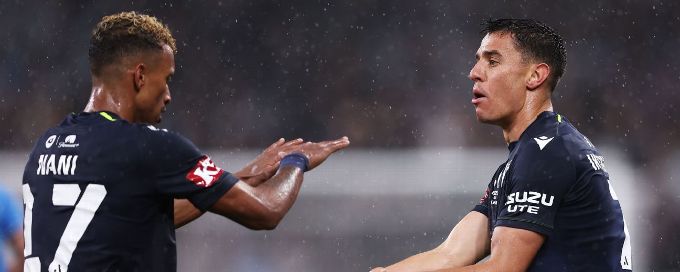 Chris Ikonomidis stakes late World Cup claim on A-League Men's opening weekend
With spots on the plane for Qatar still up for grabs, it was Melbourne Victory winger Chris Ikonomidis who impressed most on ALM opening weekend.
Melbourne Victory's Chris Ikonomidis, Nani help spoil Sydney FC's homecoming in A-League Men win
Melbourne Victory spoiled Sydney FC's return to the Sydney Football Stadium by recording an entertaining 3-2 win in the opening ALM game.
Josh Brillante caps comeback as Melbourne Victory beat Sydney FC
Melbourne Victory claimed a 3-2 win over Sydney FC in the first Big Blue of the 2022-23 A-League Men season on Saturday evening.
A-League returns once more with hope for better season
The A-League Men's season kicks off on Friday with a tempered belief that, maybe, this is the campaign in which the competition gets going again.
Miami investment group have 'pathway' to Melbourne Victory ownership
Melbourne Victory's new minority owners, Miami-based group 777 Partners, have a "pathway" to take a controlling interest in the A-Leagues giant.
A-League Men 2022-23 kit ranking: Which club's home jerseys are this season's best?
Now that all the A-League teams have unveiled their kits ahead of Friday's season start, ESPN has ranked every home jersey from 12 to 1.
A-League Men preview: Can anyone stop defending champs Western United?
The 2022-23 A-League Men (ALM) season is here and here's all you need to know from the 12 teams involved.
A-Leagues Pride Game will return for 2022-23 campaign
Pride will return to the A-Leagues 2 for the 2022-23 season, with Melbourne Victory and Adelaide United to compete for the A-Leagues Pride Cup.
Afghanistan women's national soccer team playing in exile: 'The heart that is still beating'
The Afghanistan national team continues to fight for the rights of women around the world -- a "second family" using soccer as its platform.
Nani: MLS can rival European leagues to attract biggest stars in their prime
Former Orlando City star Nani has told ESPN that MLS has the potential to serve as an alternative to Europe for players in their prime.
Nani not only eyes titles with Melbourne Victory, he wants to instill a champion's mentality
Whether it was at Manchester United or in MLS, Nani has mentored his teammates. At Melbourne Victory, he'll do that with hopes of an ALM title.
Nani reflects on his frustrations and success in Serie A and MLS
Nani shares what he learned from a difficult six months with Venezia in Italy, off the back of three successful seasons with Orlando City.
Nani Exclusive: Victory's new marquee man on joining the A-League
Melbourne Victory marquee signing and Portugal star Nani sits down to talk about his move to the A-League & how he wants to help the grow the game in Australia.
A-League Men 2022-23 season draw: Sydney FC to host Nani's Melbourne Victory in return to Allianz Stadium
Sydney FC's first game at the newly refurbished Allianz Stadium will be a Big Blue against Nani's Melbourne Victory, the APL confirmed on Thursday.
Man United hit four again in comeback win over Melbourne Victory
Erik ten Hag continued his winning start as Manchester United manager with a 4-1 win over Melbourne Victory at the MCG.
Melbourne Victory offer Manchester United 'different' test - Erik ten Hag
They are odd team out when it comes to Man Utd's opposition this week, but Erik ten Hag says that Victory's point of difference is an important one.
Former Manchester United star Nani joins Melbourne Victory
Melbourne Victory have signed former Manchester United winger Nani for the 2022-23 A-League Men's season.
Melbourne Victory's Nani deal is a 'sugar hit'; a gamble the A-League felt it needed to take
Can marquees reverse the A-Leagues' fortunes? There is much more involved in Nani's arrival in Australia than just footballing considerations.
Tomi Juric joins Melbourne Victory from Macarthur FC
Tomi Juric will reunite with former mentor Tony Popovic, with the fringe Socceroo signing a one-season deal with Melbourne Victory.
Jake Brimmer, Fiona Worts pick up A-League best player awards
Melbourne Victory midfielder Jake Brimmer and Adelaide's Fiona Worts have won the A-League's top awards.
Team Leaders
Top Scorers
| # | Player | Goals | M | A |
| --- | --- | --- | --- | --- |
| 18 | Nicholas D'Ago.. | 2 | 6 | 0 |
| 7 | Christopher Ik.. | 2 | 6 | 1 |
| 22 | Jake Brimmer | 1 | 6 | 1 |
Top Assists
| # | Player | Assists | M | G |
| --- | --- | --- | --- | --- |
| 4 | Rai | 1 | 6 | 0 |
| 17 | Nani | 1 | 6 | 0 |
| 22 | Jake Brimmer | 1 | 6 | 1 |