Melbourne City FC
5th in Australian A-League Men
---
Socceroos defender Aziz Behich returns to Melbourne City
Socceroos defender Aziz Behich has signed a two-year deal with Melbourne City, returning to the A-League Men club that launched his career.
City aims for the world: How Abu Dhabi football group is plotting global domination
Implementing a philosophy at one club took concentrated effort, but doing it in a unified manner across four continents has taken a great deal more.
Marquees and must-haves: Players who should be on the A-Leagues' radar this offseason
As the A-League enters the offseason, fans and clubs alike are looking to the transfer market for hope. Joey Lynch takes a look at which local and international stars could make the move Down Under.
Standard Liege signs Socceroos midfielder Aiden O'Neill
Aiden O'Neill's European dream has been realised, with the Socceroos midfielder signing a four-year deal with top-flight Belgian club Standard Liege.
Special celebration marks Central Coast Mariners' spectacular A-League victory
When the Central Coast Mariners celebrated their A-League Grand Final victory they fittingly did it with a horde of family, friends, Mariners staff, and Jake Banks, their number one fan.
Mariners smash Melbourne City 6-1 to win ALM decider
The Central Coast Mariners are A-League Men champions for just the second time in their history after Jason Cummings scored a hat-trick in a 6-1 grand final annihilation of Melbourne City.
Mariners' Cinderella run meets Melbourne City's dominance in A-League Grand Final
City captain Scott Jamieson insists that the Grand Final narrative shouldn't be about money but, as always in the A-League, the numbers behind the scenes matter.
From conscription to Kosovo, to the Young Matildas and Melbourne City - Vidosic's road to the Grand Final
Rado Vidosic's journey has taken him from conscripted army service in Kosovo, to high school teaching, to working throughout Australia and now, to the verge of A-League glory.
Melbourne City captain Scott Jamieson to retire after A-League Grand Final
Melbourne City have extra emotional motivation for the A-League Grand Final with captain Scott Jamieson revealing he will retire after the match and move into coaching.
Australia's rising stars have shone bright through A-League Men season
We name our team of the season from Australian under-23 players in the A-League Men.
A-League Grand Final is a battle of the haves and the have-nots, but also the best two teams
From the moment that the Mariners set up a meeting with Melbourne City in this year's A-League Grand Final, the role that money plays in football became an inevitable narrative.
Central Coast Mariners dub A-League Grand Final: 'David vs. Goliath'
Nick Montgomery has warned naysayers to write his side off at their peril after the Mariners set up an A-League Grand Final clash with Melbourne City.
Melbourne City's Jordan Bos set to join KVC Westerlo in Australian record move
Melbourne City's Jordan Bos is set to become the most expensive domestic player in Australian football history after sealing a move to KVC Westerlo.
Luis Nani, Charlie Austin, Mathew Leckie all victims of the A-Leagues All Access Curse
The A-Leagues All Access documentary series has mostly been a success, although bad luck does seem to strike anyone that the show focuses on.
Bruno Fornaroli and Melbourne City: one of A-League's great sliding doors moments
Now a Victory player, the saga leading to Bruno Fornaroli's City exit played a role in the club's rise from hapless underachievers into leviathans.
A-League Transfer Window: What every ALM team needs in January
The January transfer window offers hope for all A-League teams dreaming of finals football. Here's where each side needs to strengthen.
New lows, darkest days: How much pain can the A-League self-inflict before the flame goes out?
Less than two weeks. That's how long it took for the A-League to squander any goodwill from the Socceroos' success and plunge to a new low.
Melbourne Derby violence: Football Australia condemns pitch invaders
Football Australia's James Johnson has condemned the Victory fans that violently invaded the pitch in Saturday's Melbourne Derby: "I'm horrified."
A-League Women's 2022-23 season set to break new ground
Never before has the ALW been this long, with this many teams, and preceding a Women's World Cup on home soil. It's an exciting season.
A-League stocks up, stocks down: Cummings and Kuol make World Cup case
With one round of action remaining until Graham Arnold reveals his Socceroos squad, Joey Lynch looks at who did and didn't impress in the A-League.
A-League stocks up, stocks down: Risdon gets the better of Arzani, turmoil at Perth Glory
ESPN's Joey Lynch breaks down four things that impressed and three things that didn't across the third week of the 2022-23 A-League Men season.
Melbourne City top dogs after Victory's 15 minutes of madness
Josh Brillante capped off a truly awful 15 minutes by getting a second red card early on in Saturday night's Melbourne Derby.
A-League stocks up, stocks down: Arzani shines while Tilio's World Cup hopes hang by a thread
Joey Lynch breaks down four things that impressed and three things that didn't across the second week of the 2022-23 A-League Men season.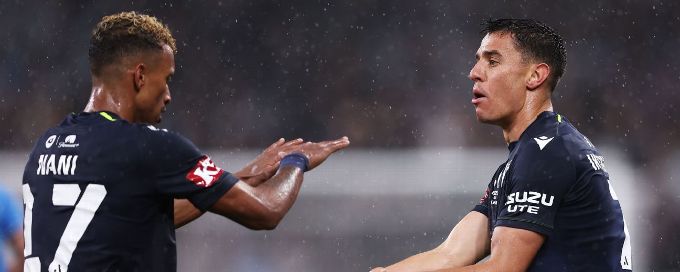 Chris Ikonomidis stakes late World Cup claim on A-League Men's opening weekend
With spots on the plane for Qatar still up for grabs, it was Melbourne Victory winger Chris Ikonomidis who impressed most on ALM opening weekend.
Reshuffled Melbourne City beat Western United in A-League season opener
A-League
Team Leaders
Top Scorers
| # | Player | Goals | M | A |
| --- | --- | --- | --- | --- |
| 1 | Jamie Young | 0 | 0 | 0 |
| 40 | James Nieuwenh.. | 0 | 0 | 0 |
| 33 | Patrick Beach | 0 | 0 | 0 |
Top Assists
| # | Player | Assists | M | G |
| --- | --- | --- | --- | --- |
| 1 | Jamie Young | 0 | 0 | 0 |
| 40 | James Nieuwenh.. | 0 | 0 | 0 |
| 33 | Patrick Beach | 0 | 0 | 0 |