Macarthur FC
4th in Australian A-League Men
---
Marquees and must-haves: Players who should be on the A-Leagues' radar this offseason
As the A-League enters the offseason, fans and clubs alike are looking to the transfer market for hope. Joey Lynch takes a look at which local and international stars could make the move Down Under.
Jordan Bos transfer evidence of Australia's improving talent pathways
Australian football's great future challenge will not be producing quality youth, but providing the opportunities they need to succeed.
A-League transfer grades: Which ALM teams improved their chances to reach the Grand Final
The A-League Men's transfer window ended this week. Which squads made the most of it in their push for silverware as the season continues on?
Football Australia begins process of creating second-tier league
Football Australia has formally begun the process of creating a second-tier men's competition with a potential start date in March 2024.
Ex-Socceroos star Mile Sterjovski appointed as Macarthur head coach
Former Socceroos star Mile Sterjovski has set his sights on guiding Macarthur into the A-League Men finals after being appointed as coach.
Mile Sterjovski to replace Dwight Yorke as Macarthur FC head coach
Macarthur FC has appointed former Australia international Mile Sterjovski as its permanent coaching replacement for Dwight Yorke.
Dwight Yorke, Macarthur 'mutually' agree to part ways 13 games into A-League Men season
Dwight Yorke and Macarthur FC have parted ways with the coach departing the club just 13 A-League games into a two-year contract.
A-League Transfer Window: What every ALM team needs in January
The January transfer window offers hope for all A-League teams dreaming of finals football. Here's where each side needs to strengthen.
A-League fans moderate stance but continue to protest APL grand final decision
Peace on Earth and goodwill to all this festive period? Not in the A-Leagues. Certainly not this year. Bah humbug!
New lows, darkest days: How much pain can the A-League self-inflict before the flame goes out?
Less than two weeks. That's how long it took for the A-League to squander any goodwill from the Socceroos' success and plunge to a new low.
A-League stocks up, stocks down: Cummings and Kuol make World Cup case
With one round of action remaining until Graham Arnold reveals his Socceroos squad, Joey Lynch looks at who did and didn't impress in the A-League.
Sydney win bragging rights over 10-man Macarthur as Dwight Yorke loses for first time
Dwight Yorke suffered his first competitive defeat in management as Sydney FC soothed their early-season nerves with a 3-2 win over Macarthur.
A-League stocks up, stocks down: Risdon gets the better of Arzani, turmoil at Perth Glory
ESPN's Joey Lynch breaks down four things that impressed and three things that didn't across the third week of the 2022-23 A-League Men season.
A-League stocks up, stocks down: Arzani shines while Tilio's World Cup hopes hang by a thread
Joey Lynch breaks down four things that impressed and three things that didn't across the second week of the 2022-23 A-League Men season.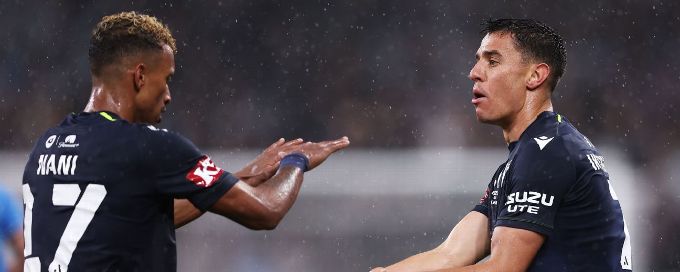 Chris Ikonomidis stakes late World Cup claim on A-League Men's opening weekend
With spots on the plane for Qatar still up for grabs, it was Melbourne Victory winger Chris Ikonomidis who impressed most on ALM opening weekend.
A-League returns once more with hope for better season
The A-League Men's season kicks off on Friday with a tempered belief that, maybe, this is the campaign in which the competition gets going again.
A-League Men 2022-23 kit ranking: Which club's home jerseys are this season's best?
Now that all the A-League teams have unveiled their kits ahead of Friday's season start, ESPN has ranked every home jersey from 12 to 1.
A-League Men preview: Can anyone stop defending champs Western United?
The 2022-23 A-League Men (ALM) season is here and here's all you need to know from the 12 teams involved.
Investigation launched into Sydney United 58 fans' conduct during cup final
Football Australia has launched an investigation into the behaviour of Sydney United 58 fans during the Australia Cup final.
Macarthur FC's quality and squad depth makes the difference in first Australia Cup win
Dwight Yorke's Macarthur FC showed their class against Sydney United to clinch their first Australia Cup title.
Dwight Yorke's Macarthur FC secure first Australia Cup win
Dwight Yorke claimed his first piece of silverware, lifting the Australia Cup after Macarthur FC ground out a 2-0 win over Sydney United 58.
Daniel Arzani eyes Socceroos berth for World Cup
Daniel Arzani is out of the football wilderness, enjoying himself and eyeing a once-unlikely bolt into the Socceroos' World Cup plans.
Macarthur FC reach Australia Cup final with big win over Oakleigh Cannons
Macarthur FC are just one step away from lifting their first piece of silverware after reaching the final of the Australia Cup.
Macarthur FC set to sign Barbados international Mario Williams - sources
Barbados international Mario Williams is set to join A-League Men side Macarthur FC, pending completion of a medical, sources have told ESPN.
Daniel Arzani returns to A-League with Macarthur FC
Daniel Arzani will seek to revive his career after signing with Macarthur FC for the 2022-23 A-League Men's season.
Team Leaders
Top Scorers
| # | Player | Goals | M | A |
| --- | --- | --- | --- | --- |
| 12 | Filip Kurto | 0 | 0 | 0 |
| 1 | Danijel Nizic | 0 | 0 | 0 |
| 30 | Alex Robinson | 0 | 0 | 0 |
Top Assists
| # | Player | Assists | M | G |
| --- | --- | --- | --- | --- |
| 12 | Filip Kurto | 0 | 0 | 0 |
| 1 | Danijel Nizic | 0 | 0 | 0 |
| 30 | Alex Robinson | 0 | 0 | 0 |