---
Nigeria captain Ahmed Musa returns to Kano Pillars
Nigeria captain Ahmed Musa has signed a short-term deal to play for his boyhood club Kano Pillars.
Absorbing Aiteo Cup final masked tournament's flaws
Nigeria's Aiteo Cup final on Wednesday was a roaring success football-wise, but the thriller masked a number of organisational head-scratchers.
Aiteo Cup Final: Five hot talking points
What are the key talking points to emerge from Wednesday's epic Aiteo Cup final?
Kano Pillars, Enugu Rangers set for Aiteo Cup showdown
Five-time Nigeria cup champions Enugu Rangers meet Kano Pillars in Wednesday's Aiteo Cup final with the winner qualifying for the Confederation Cup.
Akwa United close the gap on league leaders
Michael Ibe's goal for 10-man Akwa United sealed a 1-0 away victory against Yobe Desert Stars on a weekend in which league leaders Lobi Stars lost.
Lokosa's goalscoring heroics must pique Rohr's interest
There is still just under half a season of football to go, but Kano Pillars striker Junior Lokosa has already helped himself to a first-time record.
Three NPFL Talking Points
Colin Udoh reflects on a NPFL weekend that was ... Junior Lokosa breaking a mini-drought and Fatau Dauda getting sent off for violent conduct.
NPFL Observations: Ezenwa, Orji and violence
Colin Udoh reflects on a NPFL weekend that was ... one that was dominated by inexplicable violence, and the brilliant return of Ikechukwu Ezenwa.
Saka extends Lobi's lead as Oriental Derby ends goalless
Ayo Saka struck a late winner to extend Lobi Stars' lead to six points, while the ninth Oriental Derby of the season failed to ignite.
NPFL Matchday 11: Hot talking points
Junior Lokosa continued his NPFL hot streak, while Sunday Rotimi was one of several players whose discipline let them down this weekend.
Junior Lokosa stars as Kano Pillars take top spot
Junior Lokosa netted his 10th league goal of the season to fire Kano Pillars to the top of the table on Sunday, a controversial day of action.
NPFL review: Junior Lokosa strikes late for Kano Pillars
There were late goals and drama across the Nigeria Professional Football League this weekend.
Chinedu Udoji: Nigerian football pays tribute to late Kano Pillars defender
Enyimba chairman Felix Anyansi-Agwu has led the tributes to Kano Pillars defender Chinedu Udoji following his tragic passing on Sunday.
Chinedu Udoji: Kano Pillars star dies aged 28
Kano Pillars defender Chinedu Udoji has passed away after being involved in a car crash, his club have confirmed.
Honours even in Nigerian Clasico
Enyimba denied Kano Pillars top spot in the Nigeria Professional Football League following a 1-1 draw.
Nigerian Clasico: Kano Pillars vs. Enyimba preview
KweséESPN previews Sunday's Nigeria Clasico between Kano Pillars and Enyimba at the Sani Abacha Stadium.
Kano Pillars fail to overtake NPFL pacesetters
Kano Pillars failed to secure a first away win of the season in Akure to topple the leaders, and remain in third at the conclusion of matchday eight.
Kano Pillars poised to topple NPFL leaders
With Plateau United and Akwa United on continental duty this weekend, could Kano Pillars take top spot in the NPFL?
Top three on fire in NPFL
Title favourites Akwa United, Plateau United and Kano Pillars maintained their early season lead by scoring a combined 11 goals in a frantic match-day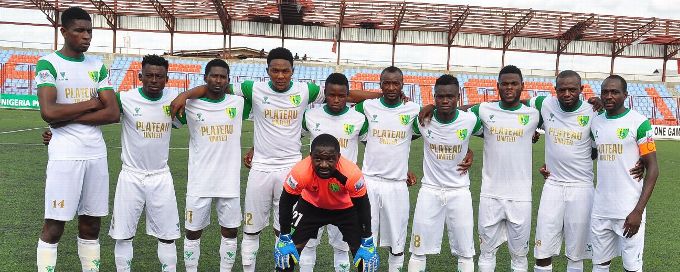 NPFL clubs and consequences of transfer madness
KweséESPN takes a look at the transfer shenanigans in the Nigeria domestic league, with Plateau United registering 50 players for the coming season.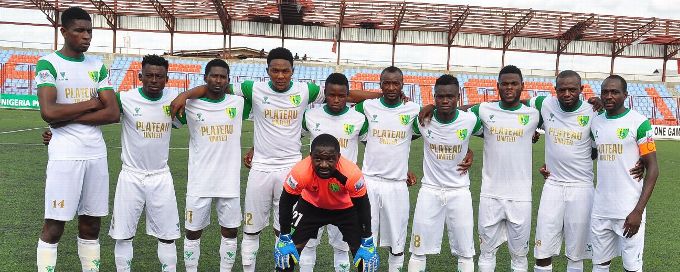 KweséESPN's complete NPFL Season Preview
Ahead of the 2017-18 Nigeria Professional Football League kickoff on Sunday January 14, KweséESPN profiles the league's contenders and new boys.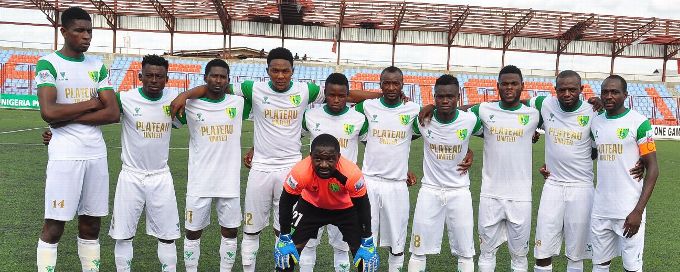 CHAN Super Eagles held by NPFL champions Plateau United in Super Six
Nigeria's CHAN team were held by NPFL champions Plateau United in the second day of Super Six action, with Kano Pillars and Akwa United also drew 0-0.
NPFL wrap: Plateau miss a golden chance
Plateau United failed to capitalise on MFM's slip up, while Enugu Rangers made it three wins on the trot.
NPFL Wrap: Akwa lose ground on leaders Plateau
Plateau United and MFM maintained their fight for Nigerian Professional Football League honours on Sunday, but Akwa United lost further ground.
Enyimba, Kano Pillars to battle for bragging rights in Nigerian Clasico
Enyimba and Kano Pillars renew their intense rivalry on Sunday in Calabar in a matchday 32 Nigeria Professional Football League game.
Team Leaders
Top Scorers
Top Assists