Atlético Junior
11th in Colombian Primera A
---
Tear gas wreaks havoc in Copa Libertadores match
Players and staff were left rubbing their eyes after police fired tear gas at protesters ahead of Wednesday's Libertadores match in Barranquilla.
Atletico Paranaense's Copa Sudamericana triumph will fuel Brazilian club's ambition
After their Copa Sudamericana win and first ever continental trophy, Atletico Paranaense have eyes on joining the traditional Brazilian powerhouses.
Atletico Paranaense win Copa Sudamericana over Junior on penalties
Brazilian club Atletico Paranaense needed extra time and penalties to secure their first ever continental title over Colombian squad Junior.
Atletico Junior, Atletico-PR draw in Copa Sudamericana first leg
Colombian side Atletico Junior and Atletico Paranaense of Brazil ended level 1-1 in Wednesday's first leg of the Copa Sudamericana final.
Copa Sudamericana reaches its climax as Junior and Atletico Paranaense meet
You could be forgiven for not knowing that the Copa Sudamericana final is upon us; Junior of Colombia and Atletico Paranaense of Brazil meet.
Copa Libertadores an all-Argentina affair but Copa Sudamericana spotlights Brazil, Colombia
While the Copa Libertadores highlights an all-Argentina final, the Copa Sudamericana semifinals feature teams from Brazil and Colombia.
Colombian match postponed after team bus attack leaves three injured
The incident left a player and two members of the backroom staff injured, the league said in a statement.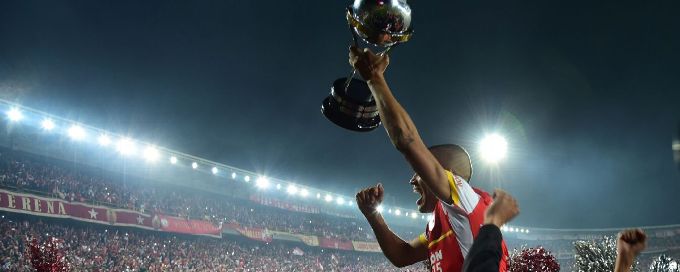 Four clubs in the Copa Sudamericana quarters shows Colombia is on the rise
It may only be the Copa Sudamericana, but the fact that four Colombian clubs are in quarterfinals shows they are a sleeping giant, writes Tim Vickery.
Copa Sudamericana's opening round highlighted by Santiago vs. Libertad
Just days after the Copa Libertadores finished, South American have now turned their attention to the Copa Sudamericana, writes Tim Vickery.
Team Leaders
Top Scorers
| # | Player | Goals | M | A |
| --- | --- | --- | --- | --- |
| 9 | Gonzalo Lencin.. | 9 | 19 | 1 |
| | Steven Rodrígu.. | 6 | 22 | 0 |
| | José Enamorado.. | 5 | 20 | 3 |
Top Assists
| # | Player | Assists | M | G |
| --- | --- | --- | --- | --- |
| | José Enamorado.. | 3 | 20 | 5 |
| 20 | Pablo Rojas | 3 | 19 | 5 |
| 11 | Luis González | 3 | 16 | 2 |