Hyderabad
2nd in Indian Super League
---
ISL 2022-23: Hyderabad FC surge to second spot after win over Chennaiyin FC
The win lifted Hyderabad FC back into second place, two points behind leaders Mumbai City FC.
ISL 2022-23: Early Hugo Boumous goal gives ATK Mohun Bagan 1-0 win over Hyderabad FC
Hugo Boumous scored the only goal of the game.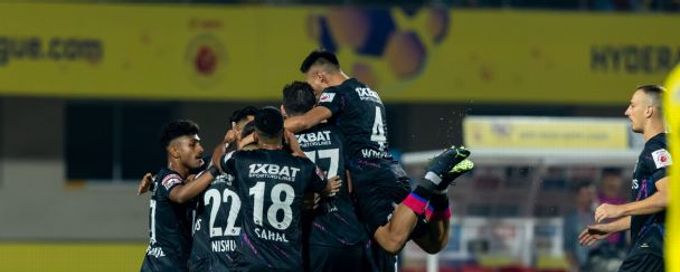 ISL 2022-23: Kerala Blasters beat Hyderabad FC 1-0 as defending champions fall to first loss of season
Dimitrios Diamantakos scored the only game for Kerala Blasters.
ISL 2022-23: Sahal brace leads Kerala Blasters to 3-0 win over NorthEast United
Kerala Blasters ended a run of three straight defeats with a much-needed victory in Guwahati.
ISL 2022-23: Yasir goal helps Hyderabad edge past Odisha
Hyderabad have extended their lead at the top of the ISL.
ISL 2022-23: Hyderabad go top with late Ogbeche winner against Bengaluru
Sunil Chhetri's record 100th ISL game for Bengaluru FC was an unhappy affair, with Bart Ogbeche stealing the headlines.
ISL 2022-23: Dominant Hyderabad score three past NorthEast United
Hyderabad FC dominated the game as Bartholomew Ogbeche, Halicharan Narzary and Borja Herrera got their names on the scoresheet. They
ISL 2022-23: Top 5 foreign players to watch out for
Gone are the days when ISL teams used to sign marquee foreign players for a month or two. ESPN looks at the top 5 foreign players this season.
The top 5 Indian players to watch out for ISL 2022-23
This ISL season is also important from an Indian football perspective, with the AFC Asian Cup next year.
ISL 2022-23: Strength, weakness, key players and what to expect from each team
We look at key factors for each of the 11 teams in the Indian Super League this season.
The only ISL 2022-23 preview you need to read
No bio-bubble, traditional home-and-away format, the return of the fans and more. All you need to know about the new season.
ISL 2022-23: Full squad and players list of all 11 teams
Every player of the 11 teams in the Indian Super League (ISL) this season, including domestic and overseas footballers.
How Manolo Marquez transformed Hyderabad FC into champions
"For me one of the most important qualities in a coach is to adapt to the players," says Marquez who helped HFC to become ISL champions.
ISL 2021-22 review: Was this the best season yet?
The champions, the golazos, the drama, the tension, the fans... was this the best season yet of the Indian Super League?
ISL 2021-22: Kattimani, Luna, Stewart, Colaco headline ESPN team of the season
The 2021-22 Indian Super League season was arguably the best ever. Who were the top players?
ISL: 'I did my job' - Kattimani exorcises demons of present, and past, en route to ISL title
Hyderabad FC beat Kerala Blasters 3-1 on penalties to lift their maiden ISL title, thanks to one obvious hero
ISL 2021-22: Kattimani's heroics help Hyderabad clinch maiden ISL title
Hyderabad defeated Kerala Blasters 3-1 in a penalty shootout after the game ended 1-1 after extra time.
ISL 2021-22: Kerala Blasters vs Hyderabad, ISL final buildup live from stadium
Follow live buildup from the PJN Stadium in Fatorda as Kerala Blasters take on Hyderabad FC in the final of the Indian Super League 2021-22
Paint the town yellow: Kerala Blasters fans descend in Goa for ISL final
The Blasters fans in Goa cut across social class, religion, profession, political, age divides, coming together for the love of their football team.
ISL: 'We must enjoy' - Kerala Blasters coach Vukomanovic preaches pre-final what he's practiced through the season
The Kerala Blasters coach eschews the idea that the Indian Super League final brings with it tremendous pressure
ISL 2021-22 Final Preview - Hyderabad FC vs Kerala Blasters: Who will win the title?
Injuries, Key battles, Head-to-head and Predicted Lineups ahead of the ISL final
'Our greatest strength' - Hyderabad eye ISL trophy by putting squad unity over personal glory
"If the coach calls me tomorrow, and says 'the team needs you as a goalkeeper', I will say 'give me the gloves, let's do this", says Bart Ogbeche
ISL: Hyderabad FC vs Kerala Blasters: Common factor is uncommon trust in Indian talent
Manolo Marquez and Ivan Vukomanovic have trusted their Indian contingent in key positions, resulting in progression to the Indian Super League final
ISL: Kattimani completes hero transformation as Hyderabad knock ATK Mohun Bagan out
Kattimani had one of the best games of a career that seemed like it would just fade away a couple of years ago.
ISL 2021-22: Hyderabad qualify for maiden final after beating ATK Mohun Bagan on aggregate
Hyderabad will play Kerala Blasters in the final on Sunday.
Team Leaders
Top Scorers
| # | Player | Goals | M | A |
| --- | --- | --- | --- | --- |
| 8 | João Victor | 2 | 8 | 0 |
| 10 | Mohammad Yasir | 2 | 8 | 2 |
| 19 | Halicharan Nar.. | 2 | 8 | 2 |
Top Assists
| # | Player | Assists | M | G |
| --- | --- | --- | --- | --- |
| 10 | Mohammad Yasir | 2 | 8 | 2 |
| 19 | Halicharan Nar.. | 2 | 8 | 2 |
| 16 | Odei Onaindia | 1 | 8 | 0 |