---
Goalkeeper Andre Onana quits Cameroon national team after World Cup dispute
Cameroon goalkeeper Andre Onana announced his retirement from his national team after a disagreement with coach Rigobert Song at the World Cup.
Africa's World Cup: Can we really talk of progress?
Morocco reached the World Cup semifinals but does an overall evaluation of African performances in Qatar indicate genuine progress?
Samuel Eto'o apologises for 'violent altercation' after World Cup game
Cameroon football president and former player Samuel Eto'o was filmed allegedly kicking a man to the ground outside a World Cup stadium on Tuesday.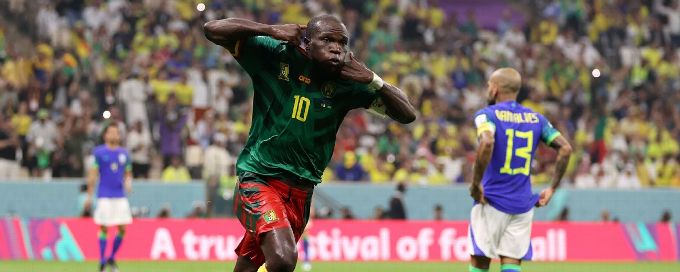 Senegal, Morocco, Tunisia, Cameroon, Ghana break African records during FIFA World Cup group stage
Is it too soon for us to be talking about 'progress' for African teams at the World Cup?
Cameroon provide another shock in this unpredictable World Cup by beating Brazil
It has been the most entertaining group stage in recent memory, and this World Cup delivered another shock when Cameroon upset Brazil 1-0 on Friday.
Cameroon beat group-winners Brazil but still exit World Cup
Cameroon defeated a second-string Brazil team 1-0 in their final Group G match but it was not enough to advance to the World Cup knockout stages.
Dani Alves responds to critics questioning his WC presence
Legendary Brazilian defender Dani Alves addresses critics who doubt his selection at the World Cup.
Who is Africa's greatest World Cup team, and can a squad in Qatar go one better?
ESPN assesses the golden generations that could stake a claim to being Africa's top World Cup team -- until a side reaches the semifinals, anyway.
Cameroon goalkeeper Andre Onana left out of team for 'disciplinary reasons' - Rigobert Song
Cameroon goalkeeper Andre Onana was left out of the team for their 3-3 draw with Serbia on Monday due to "disciplinary reasons," Rigobert Song said.
World Cup fan costumes: Mexico, Japan, Netherlands and US supporters go all-out
We've seen an astounding array of costumes and fancy dress worn by fans of every team at the World Cup, with some truly sensational outfits spotted.
2022 World Cup's best game so far? Cameroon comeback stuns Serbia after Andre Onana exit
Cameroon were ahead against Serbia, then went behind 3-1 before pegging them back to a draw in a topsy-turvy and incredibly fun game in Group G.
Vincent Aboubakar rescues Cameroon in comeback draw with Serbia
Cameroon's Vincent Aboubakar came off the bench to rescue a 3-3 draw with Serbia, a result that kept both sides' slim World Cup chances alive.
Cameroon don't feel 'burden' of Eto'o final prediction - Song
Cameroon coach Rigobert Song played down suggestions that his team are under unfair pressure from former star Samuel Eto'o.
World Cup goal music: Every team's song choices in Qatar, with Gala's 'Freed From Desire' topping the chart
England fans aren't the only ones who will be dancing to 90s classic "Freed From Desire" when their national team scores a goal at the World Cup.
FIFA World Cup: Senegal, Morocco, Tunisia, Ghana, Cameroon story so far
Africa's five representatives at the FIFA World Cup have made a slow start, but it hasn't all been doom and gloom for them in Qatar.
Onuoha sympathetic with Embolo's lack of celebration
Nedum Onuoha understands the lack of celebration from Breel Embolo after his winner for Switzerland against Cameroon.
Breel Embolo haunts Cameroon as Switzerland claim crucial World Cup win
Switzerland got their World Cup campaign off to the perfect start with a 1-0 victory over Cameroon at the Al Janoub Stadium on Thursday.
Apologetic Breel Embolo gives Switzerland narrow World Cup win over Cameroon
An apologetic Breel Embolo scored the winner against the country of his birth to hand Switzerland a 1-0 victory over Cameroon.
Pele's prediction: Is it finally Africa's turn to win the World Cup?
"An African nation will win the World Cup before the year 2000," Pele declared in 1977. Can an African team do it in Qatar, albeit 22 years late?
African World Cup stars you don't yet know: Is Iliman Ndiaye the Senegal striker to replace Sadio Mane?
Africa's World Cup squads, drawn from disparate leagues and nations, are full of players with great backstories and unlikely routes to the top.
Cameroon held to draw by Panama in World Cup warm-up
World Cup-bound Cameroon scored first but could only draw 1-1 with Panama in a friendly international on Friday.
Africa's World Cup squads - talking points and unanswered questions
Africa's five World Cup-bound sides have announced their squads, but none of the quintet have enjoyed a smooth ride in finalising their rosters.
A history of Africa's most (in)famous World Cup kits - Where will the 2022 jerseys fit?
Africa's World Cup kits have been diverse over the years, with some ranking among the most iconic in football, and others best resigned to the bin.
Cameroon draw with Jamaica in pre-World Cup farewell
Cameroon drew 1-1 with Jamaica on Wednesday in a friendly organised to allow home fans to bid farewell to the World Cup-bound team.
World Cup 2022: Samuel Eto'o makes wild all-African final prediction
Cameroon will win the World Cup in Qatar, according to Indomitable Lions legend Samuel Eto'o, who is predicting an all-African final on Dec. 18.
Team Leaders
Top Scorers
Top Assists