Burkina Faso
1st in Africa Cup of Nations Qualifying
---
AFCON qualifying: Holders Senegal reach finals, Salah scores for Egypt
Defending champions Senegal, Burkina Faso, South Africa and Tunisia all qualified for next year's African Cup of Nations finals on Tuesday.
Africa Cup of Nations hosts Ivory Coast make winning start under new coach
Africa Cup of Nations hosts Ivory Coast beat Zambia 3-1 at home on Friday to hand new coach Jean-Louis Gasset a winning start to his tenure.
Belgium beat Burkina Faso as coach tests fresh faces
An inexperienced Belgium beat Burkina Faso 3-0 in a friendly on Tuesday.
Cameroon rally to win Africa Cup of Nations third-place game in shootout
Vincent Aboubakar scored two late goals as Cameroon staged a comeback to beat Burkina Faso and take third place at the Africa Cup of Nations.
Senegal book Africa Cup of Nations final spot in win over Burkina Faso
Senegal struck three times in the last 20 minutes to book their place in Sunday's Africa Cup of Nations final as they overcame Burkina Faso.
Burkina Faso can find 'motivation' from ongoing coup at home - coach
Coach Kamou Malo believes that success at the Africa Cup of Nations can help the embattled Burkina Faso population smile again amidst a Coup d'Etat.
Teenager Dango Ouattara nets winner as Burkina Faso advance to AFCON semifinal
Burkina Faso claimed a 1-0 win over Tunisia in their Africa Cup of Nations quarterfinal at the Roumde Adjia Stadium on Saturday.
AFCON quarterfinals are wide open, shocks are on the cards
After a group stage and Last 16 characterised by narrow score lines, the Africa Cup of Nations quarterfinals could see a couple of shock results.
Burkina Faso edge Gabon to reach Cup of Nations quarterfinals
Burkina Faso held off a gallant rearguard action from 10-man Gabon to advance to the Africa Cup of Nations quarterfinals with a 7-6 penalty victory.
Africa Cup of Nations: Burkina Faso into second round after draw with Ethiopia
Burkina Faso secured a place in the knockout stage at the Africa Cup of Nations after an uninspiring 1-1 draw with Ethiopia.
Burkina Faso claim first AFCON points as Hassane Bande goal beats Cape Verde
Hassane Bande thrust his chest forward to steer in a cross from Isaa Kabore and secure a first Group A victory for his country.
Reviewing the opening night of AFCON
Ed Dove looks back on the opening night of the Africa Cup of Nations as Cameroon win 2-1 vs. Burkina Faso.
Cameroon rally past COVID-hit Burkina Faso to win Africa Cup of Nations opener
Cameroon relied on two penalties to rally to win its Africa Cup of Nations tournament opener against a coronavirus-hit Burkina Faso on Sunday.
Burkina Faso, Bertrand Traore allege COVID-19 testing 'scandal' ahead of AFCON opener
Burkina Faso have sent a formal letter to CAF after they returned five positive COVID-19 tests ahead of Sunday's tournament opener.
World Cup qualifying: Nigeria can't afford further slips, South Africa and Ghana poised for blockbuster
What's at stake in the final two gameweeks of African World Cup qualifying round two, as the continent's top sides battle to go to Qatar 2022.
Nigeria could win 2022 Africa Cup of Nations, and other far-too-early predictions
ESPN looks forward to the 2022 Africa Cup of Nations, making far-too-early predictions and a group-by-group rundown after the draw.
Africa Cup of Nations: Burkina Faso, Guinea qualify for finals
Burkina Faso and Guinea booked their places at next year's African Cup of Nations finals from their respective qualifying groups.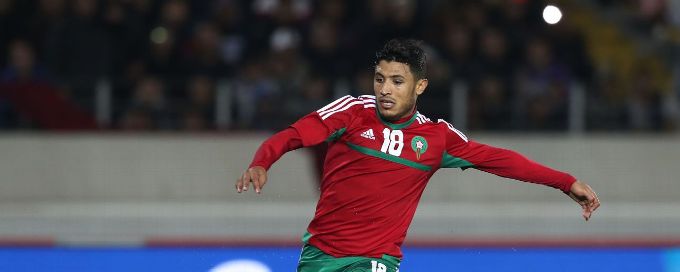 African Nations Championship: Complete CHAN 2021 Preview
The African Nations Championship kicks off in Cameroon this weekend, with Africa's best home-based players contesting the biennial tournament.
Ghana's Konadu eyes WAFU Cup gold... and CHAN redemption
To say that Ghana entered the WAFU Cup of Nations at a low ebb would be an understatement, yet the Black Stars are growing into the tournament.
Ghana need penalties to beat Burkina Faso at WAFU Cup
Goalkeeper Eric Antwi Ofori made two fantastic saves in the penalty shootout to see Ghana beat Burkina Faso 5-4 in the quarters of the WAFU Cup.
WAFU Cup: Burkina Faso eye Ghana win as rebuilding exercise continues
Burkina Faso and Ghana collide in Friday's WAFU Cup of Nations quarterfinal, with the Stallions eyeing the match as a next step in their rebuilding.
Burkina Faso take down Mauritania on penalties
Burkina Faso squeezed past Mauritania in the second game of the 2019 WAFU Cup of Nations, winning 4-3 in a penalty shoot-out.
Burkina Faso part ways with Drissa Malo Traore
The Stallions' home-based team will now be looking for a new coach after Saboteur's departure.
Bryan Dabo makes debut in Burkina Faso win
The Fiorentina man made his bow for the Stallions as they defeated Guinea-Bissau 2-0 in an international friendly on Thursday.
Congo top Group D, Angola progress in second
Congo-Brazzaville top CHAN Group D after drawing 0-0 in Agadir with Angola, who also progress to the quarter finals to meet Nigeria.
Team Leaders
Top Scorers
Top Assists