Brisbane Roar
11th in Australian A-League Men
---
Luis Nani, Charlie Austin, Mathew Leckie all victims of the A-Leagues All Access Curse
The A-Leagues All Access documentary series has mostly been a success, although bad luck does seem to strike anyone that the show focuses on.
A-League transfer grades: Which ALM teams improved their chances to reach the Grand Final
The A-League Men's transfer window ended this week. Which squads made the most of it in their push for silverware as the season continues on?
Football Australia begins process of creating second-tier league
Football Australia has formally begun the process of creating a second-tier men's competition with a potential start date in March 2024.
A-League Transfer Window: What every ALM team needs in January
The January transfer window offers hope for all A-League teams dreaming of finals football. Here's where each side needs to strengthen.
A-League fans moderate stance but continue to protest APL grand final decision
Peace on Earth and goodwill to all this festive period? Not in the A-Leagues. Certainly not this year. Bah humbug!
New lows, darkest days: How much pain can the A-League self-inflict before the flame goes out?
Less than two weeks. That's how long it took for the A-League to squander any goodwill from the Socceroos' success and plunge to a new low.
A-League stocks up, stocks down: Cummings and Kuol make World Cup case
With one round of action remaining until Graham Arnold reveals his Socceroos squad, Joey Lynch looks at who did and didn't impress in the A-League.
A-League stocks up, stocks down: Risdon gets the better of Arzani, turmoil at Perth Glory
ESPN's Joey Lynch breaks down four things that impressed and three things that didn't across the third week of the 2022-23 A-League Men season.
A-League stocks up, stocks down: Arzani shines while Tilio's World Cup hopes hang by a thread
Joey Lynch breaks down four things that impressed and three things that didn't across the second week of the 2022-23 A-League Men season.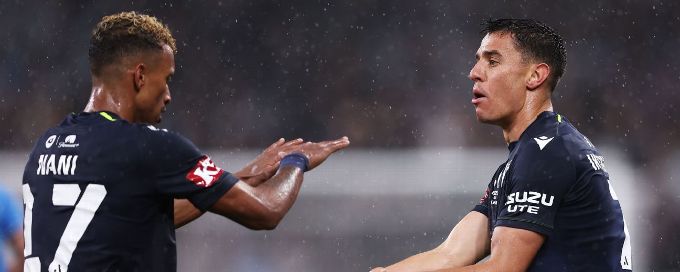 Chris Ikonomidis stakes late World Cup claim on A-League Men's opening weekend
With spots on the plane for Qatar still up for grabs, it was Melbourne Victory winger Chris Ikonomidis who impressed most on ALM opening weekend.
A-League returns once more with hope for better season
The A-League Men's season kicks off on Friday with a tempered belief that, maybe, this is the campaign in which the competition gets going again.
A-League Men 2022-23 kit ranking: Which club's home jerseys are this season's best?
Now that all the A-League teams have unveiled their kits ahead of Friday's season start, ESPN has ranked every home jersey from 12 to 1.
A-League Men preview: Can anyone stop defending champs Western United?
The 2022-23 A-League Men (ALM) season is here and here's all you need to know from the 12 teams involved.
Australia international Tommy Oar, 30, retires from football
Once dubbed "the next Harry Kewell," former Socceroo Tommy Oar has announced his retirement from professional football at just 30.
A-League's Brisbane Roar sign former Premier League forward Charlie Austin
Brisbane Roar have signed former Premier League striker Charlie Austin as they attempt to return to the A-League Men's upper echelon.
Adelaide secure finals spot with win over Roar
George Blackwood and Hiroshi Ibusuki are on target as Adelaide United win 2-0 vs. Brisbane Roar.
A-League transfer grades: Rating every big signing in the ALM
With the A-League Men's summer transfer window officially closed, it's time to take stock.
Do the A-Leagues really know what they are doing with players?
Is recruitment in Australian football geared to cap facilitation or balancing profiles, player attributes and ceilings, and potential earnings?
Perth Glory-Brisbane Roar postponed after positive COVID test
Perth Glory will not play again until January after a member of their A-League Men squad tested positive for COVID-19.
Western United extend ALM winning streak with Brisbane Roar victory
Western United have extended their A-League Men winning run to three after defeating Brisbane Roar 1-0 at GMHBA Stadium.
Javi Lopez sent off as Adelaide United draw with Brisbane Roar
Brisbane picked up their first point of the A-League Men season, settling for a 0-0 draw in Saturday's clash with Adelaide at Redcliffe.
Melbourne Victory beat Brisbane Roar to stay unbeaten under coach Popovic
Melbourne Victory maintained their perfect start under Tony Popovic with a commanding 3-0 win in their A-League Men clash with Brisbane Roar.
Melbourne City kick off A-League title defence with win over Brisbane Roar
Melbourne City survived a late scare against Brisbane Roar as they kicked off their A-League title defence with a 2-1 win.
FA CEO James Johnson outlines the roadmap to promotion and relegation in Australia
Football Australia CEO James Johnson has confirmed to ESPN that the organisation has settled on two final models for a national second tier.
A-League Men Season Preview 2021-22: New signings, key players, ones to watch
After an offseason of twists and turns, the ALM is finally set to return on Friday. Here's all you need to know ahead of the 2021-22 campaign.
Team Leaders
Top Scorers
| # | Player | Goals | M | A |
| --- | --- | --- | --- | --- |
| 26 | Jay O'Shea | 6 | 19 | 1 |
| 17 | Carlo Armiento | 3 | 20 | 3 |
| 10 | Nikola Mileusn.. | 2 | 18 | 1 |
Top Assists
| # | Player | Assists | M | G |
| --- | --- | --- | --- | --- |
| 13 | Henry Hore | 4 | 18 | 1 |
| 17 | Carlo Armiento | 3 | 20 | 3 |
| 28 | Joseph Knowles | 3 | 17 | 1 |