Atalanta
6th in Italian Serie A
---
Man United sign Rasmus Højlund from Atalanta in £64m deal
Manchester United have signed forward Rasmus Højlund from Atalanta, the club announced on Saturday.
Manchester United finalize $92m Rasmus Höjlund deal - sources
Manchester United have agreed to a deal to sign Rasmus Hojlund from Atalanta, sources have told ESPN, with the Old Trafford set to pay up to £72 million pounds for the Denmark international.
Man Utd confident on Höjlund deal in striker chase - sources
Manchester United's talks to sign Atalanta's Rasmus Höjlund pick up pace with club confident of signing a striker, sources have told ESPN.
Manchester United's limit for Atalanta's Höjlund £60 million - sources
Manchester United are reluctant to pay more than £60 million for Atalanta striker Rasmus Hojlund, sources have told ESPN.
LIVE Transfer Talk: Man Utd to go for Højlund as PSG circle
Man United are set to make a bid for Atalanta's Rasmus Højlund amid interest from Paris Saint-Germain. Transfer Talk is LIVE with the latest.
Man Utd target Kolo Muani over Hojlund due to fee - sources
Manchester United are ready to step up their interest in Randal Kolo Muani over fears of Rasmus Hojlund's transfer fee, sources have told ESPN.
LIVE Transfer Talk: Man United prepare £50m bid for Hojlund
Manchester United want Atalanta striker Rasmus Hojlund to be their new No. 9, and they're readying an offer. Transfer Talk is LIVE with the latest.
Would signing Rasmus Hojlund be a risk for Man United?
Julien Laurens debates whether Rasmus Hojlund would be a good signing for Manchester United.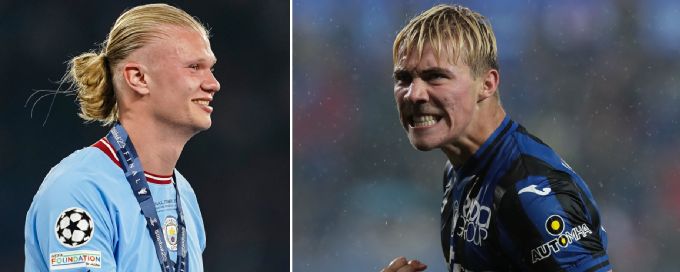 How Atalanta's Rasmus Hojlund could be the next Haaland
Don Hutchison compares Atalanta forward and Manchester United target Rasmus Hojlund to Premier League top scorer Erling Haaland.
Inter Milan secure top-four finish in Serie A ahead of Champions League final
Inter Milan scored twice inside the opening four minutes but had to fight to beat Atalanta 3-2 at home on Saturday, which guaranteed them a top four finish in Serie A.
Juventus move second in Serie A in 2-0 win at Atalanta
Juventus moved up to second in Serie A with a hard-fought 2-0 victory at Atalanta on Sunday.
Iling-Junior nets 1st goal as Juventus beats Atalanta 2-0
— Teenager Samuel Iling-Junior scored his first senior goal on his first start for Juventus to help his team beat Atalanta 2-0 and move into second spot in Serie A on Sunday.
Atalanta still in hunt for top four after win over Roma
Atalanta kept alive their hopes of finishing in the top four of Serie A with a 3-1 home win over AS Roma on Monday.
Atalanta eyes return to Europe after beating Roma
— Atalanta boosted its chances of returning to Europe after beating visiting Roma 3-1 in Serie A on Monday.
LIVE Transfer Talk: Atalanta's Rasmus Hojlund the latest striker on Bayern Munich's growing wishlist
Bayern Munich have added Atalanta's Rasmus Hojlund to their list of options as they look to sign a striker. Transfer Talk is LIVE with the latest.
Atalanta fail to boost top-four bid after draw at Fiorentina
Atalanta drew 1-1 at Fiorentina on Monday after conceding a second-half penalty as they missed a chance to boost their hopes of a top-four finish.
Fiorentina's unbeaten run at 14 after draw with Atalanta
— Fiorentina extended its unbeaten run to 14 matches across all competitions by drawing with Atalanta 1-1 in Serie A on Monday.
March's U23 hotlist: Atalanta and Denmark striker Rasmus Hojlund leads the way
We highlight the most in-form talent aged 23 or under across Europe's top leagues each month and March has Atalanta and Denmark's young striker.
Late Hojlund goal earns Atalanta 2-1 win over Empoli
A late goal by striker Rasmus Hojlund earned Atalanta a 2-1 win over Empoli in Serie A on Friday, ending their four-match winless streak.
Napoli return to winning ways with 2-0 victory over Atalanta
Goals by winger Khvicha Kvaratskhelia and defender Amir Rrahmani steered Napoli to a 2-0 home win over Atalanta in Serie A on Saturday.
Atalanta held to goalless draw by Udinese
Atalanta were held to a goalless draw at home by Udinese in Serie A on Saturday, further threatening their top-six presence.
AC Milan seal win over Atalanta as Zlatan Ibrahimovic returns
Champions AC Milan beat Atalanta 2-0 in Serie A on Sunday, consolidating their top four position as they extended their winning steak to three.
Atalanta push for top 4 falters with surprise loss to Lecce
— Atalanta's push for the top four in Serie A was dented on Sunday by a surprise 2-1 loss at home to Lecce as the race for the Champions League qualifying places intensified.
Atalanta beat Lazio 2-0 to break into Serie A top-four
Atalanta secured a 2-0 win at Lazio in Serie A on Saturday as they overtook the hosts to break into the top four.
Sassuolo snatch 1-0 win over 9-man Atalanta
A second-half strike by forward Armand Lauriente gave Sassuolo a surprise 1-0 win over nine-man Atalanta in Serie A on Saturday, ending the visitors
Team Leaders
Top Scorers
| # | Player | Goals | M | A |
| --- | --- | --- | --- | --- |
| 11 | Ademola Lookma.. | 2 | 5 | 0 |
| 90 | Gianluca Scama.. | 2 | 4 | 0 |
| 7 | Teun Koopmeine.. | 1 | 5 | 1 |
Top Assists
| # | Player | Assists | M | G |
| --- | --- | --- | --- | --- |
| 15 | Marten de Roon | 2 | 5 | 0 |
| 22 | Matteo Ruggeri | 2 | 5 | 0 |
| 17 | Charles De Ket.. | 2 | 5 | 1 |