Sudan
4th in Africa Cup of Nations Qualifying
---
Egypt scrape past Sudan to finish second in Group D, advance at Africa Cup of Nations
Egypt beat Sudan 1-0 in Yaounde on Wednesday to progress to the knockout stages of the Africa Cup of Nations, finishing second in Group D.
Nigeria cruise into next stage of Africa Cup of Nations with easy win over Sudan
Nigeria recorded a comfortable 3-1 win over Sudan in Garoua at the Africa Cup of Nations finals, ensuring that they progress to the knockout phase.
Nigeria must get out of their own way to beat Sudan
On Saturday, Nigeria's biggest challenges against Sudan will be making sure they don't believe their own hype, or underestimate their opponents.
Sudan hold on for 0-0 draw with Guinea Bissau after late penalty save
Goalkeeper Ali Abou Achrine saved a late penalty as Sudan held on for a 0-0 draw with Guinea Bissau in Garoua on Tuesday.
World Cup qualifying: Nigeria can't afford further slips, South Africa and Ghana poised for blockbuster
What's at stake in the final two gameweeks of African World Cup qualifying round two, as the continent's top sides battle to go to Qatar 2022.
Nigeria could win 2022 Africa Cup of Nations, and other far-too-early predictions
ESPN looks forward to the 2022 Africa Cup of Nations, making far-too-early predictions and a group-by-group rundown after the draw.
South Africa fail to qualify for Cup of Nations finals as Sudan progress
South Africa suffered embarrassment as a 2-0 defeat by Sudan in Khartoum saw the hosts clinch a place at the AFCON finals at the visitors' expense
Goat halts play in Sudan Premier League
Lionel Messi is referred to as 'The GOAT' (as in, the Greatest Of All Time); it's not often that his literal counterparts make their presence felt.
How can East Africa compete with the rest of the continent?
While East Africa's nations have enjoyed great success in other sporting disciplines, their national football teams have failed to make a mark.
AS Vita Club advance in Champions League; Al-Merrikh crash out
Congolese giants AS Vita Club were among a number of high-profile clubs to advance to the second round of the CAF Champions League on Wednesday.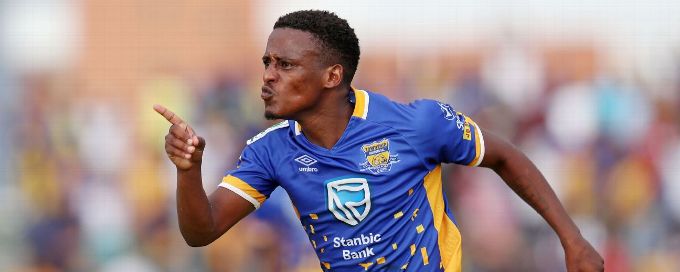 Giant-killing Township Rollers hope to become African giant
Township Rollers made an emphatic statement of their potential when they coasted to a stunning 3-0 victory over Sudanese giants Al-Merrikh.
Sudan dispatch Libya on penalties to take CHAN bronze
Sudan beat Libya 4-2 on penalties after a 1-1 draw to win the CHAN third-placed playoff.
Musonye applauds Sudan for raising CECAFA profile
CECAFA chief Nicholas Musonye has applauded Sudan for reaching the semi-final stage at the ongoing African Nations Championship in Morocco.
Sudan edge past Zambia 1-0 to reach CHAN semis
Saifeldin Malik Bakhit scored the only goal of the game as Sudan downed Zambia in an entertaining encounter to reach the CHAN semi finals.
Bencharki misses penalty as Sudan hold Morocco
Achraf Bencharki missed a second-half penalty as Morocco were held 0-0 by Sudan in their final group game at the African Nations Championship.
Sudan beat Mauritania, eliminate Guinea
Sudan beat Mauritania 1-0 in their second CHAN match to eliminate both the Mourabitounes and Guinea, who were defeated by Morocco earlier in the day.
Sudan beat Guinea 2-1 in CHAN opener
Sudan began their CHAN campaign with a 2-1 victory over Guinea in Group A, with Maki Saifeldin Bakhit missing a penalty and scoring the winner.
Al-Hilal, Al-Merreikh disqualified from Champions League
CAF have issued an official statement confirming the disqualification of Sudanese clubs from continental competition.
U.S. travel ban could affect chances of hosting 2026 World Cup - FIFA chief
"Mr. Trump is the president of the United States of America and as such of course [I have] huge respect for what he does," Infantino said.
Senegal and Egypt win to secure African Nations Cup qualification
Senegal and Egypt qualified for the African Nations Cup thanks to wins against Burnundi and Tanzania.
Nigeria lose to Egypt, fail to qualify for 2017 African Nations Cup
Nigeria will not be competing at the 2017 African Nations Cup after losing 1-0 to Egypt on Tuesday.
Mohamed Salah salvages late draw for Egypt at Nigeria in ANC qualifying
Mohamed Salah scored in stoppage time to salvage a 1-1 draw for Egypt at Nigeria in a 2017 African Nations Cup qualifier on Friday.
DR Congo and Zambia wrap up wins to reach qualifying group stage
DR Congo secure dramatic 5-4 aggregate win over Burnundi, helped by Yannick Bolasie's penalty.
African World Cup qualifying: DR Congo rally to open campaign with win
DR Congo and Guinea earned crucial away wins in the second round of African qualifying for the 2018 World Cup.
Ghana beat Mauritius and Cameroon win in African Nations Cup qualifiers
Ghana eased to victory over Mauritius in their opening 2017 African Nations Cup qualifier, while Cameroon left it late to beat Mauritania.
Team Leaders
Top Scorers
Top Assists