Spartak Moscow
3rd in Russian Premier League
---
Spartak Moscow's Quincy Promes to be charged with attempted murder
Dutch prosecutors intend to press attempted murder charges against Spartak Moscow player Quincy Promes, they said on Wednesday.
FIFA suspends Russia from World Cup, UEFA throws teams out of European competition
Russia have been kicked out of the 2022 World Cup in Qatar by FIFA and clubs have been suspended following the invasion of Ukraine.
Europa League round-of-16 draw: Barcelona vs. Galatasaray, RB Leipzig vs. Spartak Moscow
Barcelona will face Galatasaray in the Europa League round of 16 while Sevilla will take on West Ham United following Friday's draw in Nyon.
Aleksandr Sobolev double earns Spartak shock victory over Napoli
Spartak Moscow boosted their hopes of reaching the Europa League knockout stages with a 2-1 win over Napoli on Wednesday.
Four-goal Patson Daka leads Leicester to stunning win at Spartak
Patson Daka scored four goals to inspire Leicester City to a 4-3 comeback win at Spartak Moscow in Europa League Group C on Wednesday.
Russian fans stage nationwide walkouts over police crackdowns on ultras
Football fans from almost all of Russia's top clubs have staged mass walkouts at games to protest a police crackdown.
Spartak Moscow star punished for road rage attack on pedestrian
Spartak said Guliyev had been driving to training on Wednesday when he "got into a conflict with a pedestrian and used brute force against him."
Ryder Cup in Paris and a Spartak Moscow game: Where will John Terry turn up next?
John Terry had a busy weekend having turned up unannounced in Russia shortly after grabbing a selfie or two at the Ryder Cup.
Spartak Moscow drop two players from Europa League squad for liking video
Spartak Moscow left two players out of their squad for a Europa League game against Rapid Vienna amid a dispute over a video posted on Instagram.
John Terry turns down move to Spartak Moscow
Chelsea legend John Terry has turned down the chance to join Spartak Moscow on a one-year contract after holding talks with the club and his family.
John Terry close to Spartak Moscow signing as free agent - sources
Former Chelsea and England captain John Terry is in talks with Spartak Moscow over a shock move, sources close to the player have told ESPN FC.
Sevilla announce signing of Quincy Promes from Spartak Moscow
UEFA bans Spartak Moscow's Luiz Adriano three games for hitting opponent
The Brazilian striker earned a straight red card for his foul on Jose Angel Crespo during the second leg of Spartak's 3-2 aggregate loss to PAOK.
Spartak statues show how football can be more than life and death
Jayaditya Gupta on what the story of the Starostin brothers, who have a statue in their memory pitchside in Moscow's Spartak Stadium, represents.
Russia's four World Cup players to watch: Golovin, Zobnin, Kuzyaev, Miranchuk
Russia are approaching the World Cup in the wake of some shambolic preparations. There are, however, four players that will give the hosts hope.
Spartak Moscow, Zenit St. Petersburg fined for fans' racist chants
Spartak Moscow and Zenit St. Petersburg have both been fined for racist chants by their fans, the latest such incident Russia.
FIFA approves Sergei Eremenko's switch from Finland to Russia
FIFA has cleared teenage midfielder Sergei Eremenko to play for Russia at the World Cup by approving his change of national eligibility from Finland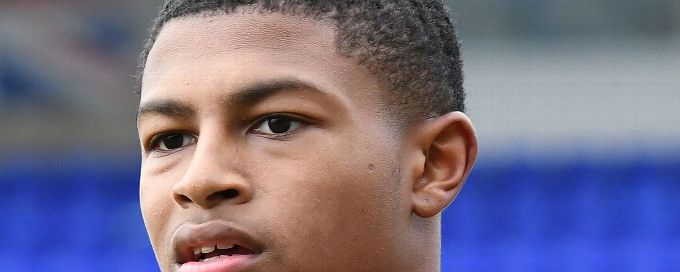 FA, Kick It Out slam UEFA over response to Rhian Brewster's racial abuse case
The FA and Kick It Out have expressed disappointment at UEFA's decision not to impose punishment over a racism allegation made by Rhian Brewster.
Rhian Brewster racism case closed by UEFA; no charges for Spartak Moscow
UEFA's investigation into allegations by Liverpool's Rhian Brewster of racist abuse by a Spartak Moscow player has failed to find any evidence.
Police officer dies as fans clash before Europa League game
Spanish police say an officer died in Bilbao on Thursday after clashes between police and soccer fans before a Europa League match.
Russian FA fines Spartak Moscow spokesman over player's offensive tweet
The head of Spartak Moscow's public relations department has been fined after a player posted a racially charged tweet to the club account.
Russia's Giorgi Jikia doubt for World Cup after tearing ACL
Russia defender Giorgi Jikia tore his anterior cruciate ligament in a club friendly on Thursday and could be ruled out of the World Cup.
FIFA condemns offensive Spartak tweet, sanction up to Russian FA
Russian side tweeted a video of black players training in the sun with the caption translating as: "See how the chocolates melt in the sun."
Spartak Moscow condemned by anti-racism groups after offensive tweet
Spartak Moscow have been condemned after an offensive social media message was posted on the club's official Twitter account.
Bayern Munich and Spartak Moscow both fined for UCL crowd disturbances
Bayern Munich have been fined €20,000 and Spartak Moscow €3,000 following crowd disturbances during Champions League matches.
Team Leaders
Top Scorers
| # | Player | Goals | M | A |
| --- | --- | --- | --- | --- |
| 10 | Quincy Promes | 14 | 18 | 0 |
| 7 | Aleksandr Sobo.. | 7 | 18 | 0 |
| 68 | Ruslan Litvino.. | 3 | 16 | 0 |
Top Assists
| # | Player | Assists | M | G |
| --- | --- | --- | --- | --- |
| 47 | Roman Zobnin | 0 | 19 | 2 |
| 97 | Danil Denisov | 0 | 19 | 1 |
| 10 | Quincy Promes | 0 | 18 | 14 |